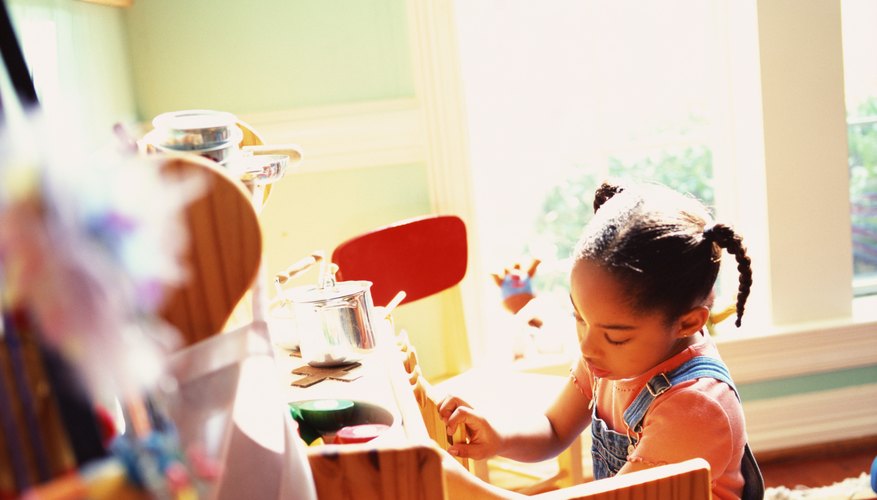 Play kitchens encourage creative and imitative dramatic play, providing opportunities for toddlers to explore their curiosities and imaginations. Toddlers prefer realistic props, using child-sized kitchens to engage in symbolic play, practice new skills and enact scenes from their real-life experiences. Before choosing the best play kitchen for your home, investigate various styles, costs, assembly requirements and space necessary for this large educational toy. Parents can determine whether their toddlers enjoy kitchen play by observing interactions with toy kitchens at friends' homes, childcare settings and stores.
Wooden Kitchens
Wooden kitchens, which are usually stained and sealed, but not painted, last longer and tend to look and feel more realistic than brightly colored plastic styles. For toddlers who prefer colorful furniture, plain wood kitchens can be decorated with fabric or paint. Materials used to construct wooden kitchens include plywood, particleboard, medium-density fiberboard or hardwood. Kitchens made of plywood might splinter, and particleboard or fiberboard, both heavy materials, can chip. Hardwood kitchens, although an expensive investment, are durable and often become family heirlooms that are passed down for generations, according to nursery school teacher Tracy Bailey.
Plastic Kitchens
The size, variety of functions and material used to manufacture a plastic kitchen will determine its cost. Lightweight plastic kitchens are the least expensive but often have a lot of little parts to assemble and can seem somewhat flimsy. These lightweight kitchens are simple to move around and can be cleaned easily with a damp cloth or sponge. Molded plastic play kitchens, which are sturdy, require little to no assembly. They cost more than lightweight styles but less than child-sized kitchens made of wood. Some plastic kitchens have built-in electronics that offer lights, cooking sounds, beeping timers, telephones and other fun features.
Specialty Kitchens
Play kitchen designs have changed with the times, and some current models are more elaborate and specialized than their predecessors. While pink and white was the most common color combination for plastic and painted wood kitchens, modern child-sized kitchens are available in what manufacturers call "gender-neutral" colors. Espresso kitchens have a contemporary look, with wood or brown plastic cabinets, faux stainless steel appliances, a realistic-looking espresso maker and a counter with stools. One kitchen can be adjusted from a size meant for toddlers to heights more appropriate for preschoolers.
Outdoor Kitchens
Children whose parents barbecue or grill outside will appreciate a child-sized, multi-faceted kitchen that, in addition to a stove top and mini-refrigerator, provides a pretend charcoal grill with sizzling sound effects, realistic coals and flames, a counter with stools for diners and an umbrella to shade the cook. Mud play is a popular childhood activity that is integrated into a kitchen that encourages toddlers and preschoolers to prepare and bake mud pies. This outdoor kitchen comes with a hand-cranked mud mixer, a functioning sink and utensils, tools and containers needed for measuring, mixing and baking.