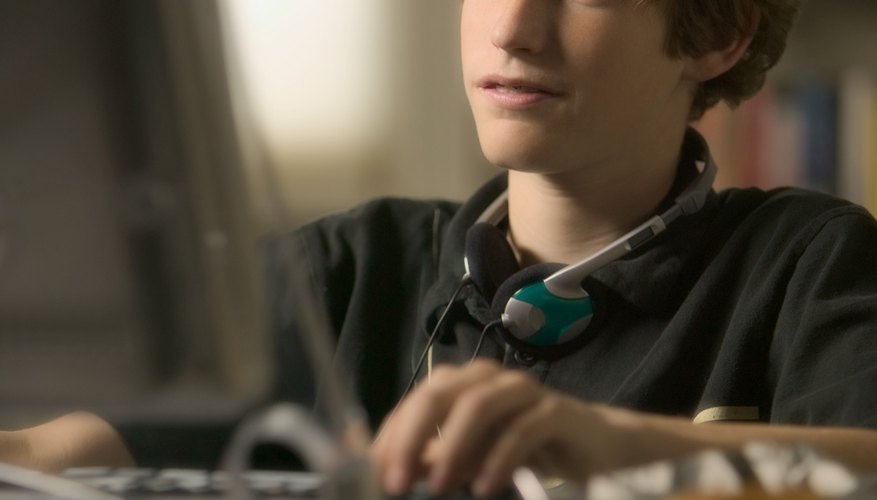 By the time your child reaches middle school, he will likely be familiar with writing letters, or emails, to grandparents or friends. But writing a business letter requires more attention to formal details in order to be taken seriously by the receiving organization. When your middle schooler needs to communicate with a business, take the opportunity to equip him with an important life skill by teaching him the proper way to write a business letter.
Format
Purdue Online Writing Lab explains that the most popular business format includes left-aligning all sections of the letter. Alternately, your teen can indent the first line of each paragraph or center the date, closing and signature. Each paragraph should be single-spaced with a double space between paragraphs. A proper business letter contains several parts in order. First, the letter starts with the heading, listing your teen's address and the date, followed by a line space and the name and address of the recipient company, including the name of a specific company contact, if available. Next is the greeting, "Dear Recipient Title and Name" or "Sir or Madam" if unknown, followed by a colon. The body of the letter can consist of one or more paragraphs to address a concern, complaint or request and call for an action from the recipient. The most common closing for a business letter is "Sincerely," followed by four line spaces for your teen's signature and her typed name underneath.
Purpose
Unlike a letter to grandma, meant to express affection, gratitude for a gift or to share important news or humorous anecdotes, a business letter serves a practical and professional purpose. The "Spectrum Writing Grade 8" textbook explains that common reasons for your middle schooler to write a business letter includes requesting information, such as writing to a Chamber of Commerce to request details on the local area for a school report; or expressing a concern with the company's business practices or political viewpoints; or to register a compliment or complaint about the company's product or service.
Tone
Whether your teen's goal is to enlist the recipient's help or to persuade the person to agree with his views or take a particular action, the tone of the letter should be cool, calm, clear and matter of fact. He should use respectful, polite language even if he has a complaint or philosophical disagreement with the company. Avoid libelous statements or language that harasses, discriminates, threatens or intimidates. He needs to clearly express what action it is he is asking the recipient to take in response and thank the person for her time and help.
Mechanics
The most eloquent and impassioned plea in a business letter will fall on deaf ears if it is full of grammar, punctuation and spelling mistakes. A professional looking and sounding letter is more likely to elicit a positive response from a busy business person. Teach your teen to proofread her business letters carefully and to use the spell and grammar checker to find and correct mechanical details. But, keep in mind that the automated tools do not catch every error, so it is also helpful to enlist the aid of a human proofreader to ensure that your teen's document makes the impression she is hoping for to produce a favorable outcome.
Business Email
In the digital age, business communication often happens by email. Your middle schooler can usually find a company's email contacts online. When sending business email, the date and return email address usually auto-populate. Place the business email address in the "To" field. To send copies to additional recipients, place the their emails in the "CC" field or for recipient privacy, the "BCC" field. Put a brief but specific statement of the letter's main purpose or concern in the subject line. Leaving this field empty can trigger a company's spam filters to block delivery of the message. Stick with plain text without using fonts, colors, styles, social acronyms or emoticons. The content of the letter should be concise, clear and to the point, just like a hard copy letter. Internet etiquette requires that you give the same attention to mechanical details such as punctuation, capitalization, spelling, spacing and grammar. Do not use all lower case which is construed as informal and sloppy; nor all caps, the digital equivalent of aggressive shouting.