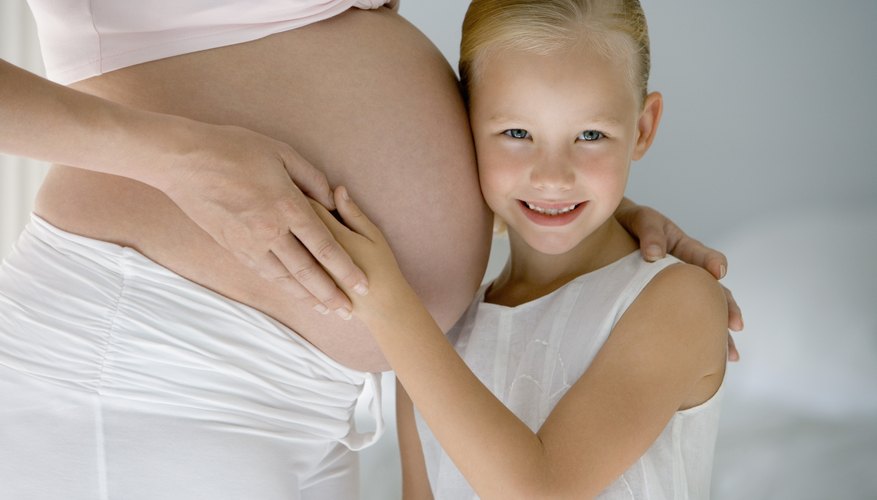 Pregnancy is an ideal time to start involving older children in their soon-to-be-born sibling's life. According to child development experts at the Kids Heath website, highlighting your children's "special" role in preparing for baby can help them cope with all the changes coming their way. Plus, the announcement of a pregnancy is even sweeter coming from children.
Sonogram Sweetness
Allow your children to decorate a card for grandparents or other close relatives, and slip a sonogram photo of the new baby inside. You may not be ready to share pregnancy news during your first trimester, when, according to the Mayo Clinic website, a first ultrasound is typically performed. When the time is right, a sonogram picture leaves little room for confusion that yes, indeed, your older children are about to become big brothers and sisters.
Holiday Highlight
If the timing is right, a holiday gathering is the perfect time for an older sibling to share the big pregnancy announcement. Perhaps one of your children can reveal the exciting news during a Thanksgiving meal when everyone is saying what they are thankful for. "I am thankful that I'm about to become a big sister!"
Tummy Tenderness
Have the older siblings kiss Mom's swelling belly and capture the sweet moment on camera. "This is the first known sign of affection between siblings. We'll see if it lasts," you can joke. Share the photo or video with friends and family, who will be sure to get a kick out of it.
Cake Cuteness
Get in the kitchen with your children and bake a cake together. Help them write a special message on the dessert -- "We're going to be big brothers and sisters!" Invite friends and family over for a treat and a big surprise.
Tried and True
When in doubt, go with the tried and true "big sister" or "big brother" T-shirt. Have your children wear the shirts for a family gathering. Then wait for Grandma or a close friend to figure out that Mom is having another baby. Snap a photo of your older children wearing the big announcement, preferably while they're smiling, and share it with friends and family via an email or social media post.