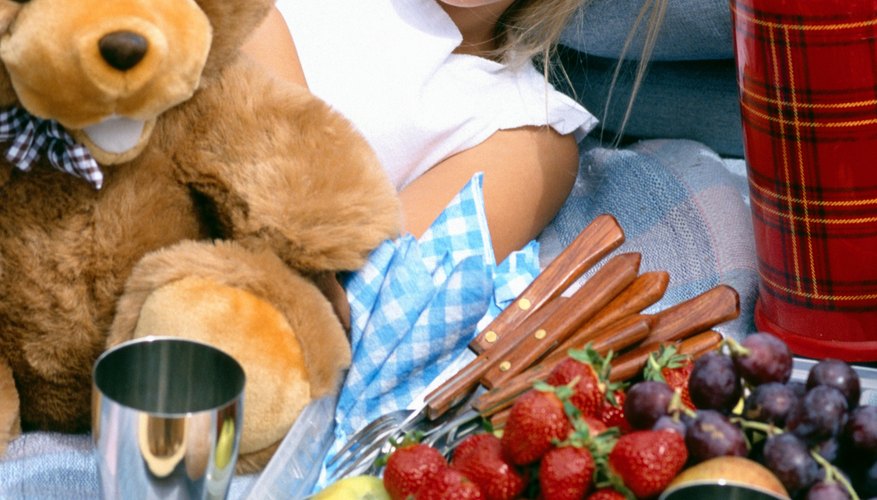 Add a fuzzy twist to a regular kid's tea party by making it a teddy bear themed get-together. Invite some of your child's friends and their favorite cuddly companions to some tea, treats and fun. With the right planning, this can be a "bear-y" special day for your little one.
Make and send some tea party invitations. These can be handwritten or computer generated and should be decorated with teddy bears in some form, like stickers, stamps or clip art. Use polite wording and include the time, date, directions, what to wear and anything you would like the guests to bring to the gathering. For instance, it can include, "Miss Lily Graham would like to cordially invite you to her Teddy Bear Tea Party at 4:00 p.m. on March 31. The festivities will be held at 1155 Maple Drive. Dress is casual and you should bring your favorite teddy bear friend." Don't forget to mention how to RSVP with your contact information.
Put together some treat bags for your guests. Tea bags, individually wrapped tea biscuits or cookies, bear stickers and some plastic rings can be thrown into bear-themed bags. Place the bags on a table near the door so the kids don't forget to grab one.
Create your tea party area. Place a tablecloth on a small kids' table or your regular dining room table. You can even consider hosting it on a nice blanket inside or outdoors if you like. Gather enough chairs or create spaces for all of the attendees. Also provide somewhere for the teddy bear guests to be placed, either in their own chairs or space on the table or blanket. Set up a tea set, including a teapot, teacups, saucers, small plates, silverware and bear napkins.
Make up some finger foods to serve at the tea party. You should include at least one bear-themed food item, such as bear-shaped graham crackers, cupcakes with bear faces or gummy bears. Cut sandwiches into small portions or use a bear-shaped cookie cutter to make the sandwiches match the theme. Mini slider sandwiches, tea cookies, scones or small pastries are also good options. Fruit, like berries or grapes, are a colorful addition.
Prepare the tea. Fennel, chamomile and peppermint tea are safe and tasty options for kids. Make it weaker than you would for an adult. The temperature at serving time should be warm, not hot. Place a bear-shaped honey container on the table so the kids can make their tea sweeter if they feel the need.
Things You Will Need
Invitations
Pen
Stamps
Treat bags
Small toy items
Table
Chairs
Tablecloth or blanket
Tea set
Finger foods
Tea
Honey
Teddy bears