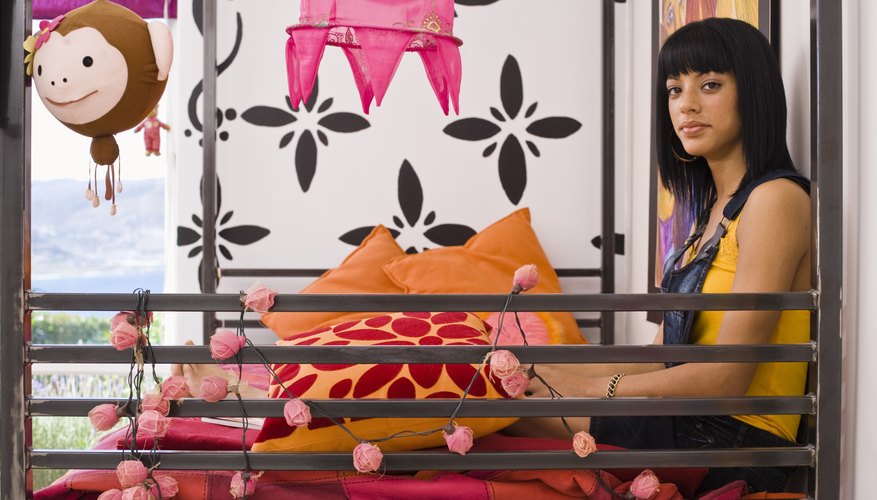 As she leaves childhood behind and prepares for adulthood, your teenage daughter is likely ready for a bedroom remodel that reflects her changing tastes and interests. Leaving childhood is bittersweet for many teens -- one day they are asserting their independence and the next asking you too prepare a favorite childhood snack. So when preparing to help your teen daughter redo her room her way, let her know it's normal to keep a favorite teddy bear on the bed and a box of childhood memories. At the same time, share her excitement over a project that allows to take this step toward independence as she decorates her room to express herself and share with friends.
Make Room for the New
Before decorating, help your daughter make room for the new. Help her sort the items currently in her room into four boxes or piles: keep in the room, store, donate or toss. The keepers will be items she definitely wants to incorporate into her remodeled room. She may want to donate some items to a local shelter or thrift shop. She may also find some items to be so damaged that they're just trash and have no use. Still others won't be of use to her now, but she may want to store in the attic with plans to share with her own children or a younger sibling some day. Furniture such as a ballerina lamp that she now considers babyish won't likely fit in boxes, but you can tag these pieces for storing, donating, tossing or keeping, so there's no confusion when things are carried out. Remind her to go through her drawers and sort. She may want help sorting through her closet.
Mom and Daughter Design Team
Before you both actually start remodeling her room, sit down with your daughter to help her visualize how she'd like her completed room to look. Look through magazines or websites that have decorating ideas for teenage girls. Give her a pad and pencil to sketch or create a list of things she would like to incorporate into or change about the room. Allow her to express her interest and personality in her decorating choices. For example, she can decide if she wants to turn her bedroom into an indoor beach, tranquil study cove or a fun, girly hangout. If she's skilled musically, let this lead her choices. If she's a computer geek, she might not want the princess style or flower power motif you envision, so do your best to be supportive, although you might make a couple suggestions. She will likely ask for your suggestions. Don't try to change her theme but give suggestions to help her pull it together in a way that she can live with day after day and within your budget.
Jazz Up the Walls
Spicing up her walls will give her bedroom a completely new look. After the room is cleaned of items that won't stay, cover the remaining items and floor with painters' plastic sheets or old bed sheets, and pick up color samples from the home improvement store ahead of time. Spend a day or two together painting basic white walls into a new eye-popping color, such as turquoise or coral, or a soft color - -whatever matches her theme and she can live with. Don't forget the trim, which may or may not be the same color as the walls. A lighter colored ceiling makes a room look bigger. Or if the walls don't need repainted, purchase stencils and paint a large picture on the wall - like a butterfly or whatever works for her -- or cover an entire wall with a mural -- a blue sky, sand and water if she want to make her room into an indoors beach. If she'd like something less permanent, place removable, decorative decals on the walls.
Changing Up Furniture and Accessories
Simple changes to furniture and bedding will infuse more of her personality into her sanctuary. Moving her furniture around to form a new arrangement may provide more space for her yoga mat or sound system. If you're not buying her a new bed, give her old bed a new look in a cost-efficient way. Consider painting a wooden bed frame in a new bright hue or adding a bed canopy by mounting rods to the ceiling and draping curtains off. Additionally, replace old lampshades with new ones and buy patterned containers for her to store her various items in an organized way. For bedding, a printed bed-in-a-bag option will allow her to have everything she needs in one place to give her bed a new look. Or, if she or you are good with sewing or crafts, get creative and change up the bedding with new throw pillows and maybe even bean bag chairs that harmonize with her theme.