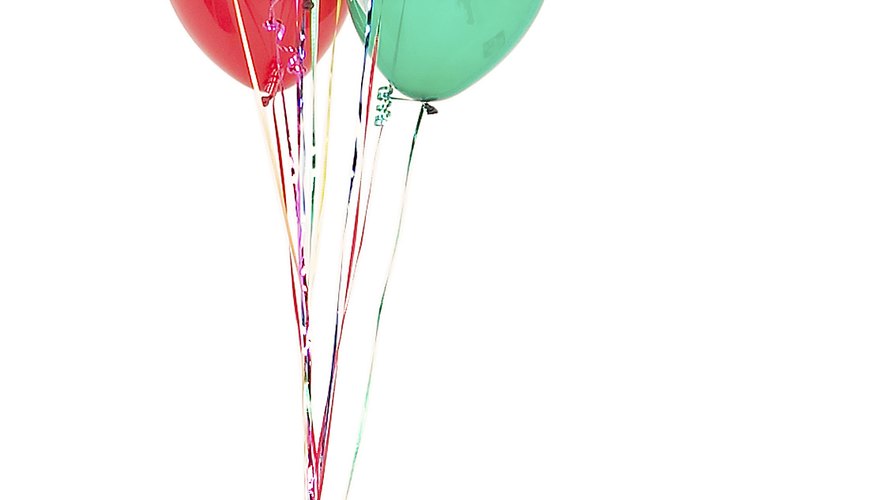 Whether your toddler is turning one, two or three, you'll want to take the perfect birthday photo to preserve this special time in his life. There are several non-traditional ways you can capture his adorable smile. Utilize unique props and send the photos off for others to relish in the excitement of him turning another year older with you.
Cake Smash
Celebrate your toddler's cuteness by taking a cake smash photograph. Prepare a small, round birthday cake that will be easy for him to smash his hands into and eat. Clothing for the photo can be as simple as a diaper or onesie. Find a safe place where your toddler can be messy. Sit the toddler on the floor or grass and let him dive into the cake. Snap several photos to capture his facial expressions from the time he is mushing the cake in his hands to when he is spreading it across his face to eat. Select the funniest photo out of the bunch. Send his face full of cake photo off to your relatives and friends to give them a good laugh.
Balloon Bouquet
Balloons have always been decorations for a birthday child's celebration. Use balloon bouquets as props for your toddler's photo. Take the photo session outside to a local park or your backyard. Sit your toddler on the grass or in a wooden high chair. Tie the balloon bouquet on his wrist or to the side of the chair. A shades of pink balloon bouquet will work for a toddler girl while a bouquet of primary colored balloons are ideal for a toddler boy. Hold a puppet or stuffed animal up as something for your toddler to focus on while you capture his smile. Alternatively, your toddler can marvel at the colorful balloons to focus on before you snap his photo.
Birthday Chalkboard
Since your toddler can say very few words, include a chalkboard as part of the birthday photo to speak for him. Using a small chalkboard, write a simple birthday message such as "Hooray. I'm 2 years old today!" or "Look at me. I'm 3." Place him on a chair and have him hold the chalkboard in his hands. You can also use a larger chalkboard and lean it against a wall for an adorable photo op. Write his name, age and some of his interests and favorite things, then place the chalkboard in the corner of an outdoor wall. Sit your toddler down or let him stand up beside the chalkboard and start snapping away.
Themed Photos
Incorporate your toddler's birthday party theme into the photo shoot by dressing him in a complementary costume. If your toddler is having a cowboy themed celebration, put a rodeo hat and cowboy boots on him and give him a toy horse to hold. Select a background or backdrop that will further enhance his photo, such as a dirt road. For a toddler girl who is having a beach or underwater theme, dress her in a bathing suit and allow her to play in the sandbox. Capture some photos of her in her natural play while she is scooping up sand with a shovel. Include the photos in birthday invitations to give guests a glimpse of your toddler's party theme.