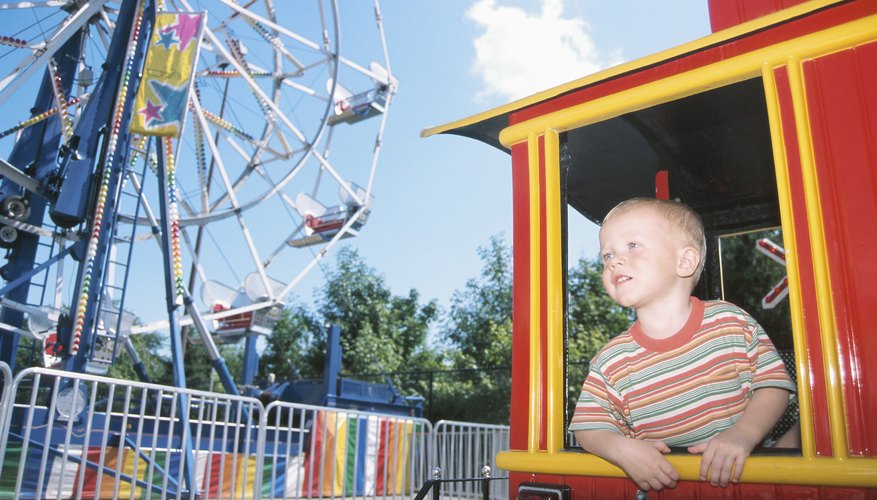 With eight railroad museums throughout the state, Virginia is a dream for kids who are train enthusiasts. While modern diesel and electric trains dominate Virginia's railroads today, several historic train towns and railway organizations offer family friendly train excursions on historic steam engine trains, and on contemporary diesel trains. These train excursions typically offer a host of kid-friendly activities, from visits with Santa to exciting Western re-enactments.
National Railway Historical Society -- Old Dominion Chapter
The Old Dominion Chapter of the National Railway Historical Society is dedicated to preserving the history of the railroad in Virginia and sponsors various family-friendly train excursions throughout the year on its vintage diesel train, the James River Rambler. One of the more kid-friendly train experiences is their Autumn Leaf Rambler trips, which depart from Dillwyn, Virginia. The 3 1/2-hour trip takes riders through the rolling hills of central Virginia, while watching an exciting wild west re-enactment going on alongside the train, complete with cowboys and outlaws. The Old Dominion Chapter also hosts 45-minute Santa train rides during the holidays, where Santa gets on the train and greets each child.
Virginia Railway Express
The Virginia Railway Express is a commuter train service in northern Virginia that offers special train excursions for families and kids a few times out of the year. During the annual Mannassas Heritage Railway Festival in June, the Virginia Railway Express provides round-trip train rides throughout the day from Manassas to Clifton. The scenic train ride is narrated by a tour guide. During the holidays, its annual Operation Life Saver Santa Train rides invites children on-board to meet Santa and Mrs. Claus, while also learning about how to be safe around trains.
Ashland Train Station
Once a major railroad town in the early 1900s, Ashland holds tight to its railway heritage with its historic train station and train-themed shops. The Train Town Toy & Hobby shop, which sells collectible toy trains, hosts an annual Santa Train for kids on an Amtrak train. Kids and their parents can climb aboard the train in Ashland and enjoy a two-hour train ride to Williamsburg and back, with Santa Claus, Mrs. Claus and organized holiday games and activities. Ashland also hosts an annual Train Day in November, which features a variety of train memorabilia, model trains and train-themed activities. Kids can enjoy two miniature train rides that go around the event area.
Miniature Replica Train Rides
If you can't get your child on a real historic train, several Virginia attractions offer miniature train rides on trains that are replicas of traditional steam or diesel trains. If you take the family to Busch Gardens in Williamsburg, hop aboard its steam-powered miniature open-air train and enjoy a 20-minute scenic ride around the amusement park. You can pick up the train from three stations throughout the park. Another notable miniature train is at the Virginia Zoo in Norfolk. The zoo train is another steam engine replica that takes visitors on a 20 minute train ride past many of the zoo's animal habitats. A narrator provides information on the animals and plants in each area of the park that the train travels through.