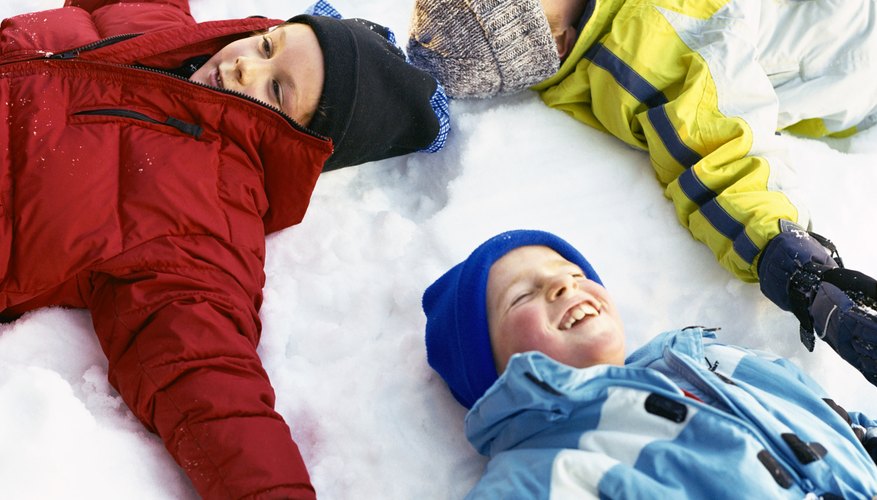 Your child needs to be dressed in winter clothing that will keep her warm and dry. Without proper clothing, the cold weather can cause hypothermia and frostbite quicker than you or your child might realize. Dressing your child in layers, including protective outer gear, is essential to ensuring safe outdoor winter fun for your little one.
Layering
Dress your child in layers of clothing so she can easily remove layers when she gets too hot. The first layer of clothing next to your child's skin should be made of a moisture-wicking fabric, such as polyester blends and silk. Wicking material pulls the sweat away from her body. Many two-piece long underwear sets are moisture-wicking and are an ideal first layer for young children. The second layer of clothing should be an insulating, yet lightweight material that will allow your child to move about freely, such as a lightweight fleece sweater and pants. The final layer should be a protective winter coat that keeps wind and water out and your child's body heat in.
Winter Coats and Snowsuits
Look for a winter coat for your child that has a hood, is wind-resistant, water-repellent and breathable. Hooded coats should not have drawstrings, which can get caught on something and pose a strangulation risk. Down jackets, filled with goose feathers, are excellent for warmth. However, many tend to be quite bulky, making it hard for young children to move about comfortably. Fleece-lined ski jackets are an excellent alternative because they have less bulk but give your child more flexibility. If your child is going to be playing out in the snow for prolonged periods, a one-piece snowsuit might be appropriate. Snowsuits are highly water-resistant and provide the maximum protection from the wet snow. You should also avoid long coats down to the ankles for outdoor winter play, which will just make it more difficult for your child to run around.
The Accessories
Half of your child's body heat is lost through her head, making it crucial that your child wears a hat in cold weather, even if her coat has a hood. Choose a lightweight, yet insulating material, such as wool. The hat should be long enough to cover her ears and forehead. Instead of traditional scarves, which can pose a strangulation hazard, choose a neck warmer, which is much shorter and safer to go around the neck. Select water-resistant mittens for your child, which keeps her hands warmer than gloves. Older children might prefer gloves, however, because it gives them more dexterity. Instead of cotton socks, which will only make your child's feet sweat, opt for polyester and wool-blended socks that both remove sweat and keep her toes insulated. Put water-resistant boots on your child's feet, but make sure they are not too snug. Go up a size when buying winter boots to compensate for thick wool socks.
Important Factors
Choose bright-colored outerwear for your child so you can easily see her when she is playing in the snow. Make your child come inside at least every 30 minutes to check how cold she is and give her the opportunity to warm up. Replace any wet clothes with dry ones before letting her go back outside to play. Remember that your child can still get sunburned in the winter, particularly when the sun is reflecting on bright, white snow. Put sunscreen on any exposed parts of your child's skin when the sun is shining. Pay attention to the weather temperature and wind chill. A fierce cold wind will make it feel much colder outside, despite a temperature above freezing. Reduce your child's outdoor time when the wind chill is significant. Keep your little one indoors when the temperatures dips below 20 degrees Fahrenheit.