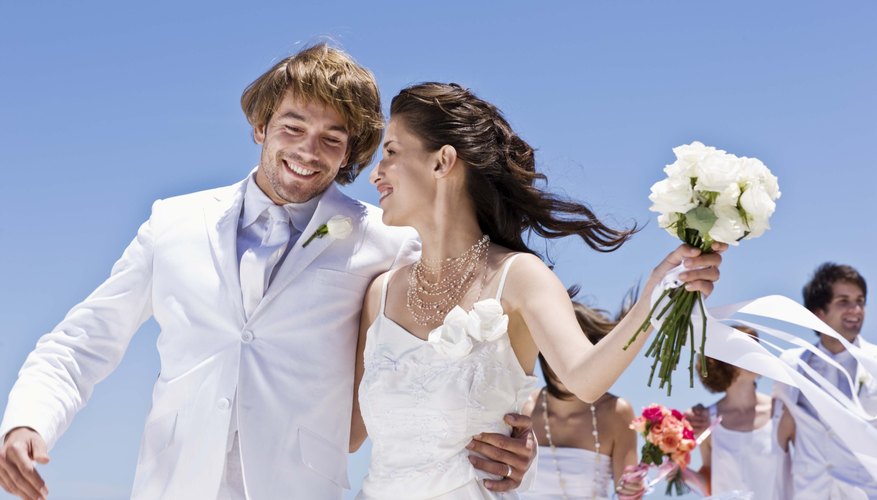 An impending wedding brings excitement to your family, but as the parent, you might wonder what your responsibilities are as your son or daughter plans to wed. Traditional wedding etiquette sets forth some responsibilities for parents of the bride and groom. However, the modern marriage is more flexible, giving parents more choices when it comes to participating in their child's nuptials. Learn how you can help plan your child's wedding, contribute financially and celebrate the happy couple.
Traditional Financial Support
Traditional wedding etiquette dictates that the parents of the bride pay for the bulk of the wedding. Expenses that traditionally fall to the bride's parents include vendors such as photographers, videographers and DJs, the reception venue and food and drink. Tradition also calls for the groom's parents pay for flowers for the wedding party, the honeymoon and the marriage license and officiant's fees. The groom's side of the family also picks up the rehearsal dinner, since the bulk of the wedding-day costs fall on the bride's family. Some families choose to follow these traditional guidelines, particularly when both families have the financial means to pick up the tab for the wedding.
Modern Financial Support
Modern weddings adhere to less rigid financial rules. In many cases, parents of both the bride and groom contribute what they can to the big day, choosing to pay for specific items, vendors or costs rather than following the traditional guidelines. Parents work together with the bride and groom to create a budget and divide the costs. Often, the bride and groom chip in and cover some of the costs themselves. Many families are embracing this more flexible division of wedding costs, which takes the burden off of the bride's parents, and instead allows both families to contribute as much as they can.
Pre-Wedding Support
Planning a wedding can be an exciting but overwhelming experience, and the parents of the couple can help with the planning and provide emotional support during this time. Parents from either side can host an engagement party to toast the couple. Often, the bride brings her mother and future mother-in-law along to try on dresses, choose flowers and explore wedding venues. Parents work with the couple to develop a guest list, providing names and addresses from their respective sides.
Wedding Day Tasks
The parents of both the bride and groom play a special role in their son or daughter's big day. Tradition calls for the bride to walk down the aisle with her father, though many brides choose to walk down with both parents, who give her away to her waiting groom. Likewise, the groom often enters the ceremony with his parents, who walk with him to show their support. The parents stand with the bride and groom in the receiving line, if the couple chooses to have one. During the reception, the bride often dances with her father, while the groom dances with his mother.