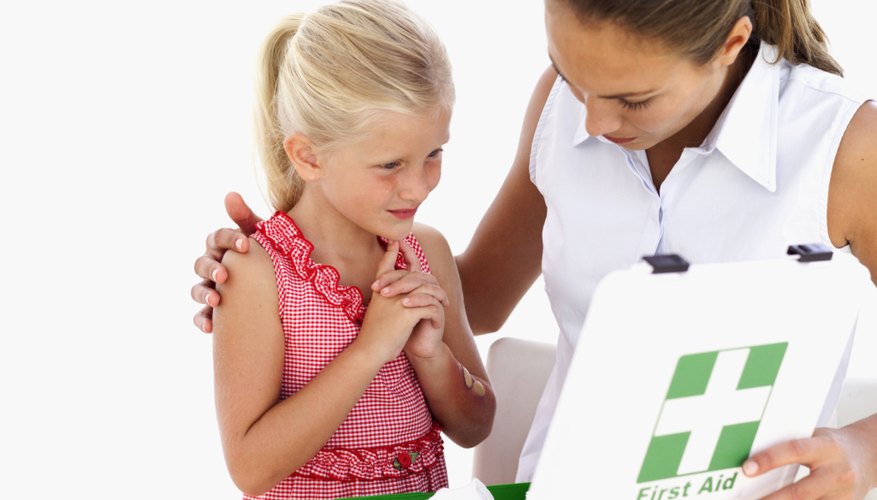 Leaving your child in the care of another person, whether a sitter, family member or daycare provider, requires your attention to specific details regarding your child's well-being. Even if you plan to be out for just an evening, be sure to leave detailed instructions for your childcare provider, including procedures to follow in case of an emergency.
Your Childcare Provider: Background and Special Training
When choosing a childcare provider, conduct investigative research about someone's background, learn about specific trainings they have received and collect personal and professional references. Most established childcare centers require that employees undergo preliminary safety training including First Aid and CPR and receive a background check. In May 2013, the U.S. Department of Health and Human Services proposed that childcare providers accepting Child Care and Development Fund funds be required to receive health and safety training, comply with state and local fire, health and building codes, undergo comprehensive background checks and receive on-site monitoring.
When hiring a personal babysitter or nanny, conduct your own interview to ensure that you are putting your child in experienced hands. Request that a sitter be properly trained for emergency situations. Babysitter Training courses are offered through American Red Cross.
Emergency Medical Consent Form
State-regulated childcare facilities require parents to submit an emergency medical consent form for their child. This form includes detailed information about your child in the event that he requires immediate medical attention or treatment. It also gives the childcare provider permission to make decisions regarding medical treatment for your child if there is an emergency and you cannot be contacted quickly enough. When leaving your child in the care of another person -- even if it is family member -- be sure to provide them with an emergency medical consent form. This will ensure that your child receives proper medical care in your absence. Example forms can be accessed through the American College of Emergency Physicians website.
Phone Numbers and Personal Information
Provide detailed information for your childcare provider. Display a list of emergency contact information in a designated area of your home. Show your childcare provider where this list is kept. Include phone numbers for yourself, your neighbor, the fire department, police department, poison control, the hospital of your choice and your child's doctor and dentist. Have your home address listed as well in case the childcare provider needs to tell someone the location in an emergency. If your childcare provider is not formally trained in emergency procedures, leave instructions to always call 9-1-1 first in an emergency and to call parents second.
Equip your provider with detailed information regarding your child including full name, date of birth, any allergies or special medical needs, address and insurance information. The more data you impart to the provider the better off your child will be in an emergency situation.
Evacuation Instructions
When putting your child into the care of another person, it is beneficial to make precautionary arrangements. Inform close-by neighbors that you will be gone and that a babysitter or nanny will be at the house with your child. Ask neighbors' permission for the childcare provider to call them if emergency back-up is required.
Show the childcare provider how to safely evacuate your home from every location in the house. Be sure upstairs rooms are equipped with escape ladders. Let your provider know which neighbors to call and inform them of a relocation plan if evacuation is necessary.