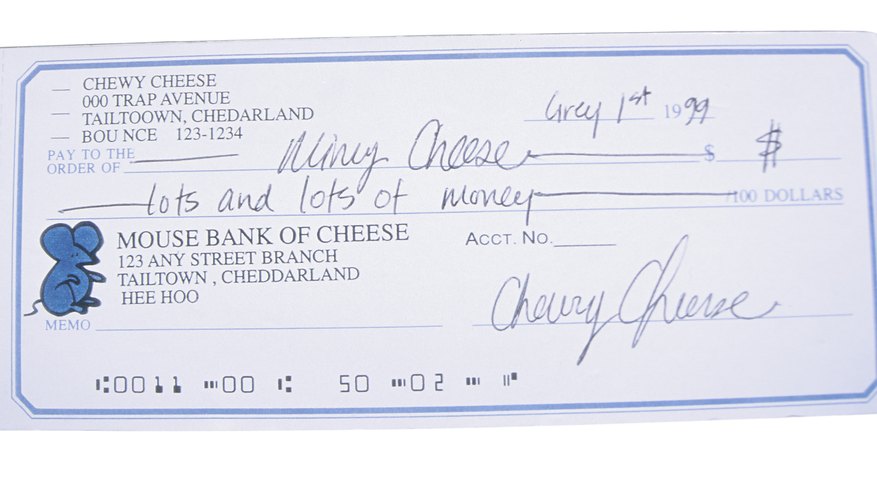 A check written in a minor's name needn't present a conundrum when you want to access the money. There are several different reasons why a minor might receive a check, including a gift, payment for work -- such as yard work or babysitting -- or as a contribution to a savings account or special purchase. As the parent or legal guardian of the minor child, you are within your legal right to cash or deposit the check. Make sure that you are in possession of all legal documents that the banking institution might require when cashing a check made out to a minor.
Visit your local bank branch and inform the teller that you need to cash a check made out to your child. If your child is of an age where he is able to write his own name, bring him with you, as he may need to endorse the check. Even if your child is not able to write his name, bringing him along might make the process easier.
Present the bank teller with an original copy of the minor's birth certificate or adoption paperwork listing you as the legal guardian of the minor child and your photo identification, if you are asked for these documents.
Ask your child to endorse the back of the check by signing her name, or write her name followed by "minor," then sign your name and write "parent of minor." Before endorsing the check, ask the bank teller if there is certain verbiage or language that the baking institution requires for this situation.
Things You Will Need
Child's birth certificate
Your legal photo identification
Tip
Consider opening a savings account in your child's name to build a nest egg for his future needs or purchases.
Parents also have the legal right to cash a savings bond made out to a minor child.
If you do not have a local bank, call the bank that is listed on the check and inquire about its requirements when cashing a check issued to a minor. Some banking institutions charge a fee for cashing a check made out to a non-account holder.