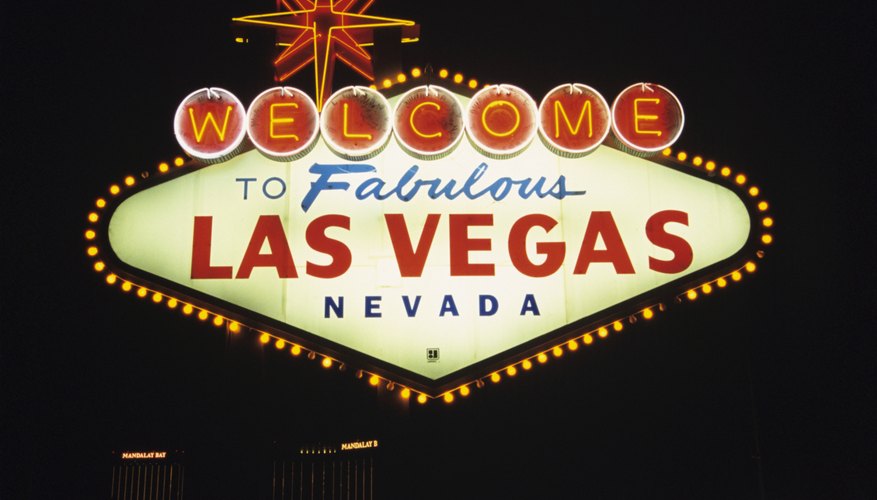 Las Vegas has definitely earned its reputation as a no-holds-barred getaway for the over-21 set, but this city that lights up the Nevada desert also has a family friendly side. For teens, this glitzy city can be a fun-filled destination if you play to their interests with activities and experiences that could only happen in Vegas.
What You Should Know
One of the few rules in Las Vegas is that no one younger than 21 years of age is allowed in a casino. This means you and your teen can't even take a shortcut across the casino floor, so be prepared for a few detours. Encourage your teen to bring her walking shoes -- those sprawling hotels and shopping malls require a lot of walking, and it's often faster and easier to walk along the Strip than to try to snag a taxi. Holidays are busy, but conventions keep Las Vegas hopping year-round, so if you have a must-do show or restaurant on your agenda, making reservations can be a smart idea.
Places to Stay
If your teen is interested in marine biology, plan to stay at the Mandalay Bay to take advantage of the hotel's fascinating Shark Reef Aquarium, home to more than 2,000 different aquatic creatures. The resort's beach and wave pool are a hit with many teens visiting in the summer, and the resort's separate, over-21 beach means you'll run into fewer poolside revelers when you're sunning with your teenager. If your teen is an adventure-seeker, book your rooms at the Stratosphere Casino Hotel and Tower, which has a roller coaster.
Fun in the City
Seeing a show in Vegas is a must. Artistic teens will love the creative performances in Ka at the MGM Grand, while wisecracking teens will appreciate a show such as the Mac King Comedy Magic Show or the Blue Man Group. Fashion conscious teens will thrill to see the bold name brands from their favorite magazines in stores along the Forum at Caesar's Palace, including Christian Louboutin, Kate Spade and teen favorite Anthropologie. The daredevil roller coasters and rides at the Adventuredome Theme Park are an equally exciting alternative to the prohibited teenage gambling. Bring your earplugs and let your teen go wild at the multi-media, interactive wonderland of music, videos and video games that is the Fremont Experience. And don't miss the Coney Island Arcade, which puts a shiny Vegas spin on the classic beach boardwalk and arcade.
Fun Outside the City
Las Vegas is an oasis of action, but teens might appreciate the opportunity to get out into the surrounding desert. Valley of Fire State Park, named for the area's vivid red sandstone formations, still has rocks carved by Native American tribes dating back centuries, making hiking a fun adventure. Spring and fall are the best seasons for a longer hike here -- summers can be too hot and winters too cold for outdoor adventure. The Hoover Dam is an impressive sight, even for jaded teens. If you can't roll your teen out of bed to get to the dam first thing in the morning, go after 3 p.m., when the crowds start to thin out.