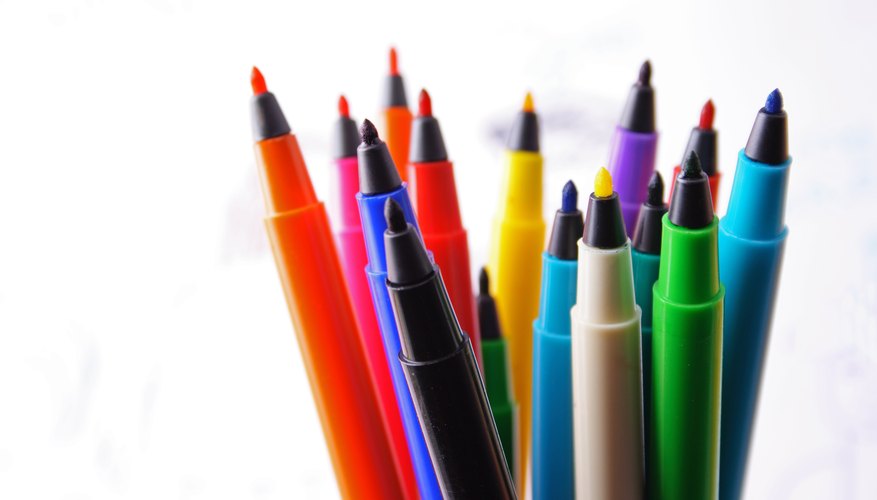 It probably boggles your mind how children lose clothing, especially clothing that they were actually wearing when they left the house in the morning. If your child attends daycare or preschool, clothes mix-ups happen as teachers change soiled clothes and take care of accidents. Older children might lose an item of clothing in the locker room as they change for gym class. Put an end to hunting through the lost and found by clearly labeling all of your child's clothing with his name.
Gather each of the clothing items you want to mark with your child's name. Wash and dry them ahead of time.
Write your child's name on the tag of shirts, dresses, sweaters and other tops using a permanent marker in a dark color such as black or navy blue. Consider using just your child's last name so the items can be passed to younger siblings, Heloise suggests in her book "Handy Household Hints from Heloise: Hundreds of Great Ideas at Your Fingertips." If you won't be passing the clothes down, you can mark them with your child's first and last name.
Stitch or iron on a label that you've written your child's name on inside articles of clothing that don't have tags. Many t-shirts and undershirts aren't made with a tag anymore, which makes it more challenging to label your child's clothes. A stitch-in or iron-on tag is a quick fix that helps you identify your child's things. If you don't want to sew or iron, use a permanent marker to write your child's name somewhere inconspicuous where it won't be noticeable through the fabric, such as inside the bottom seam.
Label shorts, pants and skirts on the inside waistband of each article of clothing. Use a dark-colored permanent marker. If the item of clothing is a dark color, write the name on the tag.
Things You Will Need
Permanent markers in dark colors
Sew-in or iron-on clothing labels
Tip
Stitch-in or iron-on clothing labels are available at fabric and craft stores.
Use a laundry or fabric marker in place of a permanent marker. These are available at fabric and craft stores and are designed to last through many washings.