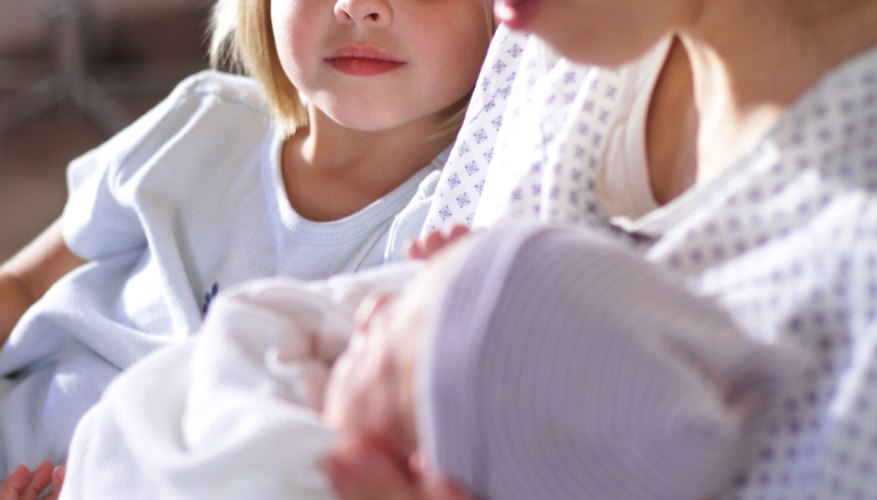 Big sister and little sister gifts are a common part of life in many families, such as giving the big sister a gift when the little sister is born to signify the older child's change in status or to celebrate a holiday. Some sisters dislike look-alike gifts but appreciate gifts that reflect the personality and preferences of the child. The type of gift you should give varies according to the age of the children and the occasion.
Clothing Makes It Clear
Many parents purchase shirts for the older sibling after a new baby is born that reads, "I'm the Big Sister" or something similar. Take the next step by having your local T-shirt company silk screen a picture of the new baby on a shirt or cotton dress for the older sibling with the words, "This is my new little sister." For the new baby, print a picture of the big sister on a onesie that reads, "My big sister loves me." Your local craft store may carry specialty paper that allows you to print the pictures and iron them on the garments. Reverse the letters so your words come out facing the correct way.
All Manner of Toys
Dolls can help a young big sister adapt to having a little sister. Purchase a baby doll with a bassinet and supplies for the big sister so she can take care of her baby while you take care of her little sister. Purchase a baby-safe doll the little one can hold and play with when she is learning to grasp things. Use outgrown baby clothes for the older sister's doll when your little one can no longer wear them. Alternatively, build each sister an original bear with matching clothes. Some bear-building companies offer recorded sounds inside the bear. Add womb sounds to the baby's bear and a recording of you expressing your love, such as saying, "I love you, Katie! You're Momma's big helper," inside the other one.
Telling the Story
Create a family story as a gift for your daughters. Write your own story and print it or use a children's story company, such as Storypanda Books, Bookemom, or Blurb, to print the book. Let children help write and illustrate the story, or use family photos to add an authentic touch to the book. You can create a new book each year as a keepsake or create new stories as major events occur in your family. If you print your own story, your local office supply will have the supplies you need to make a cover and bind the book together. If you don't want to make an original book, consider commercial stories, such as "Hello Baby" by Lizzy Rockwell or "I'm a Big Sister" by Joanna Cole.
Sibling Gifts Throughout Life
When the older sister moves out of the crib, allow her to choose her new bed and bedding while you redecorate the nursery. As the girls grow up, you might allow redecorating to match each sister's personality and preferences. Continue the matching sister gifts as they grow up with matching pajamas, dresses or sister trips where your girls choose the location. Charms and other jewelry can remind your daughters how valuable a sister is.