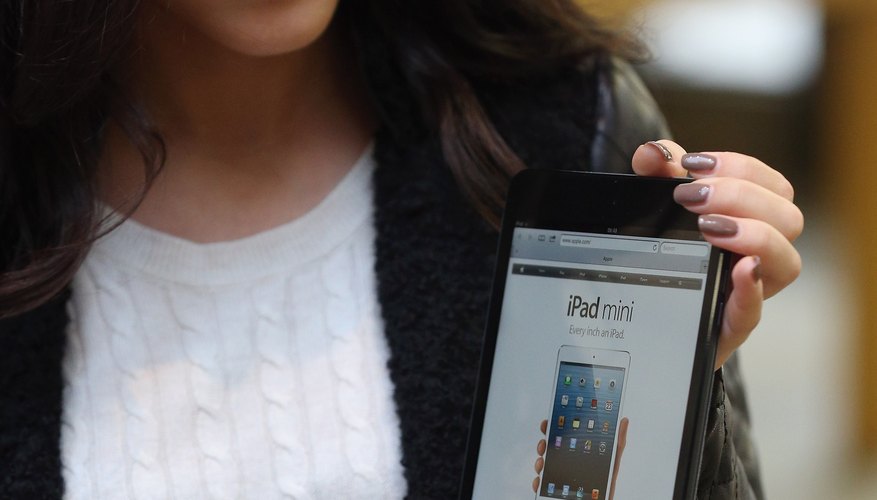 Your teenage daughter will be delighted to receive an IPad for her birthday or a holiday. As a new owner, she will need to know the necessary applications to install on the coveted tablet computer for leisure or educational purposes. The top-rated and highly reviewed applications for teens will be ideal choices for her.
Food Preparation
The top cooking, baking and food-serving applications will enhance a teenage girl's food preparation skills by allowing her to practice the necessary steps from start to finish. In "Diner Dash: Grilling Green," the player sits customers by swiping them from the waiting line to a dining table. The player will help the waitress, Flo take the orders, serve the food, present the bill and clean up the messy tables for the customers. Customers will get angry and leave if they are not seated or served in a timely fashion. The game, "More Grillin' " allows teenage girls to place hot dogs, hamburgers and other meats on a grill to barbecue. The cooked meats can then be put on a plate for condiments and toppings to be added. Teens can simply tap on the food to virtually eat it.
Fashion Design
Many teenage girls have an interest in fashion and thus fashion design applications remain popular for teenage girls to practice creating trendy clothing styles. The game, "Style Studio: Fashion Designer," will let her design her own clothing from scratch. She will be able to choose the style of garment and choice of material and patterns. She can also add buttons, bows and other finishing touches. To personalize her creations, she can create custom material from her own photos. She can dress models or even herself in her fashion creations and let them walk the runway. For a simple fashion game, a teen can try "iDress-Dress up and Makeup Fashion Studio." The player will be presented with a model to dress up. She will be able to change her skin tone, hair style, makeup, clothing, accessories and the background picture.
Education Assistance
Top-rated educational applications can be used as tools to help a teenage girl who needs additional help in a certain subject area. If a teenage girl is researching a project, the application "How Stuff Works" will offer her an extensive collection of articles, videos and podcasts on several subjects from science to wildlife. She can simply swipe through the app to find the appropriate subject matter. Quizzes are also available to test information she learned about. For a teenage girl who has a difficulty in math, "Algebra Touch" will let her practice algebra and enhance learning about algebraic concepts. Lessons are on variables, negatives, basic equation and other trouble areas for teens. The application will include what is commonly taught in the classroom and personally identify her strengths and weaknesses.
Video Creation
Because many teenage girls love to be in front of the camera with friends, video creation applications remain popular among the age group. The "VideoFX Live" app will let a teen girl create her own original movies and share them on social media sites. She will learn how to shoot videos and the develop the skills needed to sequence them. She will be able to personalize the video by adding a title and special effect sounds. The application will be useful for her family celebrations or vacations. "Animoto Videos" is also a popular application for videos. The teen will select a template, a song from the music library and her own photos for the slide show. The videos can be shared on social media sites or through email and text messages.