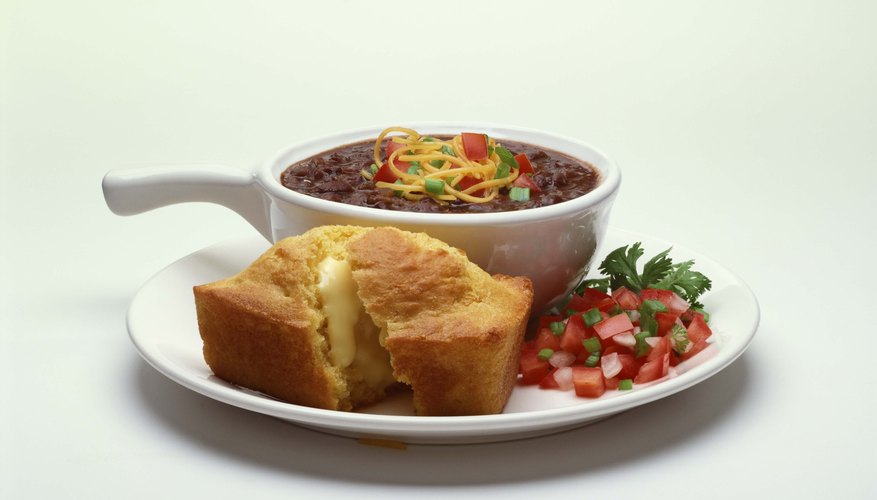 You don't have to wait for the next Super Bowl party or family get-together to serve a delectable pureed bean chili. You can make this dish the highlight of your next family dinner. A clever chef can turn a man-friendly hearty chili into a kid-friendly meal that the whole family can enjoy.
Conceptual Changes
Little ones often turn up their noses at spicy, bitter and unfamiliar foods. So, if you know your kiddo is a picky eater and isn't already a fan of chili, serving a standard chili recipe might meet with some resistance. To avoid this, downplay the spiciness and bitterness of the chili by removing some of the less essential, out-of -the ordinary ingredients and incorporate more familiar ones.
Ingredient Changes
While a pureed chili recipe can include any number of beans, it's best to stick with only one type for your family meal. Choose a type of bean that you know or suspect your child will like. Also, while a little spice is okay, if you add the usual chili powder, chopped chillies, and pepper that are included in most pureed bean chili recipes, you might find that it's too much for your kiddo. So forgo the cayenne, chopped chiles -- and add maybe just a dash of chili powder. Also, if you know your little one doesn't like a certain herb or vegetable, don't include it. Your chili can be as simple as beans, tomatoes, and garlic. Don't worry about dumbing down your usual recipe or betraying your grandmother's recipe.
Ingredients
For around five servings, start with 1 onion, 1/2 pepper, and a couple cloves of garlic. Most children will tolerate sweeter peppers, such as red or yellow ones. Use three 15-ounce cans of the beans of your choice. Suitable bean ideas for children include black beans, white beans, and navy beans. You will also need one 15-ounce can of diced tomatoes. The optional ingredients are the cilantro, chili powder and other spices like cumin and allspice.
Method
Begin by sautéing the onion, pepper, and garlic in olive oil. While sautéing, blend the beans and tomatoes in a food processer. Use the "puree" setting if it has one. After you sauté the vegetables for about five minutes, pour the contents of the food processor into the sauté pan and mix it all together. At this point, you can see the thickness of the puree. If you want a thinner puree, add water to the pan. You can also add extra ingredients in the pan like chopped olives, blanched almonds or raisins, depending on your family's tastes. Serve the puree on tortillas or in a bread bowl. Suitable toppings include fresh lettuce, salsa, guacamole, and cheese.