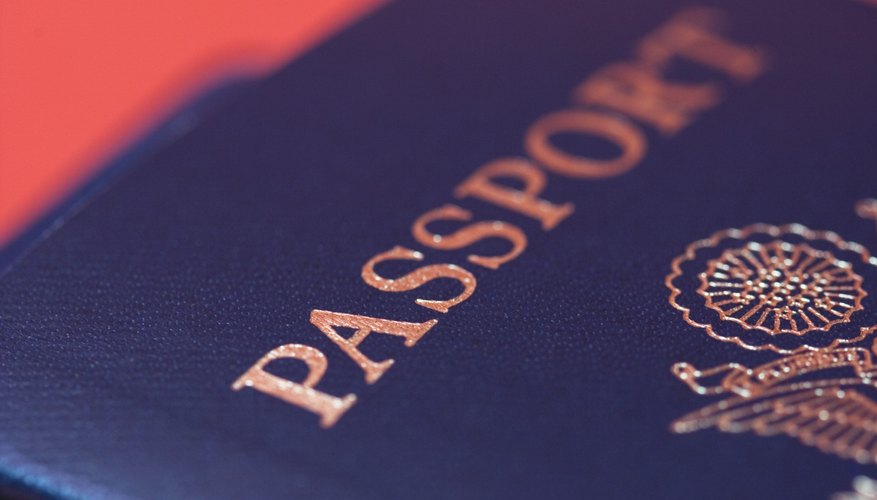 If your teen is traveling outside of the country, she most likely needs a passport. Without a passport, your teen cannot legally enter most countries, and that applies to children of any age. Certain exceptions exist. For instance, Washington residents, including teens 16 and older, can enter Canada if they have what are known as enhanced drivers licenses. Also, most U.S. teens traveling to Mexico or Canada go enter with a valid birth certificate. In most cases, however, teens must go through much the same process as adults to obtain a valid passport, and planning is a must because it can take several weeks to receive the documentation.
What You Need
One of the first things your teen needs to obtain a passport is a photo. Many drugstores and retail stores offer passport photo services, and you'll pay a fee to have the picture taken and sized appropriately. Your teen will also need her birth certificate to show that's she's a U.S. citizen and to prove who her biological parents are. In the case of an adopted teen, an adoption certificate is required. Teens under the ages of 16 must have a parent present who can show identification proving legal guardianship of the teen. Teens ages 16 and older don't need a parents' identification, if they have their own.
Where to Apply
If your teen needs his passport in a hurry, you'll need to visit a regional passport agency. This can be inconvenient, however, because most states only have one agency and in almost all cases your teen will need to apply in person. If you plan far enough ahead, your teen can apply for a passport at a passport application acceptance facility, which are often in city or county buildings, or main post offices.
Forms and Fees
To get a passport, your teen needs to complete Form DS-11 Application for a U.S. Passport. Before going to the passport acceptance office, your teen needs to fill out the form in its entirety and attach the required documentation. The teen applicant and her parents should not sign the passport application until they arrive at the office because an agent of the passport office must witness the signatures. At the time of publication, your teen will also pay the passport application fee of $80 plus a $25 execution fee. For an expedited passport, an additional $60 fee applies.
Additional Considerations
Both parents of a teen must give consent for him to get a passport. In many cases, both parents accompany their teen to an application acceptance facility to sign the paperwork and provide proof of guardianship. If one parent cannot go with a teen, the other parent must provide a notarized statement of consent stating that he will allow his teen to get a passport. If teen only has one parent, that parent must prove that she has sole custody of the minor child.