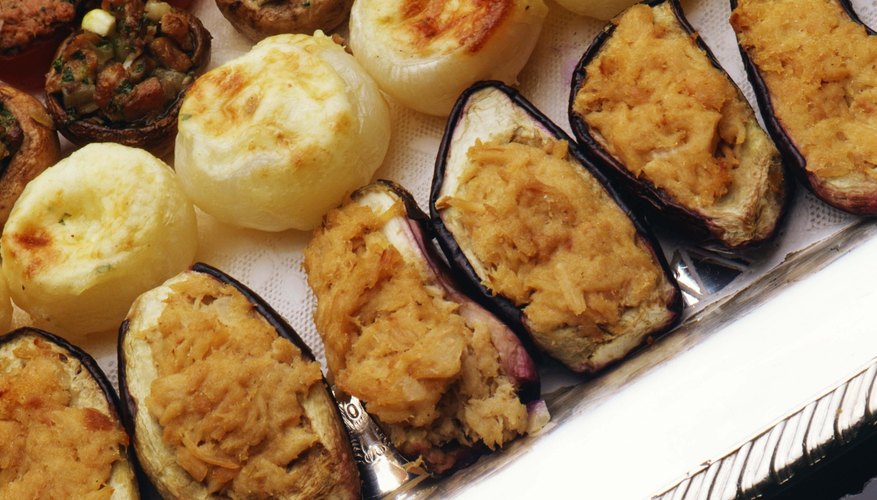 Your baby blessing is a joyous occasion that brings together family and friends to celebrate your bundle of joy. A late-morning or early-afternoon baby blessing calls for a lunch where your guests can socialize and extend the celebration over enticing food and pleasant company. Designing a menu for the event -- especially if you're expecting a large group -- might seem overwhelming. The good news is that with just a little planning, it's easy enough to create a lunch menu that will delight taste buds no matter your head count.
Finger Foods
Consider the venue for your baby blessing lunch when designing your menu. Will every guest have a seat, or are you opting for a meet-and-greet feel where guests will wander around and socialize as they eat? If you cannot provide seating for every guest, choose foods that are easy to eat on the go. Finger foods are ideal in this situation, and your options are plentiful. Choose foods that minimize mess and maximize flavor, such as pigs-in-a-blanket, sausage balls, fresh fruit and a deli tray, giving guests the opportunity to make their own sandwiches.
Casseroles and Slow Cookers
If you want to serve heavier fare and will have enough seating for your guests, choose foods that are easy to prepare in large quantities. For example, you can make casseroles in bulk -- and they feed plenty of people. You can try baked ziti or lasagna, a chicken-and-rice casserole, or a sausage, egg and cheese casserole for a brunch feel. If you want to take some of the cooking pressure off yourself, trust your slow cooker to do the work. You can make large quantities of pulled pork or shredded chicken in your slow cooker, along with crowd-pleasing sides such as mashed potatoes, green beans and macaroni and cheese.
Cheers
The baby blessing is a celebratory event, but whether you choose to serve alcohol depends on your guests and the venue. If you want to serve some celebratory cocktails, opt for lighter drinks appropriate for the time of day. You could set up a mimosa bar, featuring champagne and different fruit juices, or a bloody Mary bar for your guests to enjoy. Have plenty of nonalcoholic drinks on hand as well -- you can fill large coolers with soft drinks, water and juices. If you expect to have kids at your baby blessing lunch, include juice boxes and individual milk cartons, too.
Sweets
Wrap up your baby blessing lunch with a dessert or two for your guests. A thematic cake can serve as both a centerpiece as well as a treat for your guests to enjoy. You can also opt for cupcakes, perhaps in a color scheme that matches the decor of your venue. Or, create sugar cookies that feature your baby's monogram. You could even individually wrap the cookies in cellophane and send them home with your guests as favors.