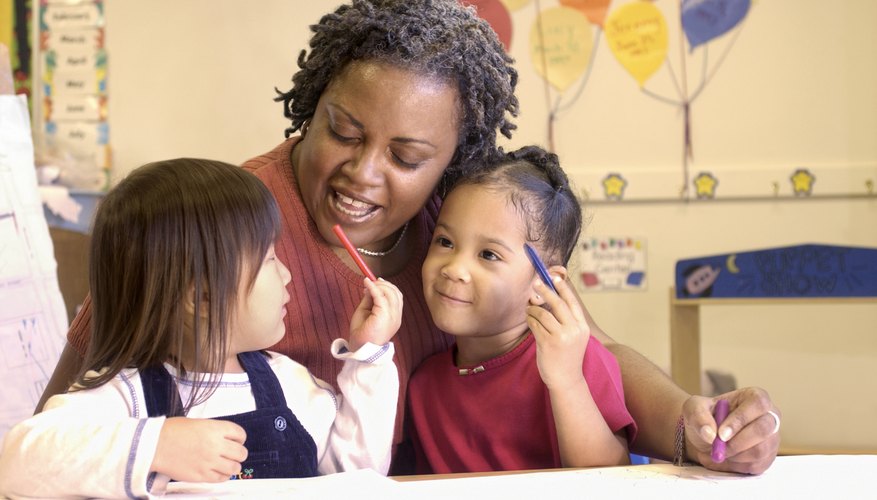 There's no doubt that preschool is a valuable experience for your children, helping them prepare socially and mentally for the many years of school ahead. However, paying for it is a difficult road for many families. According to a 2012 report from Child Care Aware of America, the annual cost of center-based child care costs more than a year of college in at least 35 states. Some preschools do have scholarship funds available to help with the cost -- though scholarships don't always pay for the full price of the preschool.
Research the schools you're interested in as early as possible to get information on the schools, their offerings, deadlines for registration and scholarships. Preschools typically list scholarship information on their websites, but, if you don't find any information, call the school to inquire. Scholarship applications may need to be completed 6 months to a year before the school year begins.
Inquire at social services agencies and nonprofit groups in your area that might offer financial assistance for educational programs. Your state's human services department might offer assistance for Head Start and other preschool programs through Child Care and Development Block Grants provided by the federal government. The U.S. Department of Health and Human Services also lists some resources for financial aid on its website. Nonprofit groups might offer services to a specific population, such as teen parents, college students or certain ethnic groups. Also check with your local school district about pre-K programs that are often offered free of charge to 4- and 5-year-old children.
Read the instructions on each application thoroughly so you know what you need to do to apply for the scholarship, and take note of the deadline dates. When it comes to scholarships, missing the deadlines will probably mean the scholarships will have already been given away by the time you apply.
Assemble the documents necessary to complete a scholarship application. This might include proof of income statements, letters of recommendation or a statement of need. Complete the application, check it for errors, and then turn it in to the preschool or scholarship program before the deadline.
Contact the preschool after sending in your application to check that it has been received and that you didn't make any errors that would disqualify your application.
Tip
Scholarships are one way to pay for the price of preschool, but also be on the lookout for other ways to get low-cost preschool. Co-op preschools allow families to trade work hours for part of the cost of school. Preschools in churches and home settings can also be less expensive than more formal centers -- but always tour the school and ask about certification and programming so you're sure you're getting a quality program.