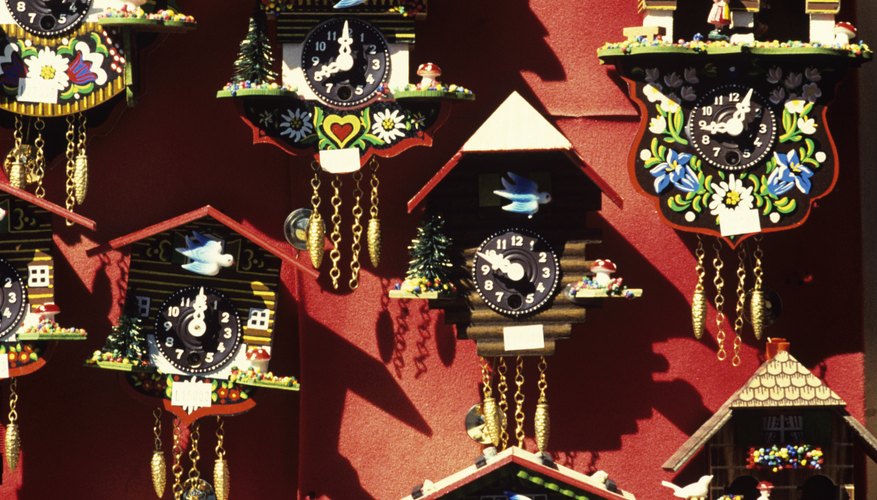 The tick, tick, tick of a cuckoo clock and the quarter chimes captures the curiosity of adults and kids alike. The cute little bird makes itself heard every quarter hour. If your child is fascinated by this timepiece, capture its charm and whimsical personality with kid-friendly cuckoo clock craft items.
Milk Carton Cuckoo Clock
Make a small cuckoo clock from a 1-cup paper milk carton. Paint the carton with acrylic paint. Turn the milk carton an end with a "V" indentation is facing you. Glue a 1 1/2-inch round construction paper clock face to the square area beneath the V. Draw and cut a cuckoo bird from a small piece of construction paper. Set the cuckoo aside.
Make the cuckoo spring from two strips of 1/2-inch pieces of construction paper. Position the strips to make an "L" shape. Look at the strips. One is on top of the other. Start with the bottom strip and fold it over the top so the fold is flush with the opposite strip to create an inverted "L" shape. Repeat the process until the entire strip is folded to create a paper spring. Glue the cuckoo to one end of the strip. Glue the opposite end inside the "V."
Paper Cuckoo Clock
Create a paper cuckoo clock with brown construction paper. Cut two, 6-inch squares and an 8-inch right triangle. Make a door for the cuckoo on one 6-inch square. Position the door along the centerline of the square, 1 inch down from the top. Cut along three sides of the square. Glue the two squares together. Position the right triangle above the cuckoo door and glue in place to create the roof. Draw a 3-inch clock face below the cuckoo door. Draw and cut a 1-inch cuckoo bird from a separate piece of construction paper. Glue the cuckoo on the paper beneath the door.
Potato Chip Can Cuckoo Clock
Cover a potato chip can with construction paper to make a cuckoo clock. Turn the can so the overlap is to the back. Draw a 2-inch clock face in the center of the can. Make a 1-inch cuckoo bird from a separate piece of construction paper. Glue it to the cuckoo clock front 1/2-inch above the 12 on the clock face.
Block of Wood Cuckoo Clock
To make a block of wood cuckoo clock, cut a 4-inch piece of 2- by 4-inch wood and a 5-inch long triangular piece of wood. Glue the triangle to the top of the 4-inch piece with wood glue to create the roof. Stain the construction with a mixture of 1-tablespoon water to 1-teaspoon of acrylic paint. Allow the stain to dry before continuing. Paint or draw a 2-inch clock face on the bottom center of the 4-inch piece of wood. Hot glue a small wooden bird above the clock face.