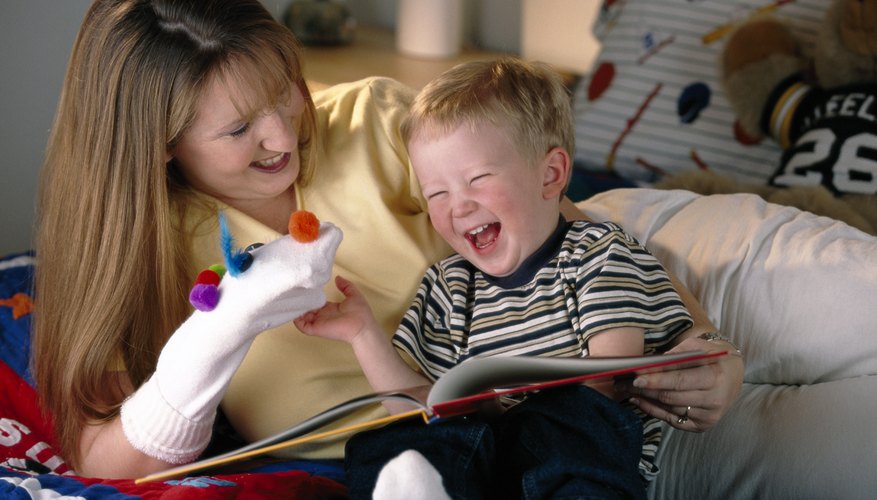 Doing craft activities with your foster child can encourage him to communicate more freely. In fact, child psychologists often use craft projects as part of a play therapy program. When they are engaged in a craft project, children learn how to express their feelings and emotions in a positive way.
Making a Collage
For a young foster child, the process of making a collage is a good starting point for developing communication skills. Get two large sheets of poster board and a stack of several old magazines. Write "happy" on one sheet of poster board and "sad" on the other sheet. Help your foster child find pictures of things that he associates with each emotion and glue them onto the poster board to make a collage.
Putting on a Puppet Show
Putting on a puppet show with your foster child can encourage him to communicate more freely. Preschoolers may enjoy using crayons to draw faces on paper bag puppets, while older children might like to make sock puppets by sewing buttons, yarn and scraps of felt to an old sock to give it a unique personality.
Creating a Lifebook
Lifebooks are special handmade scrapbooks that provide a history of the child's life both before and during foster care. The child can take this book with him from foster home to foster home as a special keepsake. If your foster child doesn't already have a lifebook, buy a large binder-style scrapbook album and an assortment of colored papers to get started. If your foster child doesn't have many photos to include in a book, take your digital camera to the park and snap some informal portraits to get the project started. Let the child take pictures of you as well, since part of the purpose of a lifebook is helping children remember the foster families they've been placed with.
Writing Stories in a Journal Jar
If your foster child is old enough to read and write independently, a journal jar can promote communication. Write several writing prompts on small strips of paper and place them in a pretty jar. Choose prompts that elicit more than a yes or no answer, such as "Tell me about your favorite subject at school" or "What three things would you buy if you won one million dollars in the lottery?" Help your foster child decorate a journal with stickers and colored paper. Choose one question per day for your foster child to answer in the journal. If you wish, you could have your foster child create questions in a jar for you to answer as well. Incorporate finished journal entries into the foster child's lifebook, if desired.