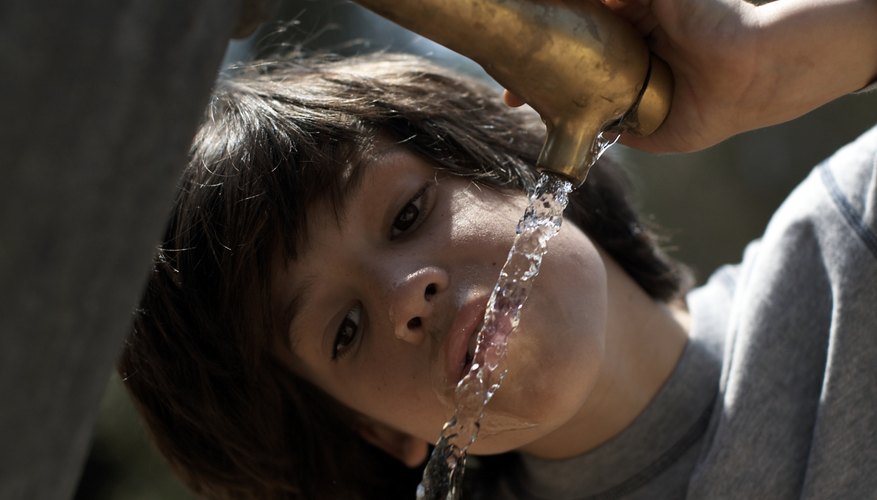 Children need to be protected from certain household dangers. It is important for every parent to create a safety checklist and then use that checklist to child-proof the home. One item that poses a risk to young children is the spigot or tap. Not only can your child suffer burns from water that is too hot, he can also leave the water running without you knowing it. In addition to raising your water bill, an open tap can quickly fill a sink or tub with enough water to cause serious damage to your home or create a significant threat to your child's safety.
Set your water heater's thermastat to 120 degrees Fahrenheit. The University of Michigan Health System recommends this temperature in order to prevent accidental scalding should your child turn on the tap on his own.
Slip a faucet cover over any indoor spigots or taps, such as those in the bathtub or kitchen sink. These covers completely encapsulate the spigots so that children do not bump their heads or other body parts on the spigots and get hurt. Faucet covers come in plain colors, but there are also fun characters, like Elmo, available that will decorate the faucet to please your toddler. You can purchase faucet covers in any department or home improvement store, as well as online.
Attach a hose bib lock to any outdoor spigots. The hose bib lock is a lock that screws onto the end of outdoor spigots so that children are prevented from turning the water on when playing outside. To install the hose bib lock, simply turn the hose bib lock clockwise around the spigot with the key in place. Once the lock is snug, remove the key. The spigot will not work unless you remove the lock, so children are safe from using it when you aren't looking. You can purchase a hose bib lock online, or at any home improvement or plumbing supply store.
Things You Will Need
Faucet covers
Hose bib locks
Tip
Knob covers can also be purchased to keep little hands from turning the hot and cold knobs next to the spigot. These work the same way as the faucet covers. They are slipped over the knobs next to your spigot so that your child is prevented from accessing them and turning the water on. Knob covers are sold in department and home improvement stores. You can also get a set online.
Warning
Never leave your child unsupervised around water. According to the University of Kentucky, children can drown in less than 2 inches of water.