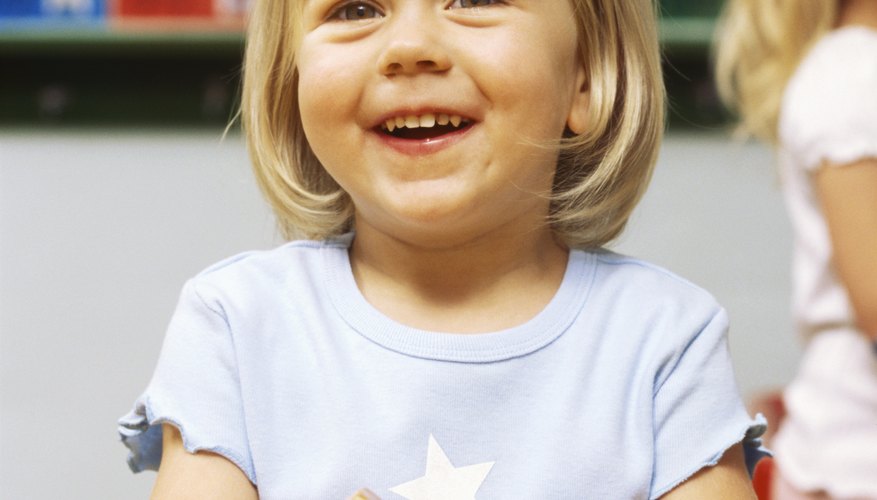 You're sending your toddler off to preschool, and you want to make her transition as easy as possible. A little apprehension is normal -- for both you and your toddler -- but you can make her first few weeks of preschool a success with proper preparation. Make sure your soon-to-be preschooler has the supplies she needs, as well as the right frame of mind, before she steps foot into her first classroom.
Mental Prep
Before you send your toddler off to preschool, ensure that he's ready for this transition. The University of Georgia Extension explains that parents can set the stage for success in preschool by ensuring that toddlers are well-nourished and well-rested. Implementing consistent rules at home can prepare your toddler for classroom rules. The UGA Extension also recommends that toddlers know how to follow simple directions, feed themselves, sit still for short periods and cooperate before entering the preschool classroom.
Social Skills
A valuable part of preschool is the social experience it provides for toddlers who are still navigating the complexities of socialization. In fact, the University of Georgia Extension explains that preschoolers often learn through play and exploration. Make sure your child has basic social skills, which will help her excel in the classroom. Between 24 and 36 months, your toddler can express feelings and empathy, and you can encourage such expression by teaching your child to express feelings in an appropriate way, according to the National Center for Infants, Toddlers and Families. Equipping your toddler with these skills can make preschool socialization simpler.
Immunizations
Your state and preschool will have specific immunization requirements for your preschooler, so it is important to ensure that he's immunized before school starts. For example, Missouri requires preschoolers to have seven immunizations -- some in multiple doses -- including Dtap/DT, Polio, Hib, Hepatitis B, PCV, MMR and Varicella. Take your child to his pediatrician before school starts to make sure your little one is properly vaccinated.
Supplies
Make the transition to preschool easier for your toddler by supplying her with everything she needs to feel comfortable in the classroom. Her preschool will likely provide a supply list, but consider sending her to school with a backpack, lunchbox, water bottle or sippy cup, change of clothes and diapers and wipes, if she's not potty trained. Properly label these items with her name -- and maybe even her picture -- so that she knows which items are hers to enjoy.