How to make birthday cakes for kids' parties
Consider what type of cake would be best for your kid's party. Cupcakes are a great choice for a party at the park, since no plates or utensils are needed. Ice cream cakes are fun in the summer, and sheet cakes can be decorated with toys or cut into fun shapes.
Choose a flavour for the cake and frosting. Ask your child what his favourite is and run with it. White frosting is easiest to decorate, but if your kid really wants everything chocolate, get creative and find ways to top the brown frosting.
Find a theme for the party. Ask your child what the theme should be, as most kids from toddlers on up have something that they are passionate about. Use the theme to decide on cake decorations. Draw a decoration onto the cake with candy and embellish it with icing, or place small toys on it that can double as gifts.
Bake the cake a few days ahead. Wrap each layer individually in cling film and keep it in the refrigerator or freezer. Frost it the day before or the day of the party. This will save you time and still allow for a fresh, homemade cake your kids will love.
Allow your kid to help make the cake. This way your child will have a cake that looks and tastes just the way she wants it to. You will also create wonderful, happy memories, and nothing tastes better than that.
Tip
Save yourself some unnecessary work. Use cake from a mix and store-bought tubs of frosting. A homemade cake does not have to be from scratch.
Warning
Avoid using peanuts or peanut butter in your birthday cake for a kids' party. Many children are allergic to peanuts.
Non-Edible Cake Ideas
Diaper Cake
A diaper cake is one gift to give a mother-to-be at her baby shower. Diaper cakes can be used as a party centrepiece and then given to the guest of honour as the final gift. Depending on the design of the cake, about 60 diapers rolled up tightly and put together for a three-tiered cake shape. Other items, such as baby bottles, baby shampoo, pacifiers, baby rattles and bibs, are used to decorate the cake even further. The cake is held together using colourful ribbon.
Flower Cake
A flower cake works for birthdays and anniversaries. These cakes are particularly good for someone who is diabetic or has special diet restrictions. A floral cake can be made of real flowers or artificial flowers. Simple tools, such as toothpicks, a knife, scissors, floral foam blocks and a cake pan, are used along with the flowers to put together this cake.
Bridal Shower Cake
A non-edible bridal shower cake can be made using full-sized body towels, hand towels and wash clothes. Artificial flowers and colourful ribbon are used to decorate the cake and fancy hand soaps. Soap dispensers and other bathroom-themed items finish the design.
Romantic Cake
Tightly rolled fitted sheets make the base of this cake. The second and third tiers are made of pillowcases, women's panties and men's boxers or briefs. Massage oils, chocolates, lotions and a blind fold top this cake. Decorate with flowers, such as rose heads or rose petals.
Birthday Cake Ideas for Teenagers
Photo Cakes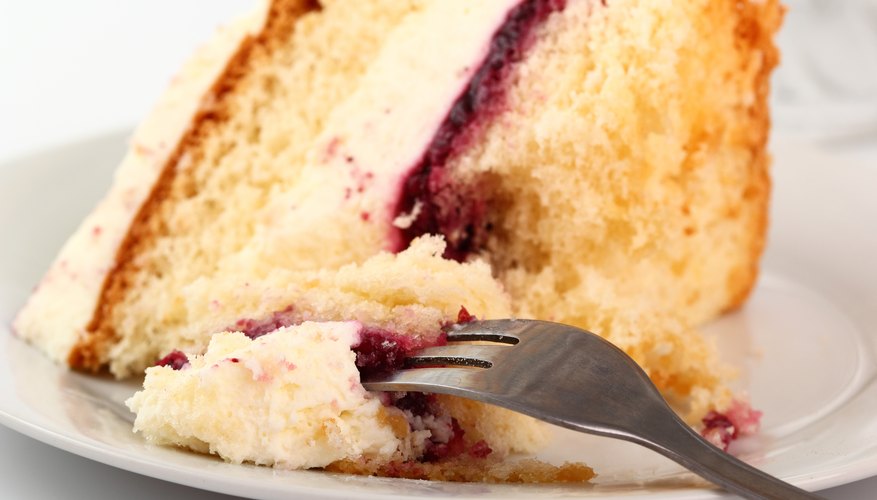 Photo cakes are very popular and a teen might enjoy a cake with his image on it. Alternately, you can take a picture of your teen with his favorite pet or friend. Take the picture to a bakery that can superimpose the photo on the cake.
Decorations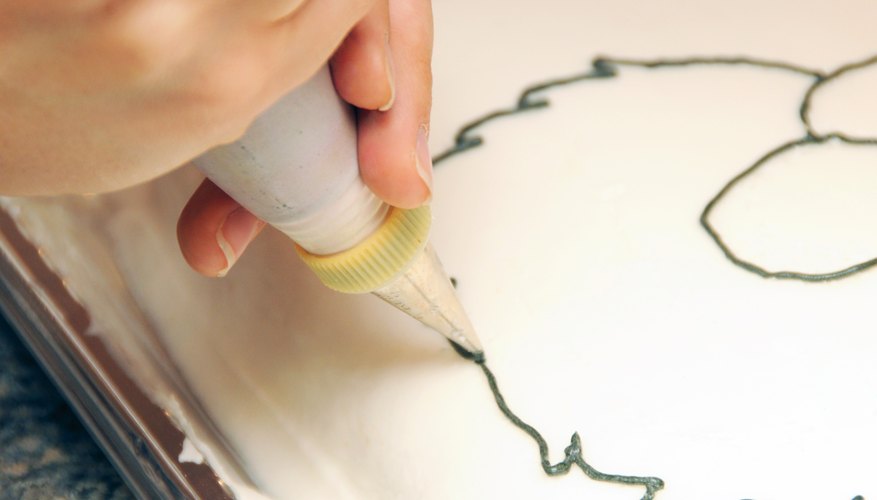 If your teenage girl likes shoes, you can decorate the cake with tiny plastic shoes. For a teenage boy who plays baseball, the cake can be decorated with tiny bats and balls. Craft supply stores will have any decoration you can't find at the bakery.
Tiered Cakes
Buying a tiered cake (as opposed to a flat sheet cake) may impress the hard-to-impress teenager. Three-tiered cakes decorated in the teen's favorite colors and filled with the teen's favorite topping are one route to go. Most bakeries can custom-make tiered birthday cakes and may have decoration ideas.
Theme Cakes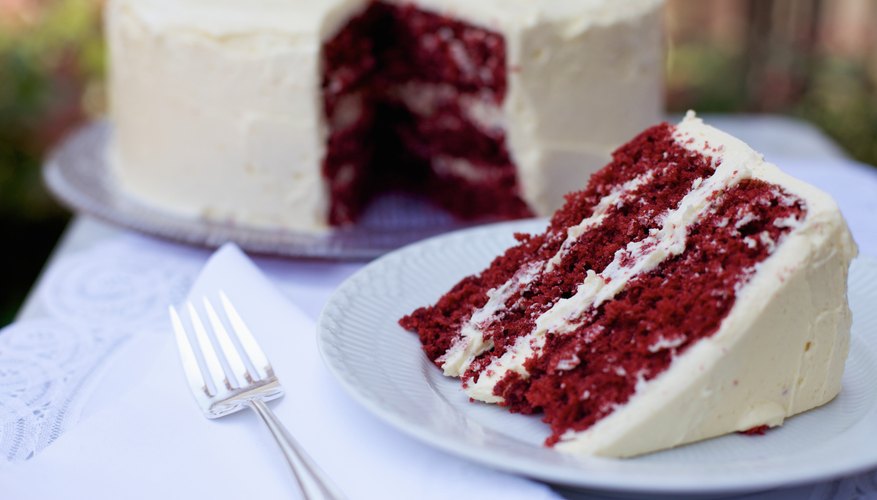 If your teen likes a certain band, TV show, movie or celebrity, you can create a cake themed around this. For example, your cake can depict a certain scene from a movie. Get the tiny "set" decorations at hobby stores that sell dollhouse furniture. Musicians, TV shows and some celebrities have websites where you can download pictures or small movie posters. Superimpose these on the cake.
Nurse-Themed Cake Decoration Ideas
Nursing Tools Cake
Many nursing-themed cakes make use of the tools that are involved in the nursing trade because they are recognisable and relatively easy to reproduce with cake and frosting. Using edibles, you can replicate a nurse's uniform, stethoscope, blood pressure gauge, pill bottles and other objects that people associate with medical practice. The cake itself can be shaped like a nurse's uniform, and the other objects can be used as decoration and accents on top of the cake.
Hospital Cake
If your nurse friend works in a hospital, or you are celebrating the fact that she just got a job in a hospital, you can make a cake that takes the shape of a miniature hospital. If you are particularly ambitious, get some photographs of the hospital where she is going to work and replicate it in cake. Just bake enough flat, rectangular cakes to form a small building with, then cover them over with frosting and add windows and other exterior features using a cake decorator.
Body Parts Cake
Engage in some off-colour humour by making a cake that looks like body parts and have a disgusting time eating it at your nursing party. An appreciation of black humour can sometimes come in handy in the nursing profession, which frequently means dealing with pain, suffering and loss. Eating a body parts cake may offend some of your guests, but just as many people many find it hilarious and appreciate your sense of humour.
Funny Cakes
Parties and celebrations are good places to have a laugh, and you can get some laughs by making amusing nursing-themed cakes. Cakes like these often play on typical medical humour, for example, a patient who is about to get a shot or some other intimidating or uncomfortable medical intervention. A skilled cake maker can create little people in amusing vignettes as part of the cake.
Teenage Girl Birthday Cake Ideas
Tie-Dye Cake
This is a simple cake to make that takes only a little effort to get an outstanding look. Just a rectangular cake, a knife, white frosting and spray-on colours for frosting is all you need. Take a white frosted cake and spray on the colours in a tie-dyed design. A little imagination will go a long way to making this cake spectacular.
Slumber Party Cake
This cake can be customised to the number of girls sleeping over. This cake requires a little imagination as to what to use to make the girls in the bed, but overall it's easy. Use a rectangular cake, add some marshmallows for the bodies and frost the cake over the marshmallows to make them appear to be under the covers. Add liquorice for the hair and food colouring or cake dyes to draw the faces on. Then colour in the bedspread for a fabulous cake for any girl's sleepover.
Music Cakes
Most teens love music. MP3 players and computers are used to listen, download and store every type of music available. Your cake can reflect this. A rectangular cake can be made to look like an MP3 player with bag of black icing, or stores sell guitar- or other instrument-shaped cakes as well. Adding a few music notes to a predecorated cake can add a lot of pizazz to an otherwise plain cake, making it spectacular for your teen girl's party.
Cake Ideas for a 13th Birthday
More Adult Cake
Sometimes the guest of honour would rather pass on the decorated cake and is ready for a more adult cake. This can be a personal favourite such as a cheesecake or even a favourite pie. Cakes can be decorated with chocolate-covered strawberries, nuts, chocolate chips or chocolate curls instead of candles and decorations. An ice cream cake is another idea that might appeal to a 13-year-old.
Personal Interests
Another great way to decorate a cake is with moulded chocolates. Focus on what your teen likes the most, whether it is sports, music, even cell phones or shopping. Moulded chocolates are easy to make and moulds can be found in thousands of styles, including sports equipment, animals, lipstick, purses and shoes. Purchase candy melts from a craft supply store, melt and fill the moulds. Candy melts can be found in various colours and flavours.
Look Alike Cakes
Another idea for a 13-year-old's cake is to make it look like a large package. Make the cake and cover in buttercream. Cover in tinted fondant and make a large bow with fondant or gum paste. You can always make the ribbons from the fondant and use a real ribbon large bow.
A big hamburger made with three layers and gum paste tomato, cheese and lettuce slices with a side of pound cake fries would be cute, as would any of the guest of honour favourite foods made of cake.
1st Birthday Cakes Ideas
The No 1 Cake
Create a No. 1 cake by using a cake mould or ask a bakery to create one for you. Decorate the number cake with icing that matches the party theme. Use a number "1" candle on the cake as well to reinforce the theme.
Baby Theme
Take advantage of the last opportunity to use baby-related items in a theme. A 1st birthday is a good chance to use images such as colourful blocks, teddy bears and other baby-related toys and images. Bake a sheet cake and use real toys as decoration or order a cake from a bakery and use these ideas as a theme for a shaped cake. Be sure to display the cake on a table where other baby-type toys are also present and add to the birthday decor.
Now-and-Then Cake
Celebrate all the steps and development the child has made in the first year of life by creating a cake that reflects this growth. A sheet cake can be transformed by adding two pictures on top of the cake. Line the photo with icing to look like frames or have a bakery "print" the photos onto the cake top. Add a newborn picture to one frame and a current photo of the baby into the other frame. Decorate the borders of the cake with icing in the birthday colours.
Family Tradition Cake
Celebrate a baby's first birthday by infusing some family tradition into the cake selection. Make a cake that resembles the first birthday cake of the child's mom or dad. Perhaps the mom had a particular theme for her first birthday party, which can be re-created for her baby. Display a picture of the mother along with her first birthday cake. Or maybe the dad's mother made a particular flavour of cake to celebrate his first birthday and can carry on that tradition for her grandchild. Include a framed picture of the dad next to his first cake to help guests understand the importance of the cake.
1980s cake ideas
Popular 1980s Music
The 1980s was the era of Michael Jackson and Madonna. It was also when MTV went on the air and introduced us to the concept of music videos. Incorporate images of 1980s musical icons or the MTV logo into a 1980s-themed cake. Alternately, write the titles of popular songs from the era on the cake's top.
Popular 1980s Movies
"Back to the Future" and "Sixteen Candles" were two popular 1980s teen movies. Choose imagery from either of these movies or another popular movie of the era for inspiration for an '80s-themed cake. A DeLorean car that was featured in the movie "Back to the Future" makes for an interesting and theme-appropriate 1980s cake.
Popular 1980s Slang
Writing "Radical, Dude!" and other 1980s slang words and phrases can make appropriate cake decorations for an '80s-themed party. Write the phrases and words that were popular in the 1980s in bright neon lettering on a sheet cake. Cover the entire top of the cake with the words.
Popular 1980s Toys
The Rubik's cube is a toy that was very popular in the 1980s. The brightly coloured cube makes for an interesting and 1980s theme-appropriate cake. A square cake decorated with small, coloured fondant on all sides is a good way to represent the Rubik's cube. Pac Man ruled the 1980s video game world, and can be easily made from a round cake. Simply cut a slice out of it and frost the cake in yellow.
Teen birthday cake ideas
For Girls
Girls love pretty packages, and a cake is no exception. Give your teenage daughter or other relative a classy birthday cake by dressing it up beautifully. Make a cake shaped like an elegant gift, complete with a bow. To do this, use two or three perfectly square brownie pans for the cake itself. Frost it and let dry, then add the ribbon. If you are good with chocolate, you can make your own candy ribbon, but for most of us, decorating the cake with a large, gorgeous and sparkly wire-ribbon bow is the best bet. For a fun touch, scatter cupcakes around the large package, each with its own bow.
For Boys
Teenage boys are less likely to care about how pretty their cake is. In fact, as long as it's edible, chances are they might not even notice what colour or shape it is. Make your teenage birthday boy sit up and take notice by fashioning a cake in the shape of his favourite toy or even an article of clothing, such as a baseball hat. For example, a cake shaped like an iPod is easy to make, because iPods are rectangular. Simply use a rectangular cake pan, frost and then borrow your teenager's iPod when he isn't looking, so you can copy the look of it onto the cake using frosting. You can even fashion some "headphones" coming from the iPod out of liquorice whips.
For Girls and Boys
An easy but still attractive way to decorate a teenager's birthday cake is to create their age. Simply bake two rectangular cakes, and cut the numbers out of the cake. Frost and cover it with sprinkles, then add candles. Sweet 16 cakes are fun when shaped like a car or a set of car keys. If your child has a favourite hobby, such as music, try a cake decorated with a musical staff and notes made out of frosting. If your teen is a fan of a sports team, try decorating the cake in those colours or with a team logo. Finally, consider other options. A three-level dessert tray filled with colourful cupcakes, each with its own candle, makes a great substitute for a birthday cake, as does an ice cream pie.