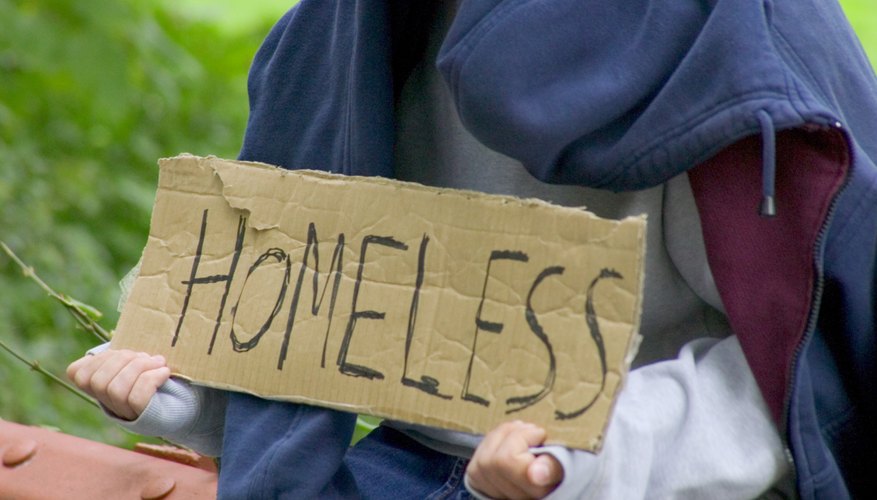 While college students are primarily worried about the results of a term paper or exam, thousands of homeless people have larger concerns of where they will sleep at night or when their next meal will come. College kids can participate in the combat against homelessness by organizing activities on campus to raise awareness for the homeless.
Donations
Organizing a donation drive on campus will help provide necessities to people in homeless shelters. Organizers can plan a clothing drive and have students raid their dorm room closets for items they no longer wear to give to the homeless or plan a food drive and have students donate bags of nonperishable grocery items such as cereal and canned vegetables. A toy drive will be ideal around the holidays to provide toys for children with little or no possessions. Hang posters, with all the drive details, around campus to get fellow students' attention.
Volunteerism
Members from campus organizations can take a little time out of their busy schedules of studying and classes to lend a helping hand to volunteer at a shelter. College students can consider tutoring homeless children at the shelter or help prepare or serve a meal for homeless families. Clerical or resume preparation skills taught by a student can lead a homeless person in the right direction to a job and ultimately self-sufficiency. Volunteers may also be needed at shelters to do other tasks such as helping people sign in or answering phone calls.
Advocacy
College students can show they are in favor of ending homelessness by advocating their concern in different forms. Students can write letters to government legislators to push for state homelessness prevention programs that will help individuals from losing their homes. Phone calls and office visits organized by students may serve more effective than letter writing to officials. Student organizations can also make their voices heard by connecting with a homeless advocacy coalition such as Habitat for Humanity International that works on the local and national level to combat homelessness.
Fundraisers
Instead of giving money directly to the homeless, student organizations can fund raise on campus and donate the proceeds to a local shelter or soup kitchen. Students can utilize their artistic skills as a means to raise money. A bake sale with an assortment of desserts prepared by students will be an effective way for students to help people in need and satisfy the raging appetite of other students. College kids can sponsor a campus benefit concert or coffee house show featuring student poets and artists to raise money as well.