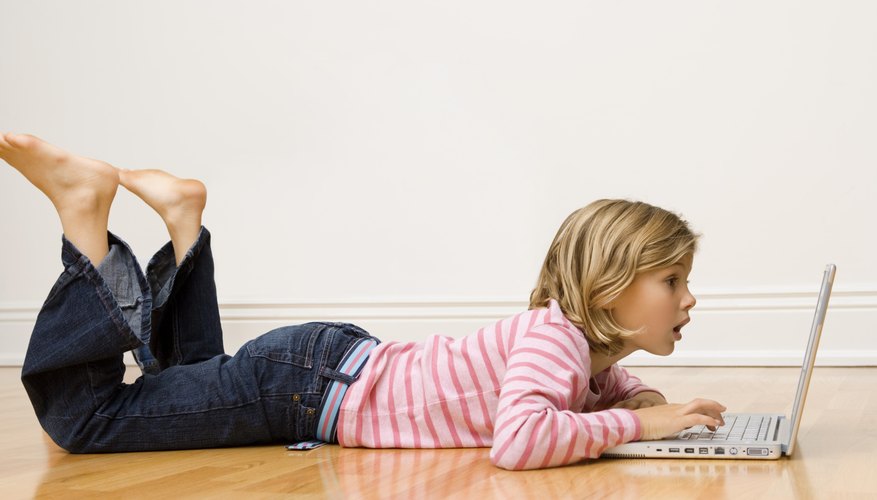 If your little one is constantly asking -- or whining -- to play games on your laptop, choose a toy laptop to keep her busy and away from your much more pricey version. Toy laptops for children can provide kids who are too young to use a real computer without constant adult supervision with the chance to explore and experiment in a hands-on way, without hearing constant reprimands such as, "No! Don't do that," or "Don't click on that!"
Pretend Play
Play, according to the child development experts at PBS Parents, is one way that kids can practice skills that they will need as they grow and develop. Playing with a toy laptop can help to prepare your child for using the real thing, without the added fear that he may permanently destroy your high-priced machine. For example, your preschooler can create his own workday scenario in which he dresses up like Daddy and takes his laptop to his job in an office. He can "type" on his laptop and create his own "work reports" without actually deleting Dad's real ones.
Laptops for Infants and Toddlers
There isn't just one type of toy laptop that fits all kids' needs. You're likely to find an abundant array of different types when you visit the toy store or look online. While some may seem overly complicated, others are made for a younger audience and will work well for your infant or young toddler. A toy laptop such as My Talking LapPup by LeapFrog is specially made for kids ages 6 months through 2 years, and features large, easy to use, colorful buttons. Likewise, the Fisher-Price Laugh and Learn Smart Screen Laptop also has vivid buttons that are sized for an infant or toddler's not-so-gentle grasp. Young children can bang on the buttons without moms and dads worrying about the little ones breaking the laptop.
Laptops for Preschoolers
As your child moves into the preschool years, she will begin to enjoy pretend play more often than she did as a young toddler. Additionally, her growing interest and ability to learn the letters and numbers can add to the toy laptop experience. Instead of just banging on big keys or looking at light-up buttons, your preschooler may need a toy laptop that is somewhat more adult-like in design. For example, LeapFrog's My Own Leap Top has actual letter keys and looks more like the real thing. If you are looking for an almost-real version of your laptop, Vtech's Brilliant Creations Beginners Laptop has an LCD color screen and features 80 different learning activities with an emphasis on counting, matching and vocabulary development.
Specialized Toy Laptops
Whether your child has a favorite character or he is looking for a laptop that makes a statement, specialized toy versions often feature movie, television or other kid-friendly themes. For example, the Vtech Disney Princess Magic Wand Laptop has a pretty pink design, and the Vtech SpongeBob Laptop is a junior version of the real-thing that includes a cartoon-themed design and SpongeBob activities. Preschoolers who are superhero fans may enjoy the Batman Jr. Learning Laptop by Oregon Scientific. With a blue Batman outer design, this toy laptop has eight different learning games to help your child learn the basics.