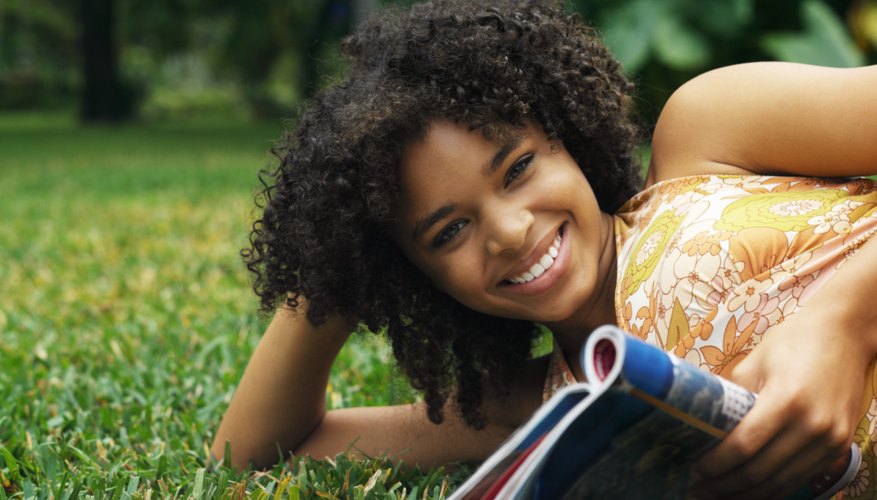 If your teenage daughter doesn't have a summer job or a camp to attend, she'll have a lot of time on her hands during the summer and may find herself bored at home. Introduce her to several enjoyable activities she can do around the house to spend her time wisely and accomplish some things before summer's end.
Master New Recipes
A teenage girl will be off to college in a few years. Learning recipes and sprucing up on her basic cooking skills at home will be helpful to her while she is living on her own. She can learn the necessary steps to certain recipes from you or invite a grandparent over to learn from her. She can carefully monitor the steps and create the recipes on her own. Let her plan a dinner for the rest of the family to serve as food testers to see if she is able to recreate the recipes successfully. You can also put her in charge of making family dinner a couple times a week to further master her skills. If she has an interest in a certain cuisine, such as Asian or Mexican, she can find cookbooks and test recipes in your home kitchen.
Reorganize Her Closet
The bedroom closet of a teenage girl is often in disarray from throwing clothes all over the place to get ready for school or dates. Going through her closet and reorganizing it will require a good chunk of time. She can first figure out what items she no longer wants to wear or has outgrown. She can perhaps plan a clothing swap party with her friends or donate the unwanted items away a local homeless shelter. The clothes can be sorted by the type of garment and grouped together on the closet's shelves and racks. She can also consider organizing items by color, season or dressy versus casual. Let her place a shoe rack or purse hanger in her closet for easy accessibility to those accessories.
Start a Book Club
Chances are your teenage daughter's friends are also bored at home and hoping for some excitement. Reading will allow them to escape from reality. According to the National Endowment for the Arts, less than one-third of 13-year-olds are daily readers. Encourage your teen to read daily and start a teen book club. She and her friends can decide on two books to read for the summer book club, one book for each summer month. She can invite her friends over for a weekly or monthly book discussion and have everyone bring a dish for a potluck dinner afterward. They can discuss their favorite parts of the book and favorite characters. If most of her friends are away or tied up with a job, she can join an online teen book club community, such as Readergirlz. The online club highlights a book each month and allows teens to connect with each other to discuss the book.
Campout in the Backyard
The backyard can be utilized for a fun camping sleepover with her friends to celebrate the end or start of summer. The spacious backyard will give the teens a sufficient amount of room to play a plethora of fun bonding games before retiring for the evening. Start and finish lines can be created on the grass for several types of relay races, such as egg-and-spoon or potato sacks. Teens can also divide into teams for tug-o-war, or put up a net and play competitive sports games, including volleyball or badminton. Your teen can also hide glow-in-the-dark items around the yard for her friends to find for a nighttime scavenger hunt. When dusk arrives, the girls can roast marshmallows over a campfire and tell scary stories. They can end the night by watching the night sky for shooting stars and then settle down in pitched tents to sleep.