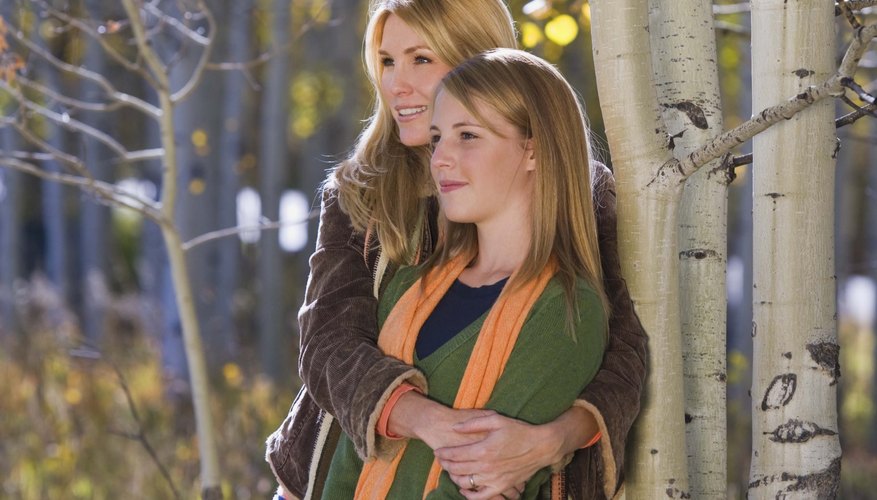 Teenage girls can be a finicky, hard-to-please bunch, but they've got the girl bonding thing down pact. Teen girl bonding, both between a teen and her girlfriends and between daughter and mother, are important for developing trust and friendship. Your relationship with your daughter is one of the most influential in her life, so ensure that you cultivate that relationship by spending time doing classic girly things, giving nonpreachy advice and making precious memories together.
Slumber Parties
Slumber parties are the ultimate in girl bonding for a tween girl and her friends. However you can also have a family girls sleepover with your teen, yourself and other female family members where you can bond over funny family stories and talk about what you did as a teenager. Let her see your youthful side by renting a karaoke machine to belt out popular tunes. Make pizzas, homemade popcorn and ice cream sundaes. Wind down the evening with a classic chick flick such as "Beaches" or "Pretty in Pink."
School Dance Preparations
Helping your teen get ready for big school dances and the prom is a mother-daughter rite of passage. Take her out to find the perfect dress, one that she loves yet is still approved by you. Spend the time getting her ready having girl talk about boys, friends and school. For an extra special occasion such as prom, let her borrow a special or sentimental jewelry piece to make her feel important and extra special. School dance prep can also be an opportunity for your teen to bond with her friends, too. You can invite her closest friends over, and their parents, to allow the girls to get ready together.
Shared Interest Activities
A lot of girl bonding occurs over a shared activity. Teen girls who are on the same sports team, for example, have a special bond because of their passion for their sport. You can also spend time with your daughter doing activities you both love. If you and your teen daughter both love cooking, consider signing up for a challenging cooking class, allowing you both to improve on your culinary skills while bonding over funny mishaps. If you both love the outdoors, plan a mother-daughter camping trip for just the two of you.
Overcome Challenges Together
Bond with your teen daughter over facing fears and challenges. If your teen has a debilitating fear that could hold her back in the future, help her face it. Perhaps your teen is terrified of heights, and is concerned about being put in a college dorm on a top floor. One way to help her overcome this fear is to find a ropes course somewhere in your area, where trained instructors help people get through a challenging obstacle course while suspended high in the air. Many rope courses emphasize teamwork, so you and your teen would have to rely on each other to get through it. Another example could be if your teen is afraid to fly but wants to travel more. Book a weekend getaway far from home so she can experience her first plane ride while you are there to hold her hand and support her.