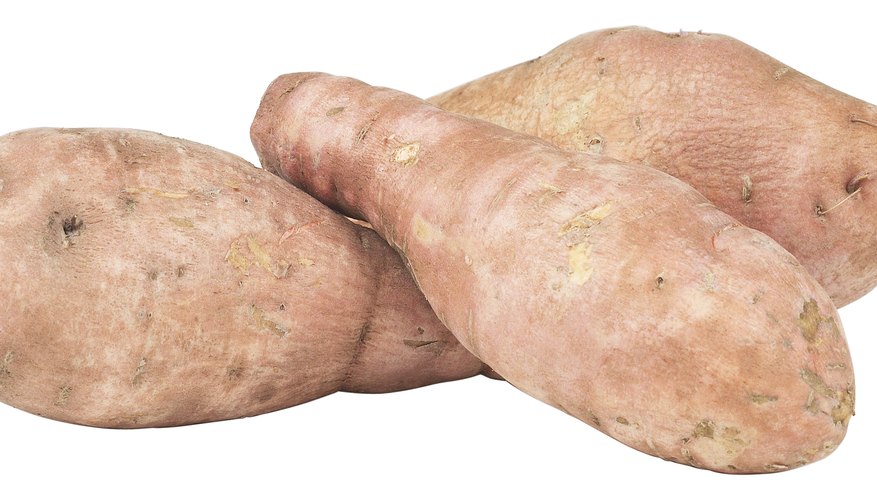 Sweet potatoes are versatile little vegetables rich in vitamin C, fiber and potassium. However, impressive health benefits aren't enough to get many children to try or even handle the strange-looking, funky-smelling vegetable. Introduce sweet potatoes in several enjoyable ways -- and you might just inspire your kids to give this amazing vegetable a chance.
Sweet Potato "Slips"
Sweet potatoes are generally grown from "slips," which are shoots from a mature potato. Teach your kiddo a simple lesson in agriculture by growing your own sweet potato slips. Purchase a sweet potato from a grocery store or farmer's market and let your child watch you shove a single toothpick into the tuber on each side. Use the toothpicks to suspend the sweet potato over a jar filled with water, making sure that two-thirds of the potato is submerged. Place the tuber in a bright location and in a few weeks, it will begin to sprout strange-looking shoots. Explain to your budding agriculturist that growers use these slips to grow more sweet potatoes. You could try growing a sweet potato from these slips, but slips produced by this method are generally too weak to grow.
Sweet Potatoes in a Bucket
Even if you can't keep your houseplants alive, there is a way to grow sweet potatoes with your kiddo that might just survive your black thumb. Grab any bucket, planter or even your child's unused plastic storage bin and fill it with a porous, organic soil mixture. Don't worry if you're not an avid gardener, just look for the word "organic" on the bag. Purchase some rooted potato slips from a local nursery and plant them according to the package directions -- or simply hand your kiddo a small shovel and let him dig holes and stick the slips inside. Keep the container in a warm spot and water it weekly. It's best to plant sweet potatoes in the summer and harvest them in the fall, or about 4 months after planting. It might seem endless, so encourage your little one to water the sweet potatoes and check their progress before harvesting.
Sweet Potato Fries, Anyone?
Sweet potato fries are quite popular -- and a healthier alternative to your kid's favorite fast food fare. To create your own, cut one or two large, ripe sweet potatoes from the vine, or keep your hands clean and purchase them from the grocery store. Cut the potatoes into strips and ask your kiddo to assist you in arranging them on a baking sheet. Slide the sweet potato fries into an oven that's been preheated to 450 degrees and allow them to bake until golden brown. Sprinkle a little sea salt on the fries and enjoy -- or allow your kiddo to coat the fries with his favorite flavor, such as brown sugar or even garlic.
Dressing up a Sweet Potato
You probably remember playing with a certain tuberous plastic friend when you were a kid. Instead of wasting money at the toy store, transform a sweet potato into a more "natural" take on the famous toy. Grab a large, fat sweet potato -- and rinse and dry it thoroughly. Next, set out some peanut butter or cream cheese that your kiddo can use as "glue" to attach small and/or cut-up fruits and vegetables to the potato to bring her sweet potato man (or woman) to life. Give your kiddo some ideas like using parsley for hair and halved olives or blueberries for eyes, but also encourage her to get creative and come up with her own ideas -- maybe she wants to create a cyclops sweet potato head!