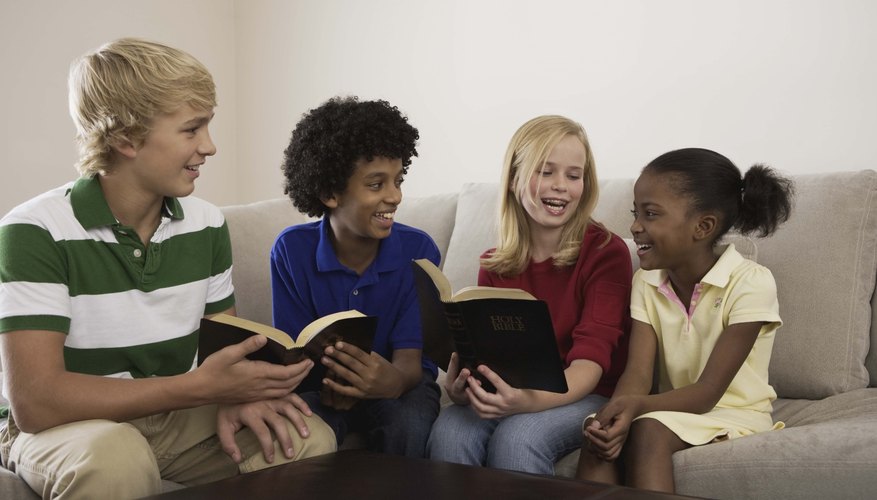 Middle school often marks the transition to an active social life for tweens, who may want to spend more time with friends than family. Reading isn't always considered cool, but a book club is a way for your middle school child to take control of her reading. By getting her friends involved, she can enjoy new books, discussions and activities. Her growing independence means she will likely want to handle many of the book club details, but your guidance can help direct the book club in a positive and productive direction.
Discuss the book club with your middle school student to gauge her interest in the idea. If she isn't interested at all, the book club won't likely be a success. Ask her who she wants to include in the book club. Let her know you will set basic ground rules, but the tweens involved can have control over things such as book selection and discussion questions.
Meet with the parents of your middle school child's friends to get some help running the book club. Brainstorm ideas for the group, such as activities to do, where to meet and how often to meet. Ask if the other parents would host some of the meetings or help in other ways, such as bringing snacks.
Set the basic structure and ground rules for the book club. Decide if the club will meet year-round or only in the summer. Kids are often busy during the school year with other activities, so you may find it easier to only do a summer book club. Decide how many kids you will include in the group. A minimum of four kids works best, according to Education.com.
Write a list of books suited to the middle school level to give the kids a place to start. Examples include "Absolutely Normal Chaos" by Sharon Creech, "The Van Gogh Cafe" by Cynthia Rylant, "Holes" by Lois Sachar or the "Harry Potter" books by J.K. Rowling. Give them the option of choosing a different book off the list as well so they maintain the control over what they read.
Brainstorm a list of discussion questions for the middle school kids to use as a guide. Get your child involved in coming up with an activity to do with the book. For example, if the book selection is a "Harry Potter" story, make butterbeer with the kids.
Set up an area where the kids can sit comfortably to discuss the book. A family room works well for this. Offer the discussion question list and activity materials to the book club members. Stay close by without taking over the meeting so the middle school kids have a chance to run the book club.
Tip
Your level of involvement depends on your child's preferences and the overall dynamic of the group. Some middle school kids might enjoy your perspective, while others might prefer no adults at all.