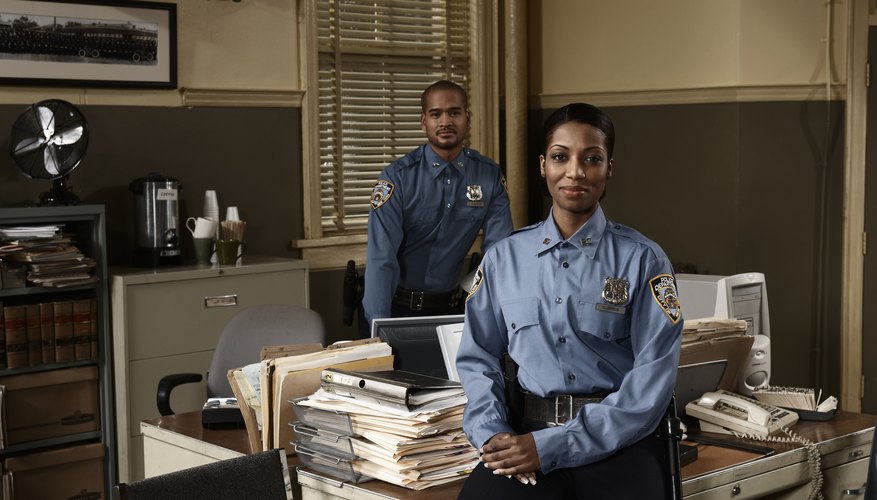 Teenagers run away for a variety of reasons -- they might be escaping from responsibilities at school, the stress of family arguments, fighting between parents, physical or sexual abuse, or he might be in trouble and trying to avoid punishment. Once in the outside world, runaway teens are vulnerable to alcohol and drug use, malnutrition, gang violence, sexual exploitation, AIDS and truancy, according to HealthyChildren.org. Time is of the essence -- take steps immediately to help bring your runaway teen safely back home.
Go to your police department. Provide them with a recent photograph of your teen. Tell the police his weight, height, hair and eye color, and also mention any identifying features such as tattoos, birthmarks or braces. Ask that your teen be entered into the National Crime Information Center, which is run by the Federal Bureau of Investigation and helps locate missing children, according to the Polly Klaas Foundation. Before leaving, get the name of the officer who will be handling your case.
Report your runaway teen to The National Runaway Switchboard (see Resources). Call the 24-hour hot line and speak to one of the volunteers. The NRS staff provides support, counseling, crisis intervention and referrals. They also act as a go-between between parents and their runaway children. Leave a message for your teen at the NRS, in case he calls in. Once your teenager is found, the organization will get him a free bus ticket home.
Contact the National Center for Missing & Exploited Children (see Resources), which was created by Congress in 1984. Call or use the Live Hotline feature on its website. Your teen's photograph and vital statistics will be listed in its database. The NCMEC also works closely with law enforcement.
Fill out the Missing Child Report Form on The Polly Klaas Foundation website (see Resources). The foundation will create posters with your teenager's photo and vital statistics, and include it on their website. Their nationwide volunteer staff also will distribute the posters throughout your community. You'll be assigned a caseworker who will provide on-going guidance and support throughout the process.
Tip
Leave a message for your missing child on your voice mail and cellphone. You might say, "I'm not angry -- I just miss you and want you to come home."
Get caller ID from your phone service provider.
Spread the word that your teenager has run away. Talk to his friends who might have an idea where he is. Speak to school officials, including the principal, his teachers and guidance counselor.