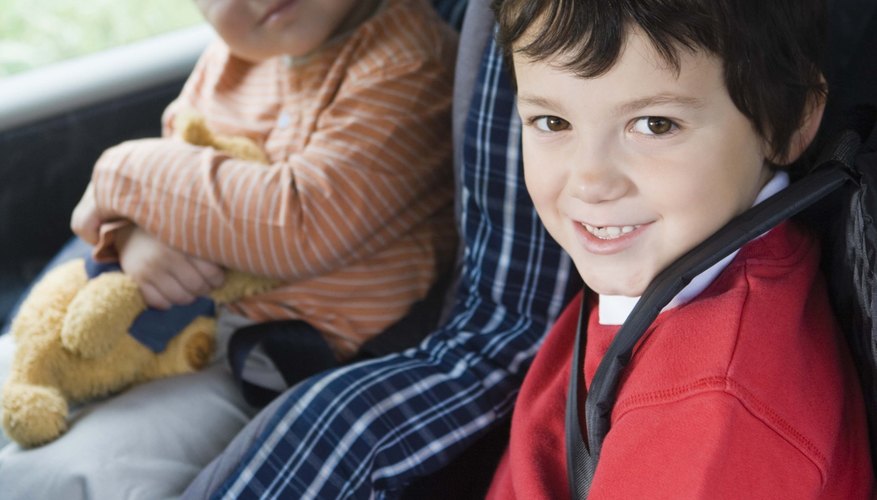 If the unthinkable happens and you are in an accident when your child is in the car, a proper booster seat will offer protection. If the accident was a moderate or severe crash, to ensure a continued high level of protection for your child, you should replace the booster seat. The National Highway Traffic Safety Administration recommends replacing all car seats following an accident unless it was a minor crash. The NHTSA defines a minor crash as one in which you could drive the vehicle away from the crash site, the door closest to the booster seat was not damaged, the air bags did not deploy, no one was injured and there is no visible damage to the safety seat.
Recycle the old car seat. Since you cannot use it, you should not donate it or give it to someone else. Search for a recycling program in your area or call your municipal waste company to see if they will recycle it. If you live in a remote area and can't find a recycling center, dispose of the booster seat in the trash. Remove all belts and padding and label the seat, "Trash -- do not reuse" in permanent marker. Do not leave the belts and padding near the discarded seat.
Research booster seat options. Check Consumer Reports or another guide that can give you information on safety ratings and other quality indicators. There are three types of booster seats available: backless models, which look like large square pillows, high-back models and combination models that you can use either with the high back or without.
Purchase the seat. Go to the store, if possible, to inspect the booster seat in person to ensure that it is going to meet your needs. If you purchase online, make sure you are able to return it if there are any issues.
Install the seat. Most booster seats do not need any installation since they simply sit on the backseat and raise the child high enough so that the seat belt positions correctly. However, Car-Safety.org notes that some combination models do allow top tether use as a booster -- and some dedicated boosters are LATCH-equipped. Follow instructions in the manual for proper installation.
Tip
If you have any questions regarding the installation or positioning of your booster seat or any car seat, go to a certified car east installation technician for assistance. This is often free of charge, and by taking advantage of this service, you can help ensure your child's safety.
Check your insurance policy before purchasing a new booster seat, as replacement costs are often covered.
Warning
Be sure to carefully inspect the booster seat for damage following a crash. You should look under the seat padding to ensure that you don't see any cracks or deformities caused by the crash. If you notice any damage, do not use the seat.
Do not buy a second-hand booster seat. You cannot be sure of the seat's history. Perhaps, it was in a car crash as well and is unsafe for your child.