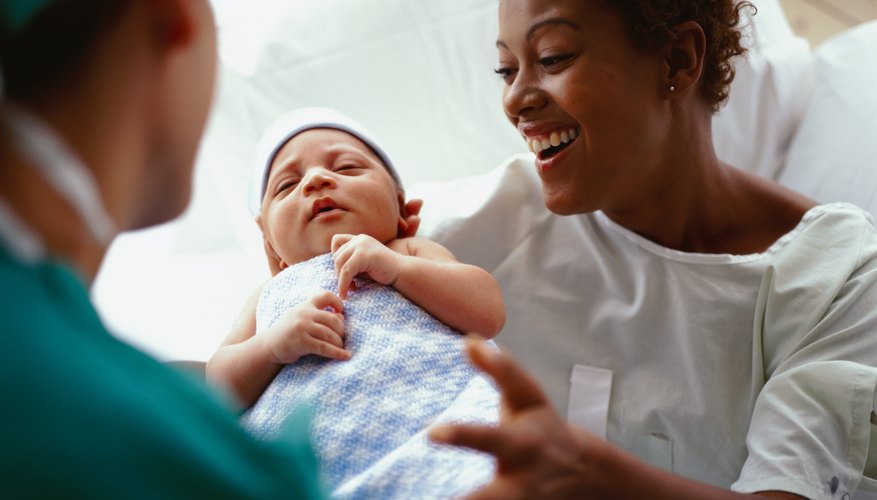 Preparing for a new arrival -- particularly if it's your first -- can seem overwhelming. In addition to taking care of yourself and your developing infant, you'll also want to be ready to care for your baby once he arrives. When it comes to care, having a pediatrician you trust is key. Selecting your pediatrician before you child is born can help ease your mind as you won't have to scramble to find one while you're busy attending to your newborn.
Finding a Pediatrician
Don't wait until the last minute to find a pediatrician you like. A good time to start your search for a pediatrician is about three months before your due date, according to the KidsHealth website. It can take time to find a pediatrician with whom you are comfortable -- and you'll likely want to compare several. Also, in the event that you deliver earlier than your due date, you will want to have a pediatrician in place. You can begin your search for a pediatrician by asking for referrals from your ob-gyn and friends or coworkers who have children. You also can request a list of board-certified pediatricians from the American Academy of Pediatrics.
A Pediatrician's First Visit
You'll want to know if a pediatrician is affiliated with the hospital where you plan to deliver. Pediatricians typically make regular rounds at the hospital. Once you get to the hospital and are ready to deliver, you typically indicate your pediatrician on the paperwork you fill out, notes HealthyChildren.org, a website of the American Academy of Pediatrics. A labor and delivery nurse will notify your pediatrician once you deliver. If you had any complications during either your pregnancy or the delivery, your pediatrician should examine your newborn at birth; however, if your pediatrician isn't available or you don't have one, a staff pediatrician or neonatologist at the hospital can examine your infant. Otherwise, the routine newborn examination can take place anytime during the first 24 hours of life.
Your Pediatrician's Policies
When you are interviewing pediatricians, you want to find one whose personality meshes with your personality and parenting style. Take note of the vibe in the pediatrician's office to see if you like it. Keep in mind that you want a pediatrician who makes you feel comfortable while you're talking to him. There are also some practicalities to consider. You will want to know if a pediatrician accepts your insurance. You'll also want to know his office hours. If you work outside the home, you should ask if early morning, evening, or weekend appointments are available. If the pediatrician is part of a large practice, you will want to know if you will see the pediatrician you are interviewing, or if you might see a partner during a visit. You should also take a good look at the office to see if it seems overcrowded with patients and if it's properly staffed. Further, you should ask how long it takes for someone to return your call if you have a question or concern when the office is closed. Having as much information as possible about a pediatrician and his practice will do wonders to ease your anxiety.
Problems during your Pregnancy
Should prenatal tests indicate that your unborn infant has health issues, you should discuss this with your future pediatrician as well as with your obstetrician. If this is the case, your pediatrician might want to ensure that he or an associate is present at your delivery. He might also request additional testing. You might also want to inform your future pediatrician of other problems that develop during your pregnancy such as if your unborn infant stops growing in the third trimester.