OK, the Internet has made it pretty obvious that puppies + babies x photos = viral success. Whether it's Theo and Beau at Momma's Gone City or these Frenchie pups and their baby companion, people go gaga for this cuteness.
Well guess what, y'all?! We've got it too.
eHow Product Director Micah Miller is the proud papa of seven-month-old baby Avery and six-year-old English bulldog Riley. If the below photos are evidence, it's safe to say that Avery and Riley are best buds.
How do Avery and Riley get along so well? Micah shares some tidbits that he and his wife, Lindsey, use to ensure a happy relationship between their two charges.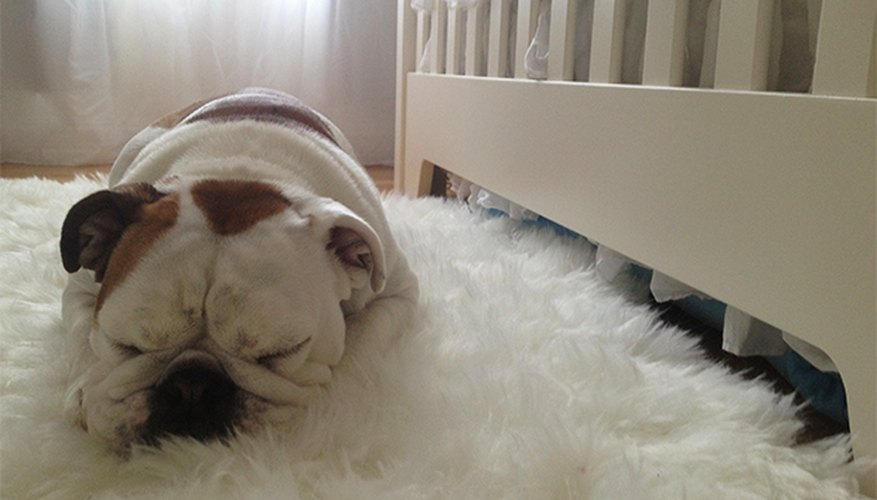 Even before Avery was born, Micah and Lindsey invited Riley to explore his room. Veterinarian and parenting specialist Dr. Jeff Werber of Century Veterinary Group in Los Angeles confirms that this is a good tactic for expecting parents: "As you are setting up the baby's room, encourage the dog to come in and when he does, heap praises on him and give him one of his favorite treats. Make that room feel like he's won the lottery whenever he walks inside."
When Avery was born, Micah and Lindsey took another page of advice from Dr. Werber's book: letting the dog sniff out the baby's clothes and blankets. "When Avery was still in the hospital, we took his baby blankets to the house so Riley could smell them." Check out this clip of a happy Riley licking Avery's blanket:

Once Avery arrived home from the hospital, Riley was already used to his scent. Micah and Lindsey closely supervised their first meeting. The result? "She just licked him."
And the kisses haven't stopped since. "That's all she does. He's usually got food on his mouth or on his hands," Micah says.
Micah and Lindsey are lucky that Riley is used to the pulling, tugging and roughhousing from young kids from hanging out with their niece and nephew. "The one thing we have to be cautious with," Micah notes, "is if we throw a toy for her. She's kind of a bull in a china shop when it comes to running after a toy…she doesn't really care what's in her way." So maybe hold off on the games of hallway fetch until the baby is safely in the crib or the highchair.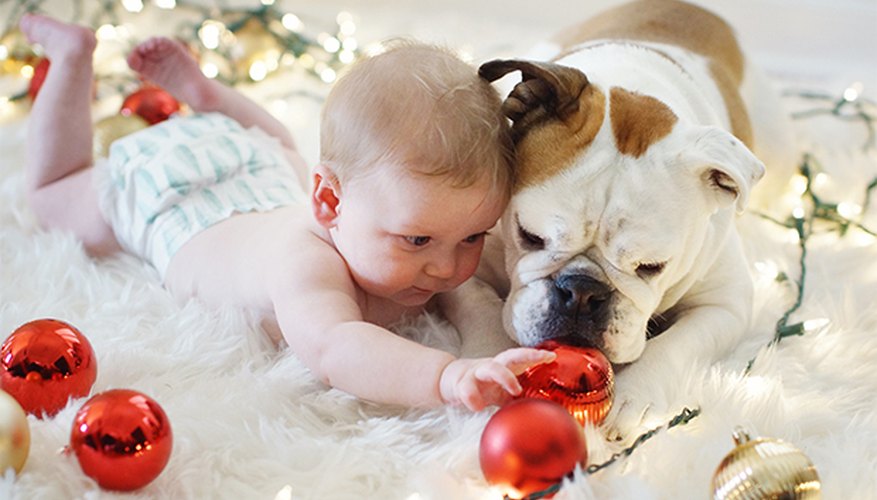 And now for the most important part: those photos. Avery, who started his modeling career young, has monthly photoshoots. His canine companion often makes cameos. Micah's advice for achieving this level of adorable in photos? "Riley we get with food–she'll do anything for food. And with Avery…it's just luck." Well, luck, good timing, and a talented photographer. Basically, you should just start snapping pics…or hire a pro.
For more advice from Dr. Werber about introducing pets to a new baby, read "Introductions Are In Order: New Pets, New Baby."
All photos of Avery and Riley are from Brienne Michelle for Hi Peanut Photography.