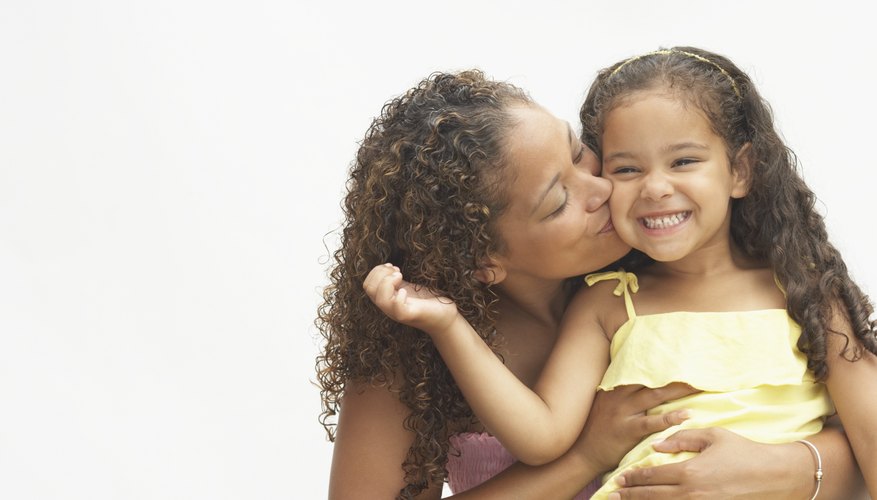 Before you know it, your little girl, once mommy's sidekick, will be waving at you as she drives off to college to start her own life. Make the most of the time you have with your daughter and deepen your bond by planning special mother and daughter getaway weekends every now and then. Choose places to go and things to do based on your child's age, personality and activities you both will enjoy.
Indulgent Spa Getaway
Whisk your daughter away for a weekend of indulgent pampering at a spa resort or hotel. If your daughter is a school-aged child, look for spas that have kid-friendly treatments and services. For example, at the Stowe Mountain Lodge in Stowe, Vermont, they have treatments geared toward children 12 and under, including Mini-Me facials, massages, manicures and pedicures. It also offers a Chillax Session, which teaches kids how to relax, using aromatherapy, hand and foot treatments and deep breathing exercises. For tweens and teens, the spas at nearly all the Four Seasons Hotels and Resorts offers treatments geared toward teen skin issues, including deep cleansing facials to diminish acne breakouts. You and your daughter can also indulge in luxury hotel amenities such as a heated pool, or by ordering room service and a family-friendly movie.
Camping Weekend Getaway
If your daughter loves the great outdoors, plan a weekend trip to a family-friendly campground, where the two of you can roast hot dogs and marshmallows and lay out under the stars in sleeping bags, pointing out constellations. During the day, you can go on nature walks, look for native plants and animals, or go bike riding. You can also opt to take your daughter to a mother-daughter weekend that many summer camps organize when they are not running their traditional camps. For example, Camp Kupugani in Leaf River, Illinois, hosts mother-daughter camp weekends for girls ages 6 to 14 that include traditional camp activities, but also emphasizes bonding activities for mothers and daughters and empowering girls and women.
Adventure Experience Getaway
Head out west to a working dude ranch, where you and your daughter can be cowgirls for the weekend. The Red Horse Mountain Ranch in Harrison, Idaho, offers various mother-daughter weekends and packages, allowing the two of you to enjoy long horseback rides, learn a Western line dance and participate in campfire sing-alongs. For an entirely different type of adventure, plan a ski and snowboard weekend getaway. One family-friendly resort to check out is Copper Mountain Resort in Frisco, Colorado, which offers a host of snow and ice activities and experiences. In addition to ski and snowboard lessons for kids as young as 3 years old, Copper Mountain also offers snow tubing, ice skating, alpine zip-lining and an outdoor snow play area for young children, as well as host of indoor parent and child programs.
Girls in the City
Take on the big city with your daughter. Book a hotel in the heart of the downtown area, close to many of the city's sights and attractions. Hit the major museums. Take in the view of the city from one of the city's tallest buildings, such as the Space Needle in Seattle, or at the Sky Deck of the Willis Tower in Chicago. Shop for matching or complementary outfits for an evening out at the theater to see a kid-friendly musical or show. Look for one-of-a-kind spots in the city ideal for mother-daughter bonding. For example, take a doll-loving little girl to American Girl Place in Los Angeles, Chicago or New York City, where she can pick out a doll, accessorize her and enjoy a meal next to her in an upscale cafe. You could also enjoy a girls tea at places like Alice's Tea Cup in New York City, which has a whimsical, "Alice in Wonderland" theme.