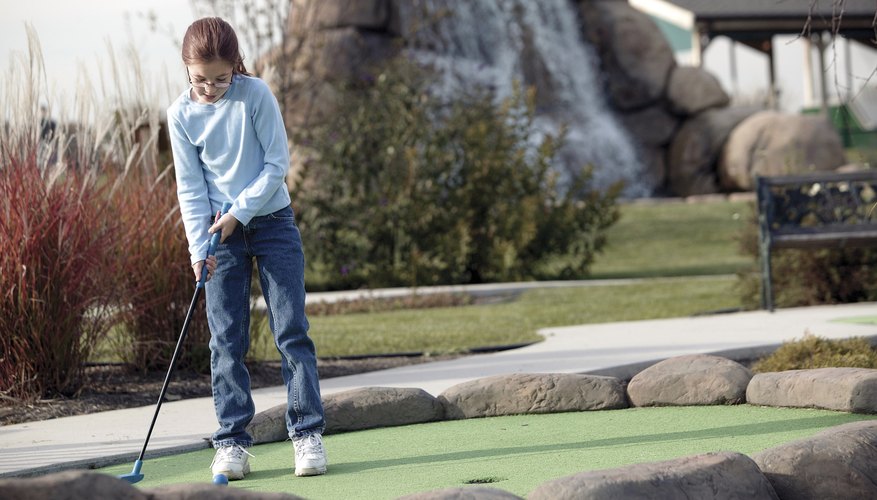 Ontario, California, is city with a rich agricultural history and is home to the oldest winery in California. The city and its surrounding areas also boast plenty of family oriented activities, one of which is miniature golf. Spend the day with family and friends out on the green and soak up some California sun with a round of miniature golf.
Scandia
Ontario is home to Scandia, a family-fun park with two Scandinavian-themed mini golf courses. The courses are well landscaped, with more than 12,000 flowers planted each year. You'll enjoy the sound of waterfalls as you play a round of mini golf, and if you want even more fun, check out the parks other attractions such as batting cages, amusement rides and arcade center.
Laser Island
Located five minutes from Ontario in Upland, Laser Island has Tiki Golf, an outdoor miniature golf course. With nine holes and obstacles for novice and accomplished players, this tropical-themed golf course is fun for the whole family. Laser Island also has a large arcade, laser tag and rock climbing.
Castle Park
Less than 30 minutes from Ontario is Castle Park, an expansive family amusement park with four 18-hole miniature golf courses. At Castle Park's mini golf courses, you can pick a course based on your skill -- from beginner to expert. Waterfalls, fountains and rapids intertwine with the courses and each of the four golf courses features its own theme. Other attractions at Castle Park include a waterpark, amusement park rides, bumper cars and an arcade.
Boomers
Test your swing at one of Boomer's miniature golf courses in Upland. With courses for beginners to pros, there's no lack of fun on the green. Boomer's mini golf courses feature hazards such as windmills and water to make the courses even more challenging. In addition to miniature golf, there's other activities at Boomer's such as go-karts, an arcade, bumper boats, kiddie amusement park rides, batting cages and a rock climbing wall.