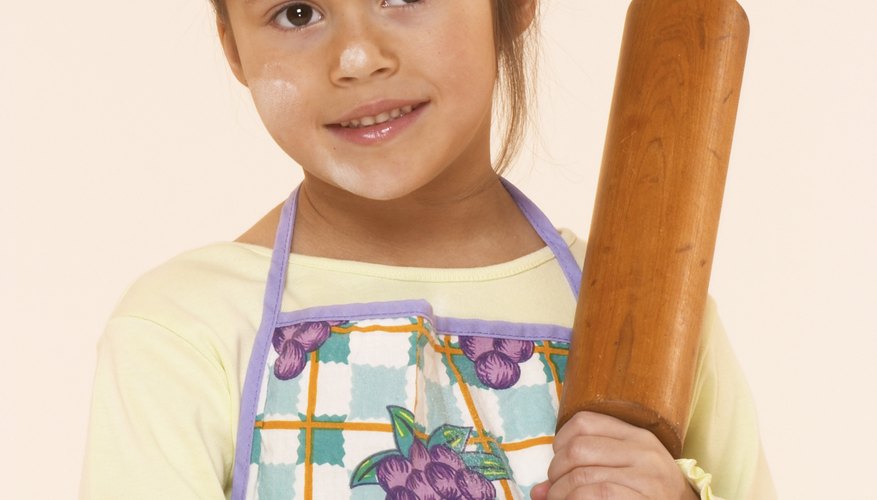 Whether you keep the Passover and the Days of Unleavened Bread with your family or not, your kids might enjoy learning about these annual holy days. In ancient Egypt, the Israelites packed unleavened bread to take with them when God finally freed them from slavery. Make a lesson about unleavened bread come alive with your kids by heading into the kitchen. What could be a better way to learn than by making something yummy? With a simple unleavened bread recipe, you and the small fry can mix up a batch of flat bread and have a tasty snack.
Tie on an apron and suds up your hands to get ready to make unleavened bread with your little one.
Measure out 4 cups of whole wheat pastry flour and have your little one dump each cup into the large bowl. Measure and add 1/2 teaspoon of salt to the bowl.
Add the vegetable oil and olive oil to the bowl -- let your little one help with this, too. Finally, measure and pour in about 3/4 cup of milk to start (you may have to add more milk in a minute).
Stir the ingredients well with the wooden spoon. Your toddler or preschooler will probably be a big help with this. The dough should hold together well without being crumbly or too moist. Add a little more milk if the dough is too dry. If mixing gets too challenging, take over for your youngster to mix the dough until it's nice and smooth.
Sprinkle a light dusting of flour over the counter and roll out the dough with the rolling pin. Again, let your youngster be the "roller" to get the dough nice and flat. Keep rolling until the dough is about 1/4-inch thick.
Cut shapes out of the dough using a biscuit cutter. Show your little one how to press the biscuit cutter down onto the dough to cut out shapes. Transfer the shapes to the baking sheet, spreading them out so they're about 1/2 inch apart on the sheet. Keep cutting, rolling and moving the shapes to the baking sheet until you've used up all the dough.
Prick the shapes with the fork three to four times to help make them flaky. Sprinkle a touch of garlic powder, cinnamon or nutmeg over the tops of the unleavened bread -- garlic for savory bread and cinnamon or nutmeg for bread with a hint of sweetness.
Bake the unleavened bread at 325 degrees for about 30 minutes.
Serve the bread with cheese spread, butter, peanut butter or jelly for a delicious treat.
Things You Will Need
Aprons
4 cups whole wheat pastry flour (plus a little extra)
1/2 teaspoon salt
Large bowl
3/4 cup vegetable oil
1/4 cup olive oil
3/4 cup to 1 cup milk
Wooden spoon
Rolling pin
Biscuit cutter
Baking sheet
Fork
Garlic powder, cinnamon or nutmeg (optional)
Warning
Keep your little one away from the oven while your taking the unleavened bread in and out. Let the unleavened bread cool in a safe spot where little hands can't reach.