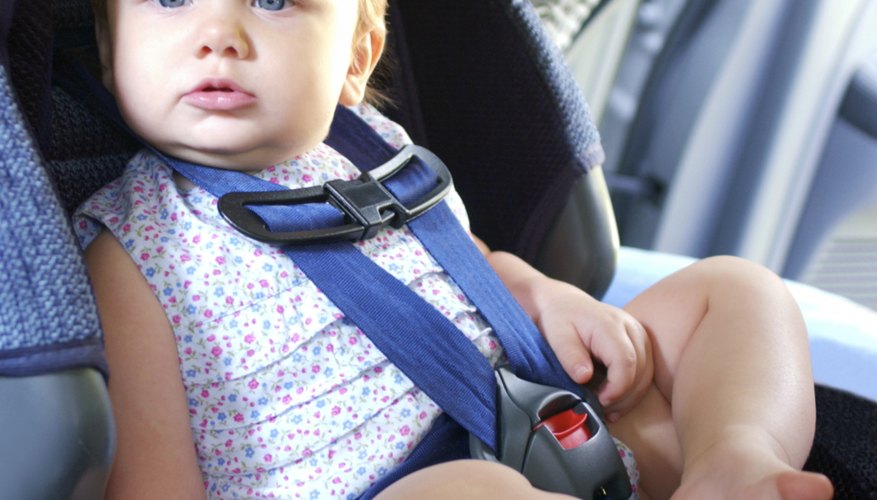 As a parent, your child's safety is a top priority. You do all you can to protect him, keeping up-to-date with the latest recalls, buying items that are safety approved, from bedding and clothing to furniture and toys and an approved child restraint system for your car. Although you have a federally approved child restraint system, be aware that all states have statutes that apply to these systems. The state of Florida is no exception.
Guidelines
A rear-facing child restraint system is recommended for infants up to the age of 1 year and 20 pounds. According to federal guidelines, your rear-facing seat should be semi-upright and sit at no more than a 45-degree angle. When your child is ready for a forward-facing seat, the seat should be in an upright position. Federal guidelines recommend that you keep your child in a forward-facing restraint system to the age of 4 years and 40 pounds. After that, a booster seat is recommended for your child from 40 to 80 pounds and 4 feet, 9 inches in height.
Statutes
Whether you live in Florida or are visiting, be aware of the statutes covering the use of seat belts and child restraint systems. First, any passenger, regardless of age, who rides in the front seat of your vehicle, must use a seatbelt. However, you may not use a child safety seat in the front seat of any vehicle that has a passenger seat airbag. In addition, through the age of 3 years, your child must be in a federally approved child restraint system or in a vehicle manufacturers integrated safety seat. If your child is 4 or 5 years of age, you can position him in the car, using your car's seat belt. Although a booster seat is not required in Florida, if the adult seat belt does not fit your child properly, the use of a booster seat will put him in a more suitable position. An adult is responsible for buckling your child. The law does not end at age 5. When your child outgrows the need for a car seat or booster seat, he must still wear a seat belt in Florida until 18 years of age.
Penalties
In Florida, it is illegal to operate your vehicle if your passengers are not properly restrained. As of 2013, Florida officers will fine you $60, and you will receive three points on your driver's license, if you are found in violation of the law. An alternative is to attend a child restraint safety program.
Considerations
As a conscientious parent, you have followed the law and safety recommendations and have buckled your child into his child restraint system or seat belt. At age 5, he then goes to school. You worry about the school buses the public schools use. In Florida, school buses purchased after December 31, 2000 must be equipped with seat belts or suitable child restraint systems for each passenger. All students are required to wear a seat belt when the bus in in operation. To put your mind at ease, consult your child's school to determine if your child's bus is in compliance.