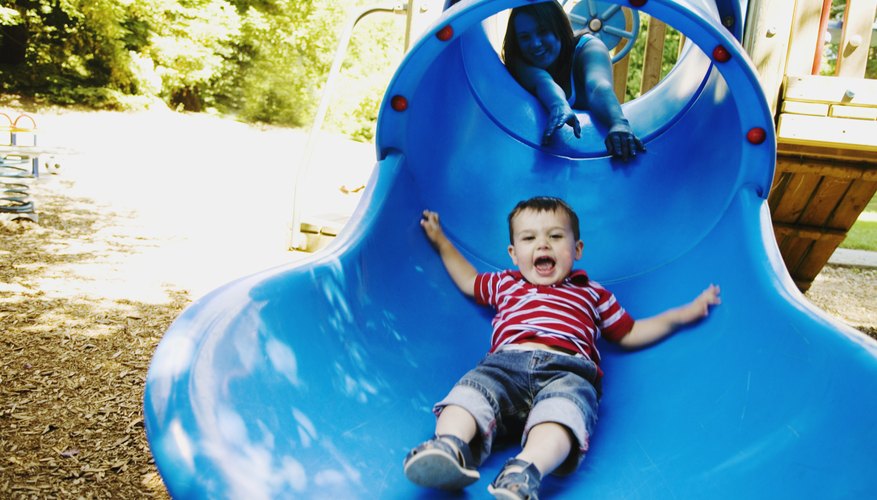 Ticks carry several potentially serious diseases, such as Lyme disease and Rocky Mountain spotted fever, that can make your little one very sick. Unfortunately, ticks are tiny and nearly impossible to spot before they feed, and toddlers and preschoolers can't always tell you if they've encountered a creepy crawly or been bitten by one. This makes it extra important to keep ticks out of playground areas. Your kiddo should be able to run loose in her own backyard playground without risk of tick bites.
Place as much of the playground as possible in full sun. Few ticks will survive in full sun; they prefer and thrive in shaded areas. Rearrange play equipment, if necessary, but remember that full sun exposure might mean burned skin and a cranky kid if you don't apply sunscreen.
Landscape the play area in your yard to cut down on the number of places ticks hang out. Remove piles of wood and other debris. Keep swings and other playground equipment away from vegetation and wooded areas, and get rid of all tall grass and shrubs.
Place wood chips or play gravel in your playground to control grass growth and to make obvious borders between tick-safe zones and more wooded areas. The Centers for Disease Control and Prevention recommends creating 3-foot-wide barriers of wood chips between the playground and wooded areas.
Hire a specialist to spray your entire yard for ticks and other pests, and set up a return schedule to ensure your yard is never unprotected. Make sure wooded areas around your home are also treated. To ensure the safety of your kiddos, let the pest control specialist know that small children play in the area being treated. This will allow them to choose products accordingly.
Place food-grade diatomaceous earth around your little one's playground area. This substance is harmless to pets and people, but it will kill ticks and fleas. Purchase diatomaceous earth at some home improvement stores or online.
Eliminate mice, birds, deer and other carriers of ticks with fencing and traps and by removing trash and other items that draw these wild animals in. Consult your local wildlife management agency for tips on how to protect your yard from these wild creatures.
Check your playground every week for ticks or things that might attract ticks. Keep grass cut short, make sure shrubs are not hanging over or reaching through playground barriers and look for signs of mouse or deer droppings.
Things You Will Need
Wood chips
Diatomaceous earth
Tip
Make a rule that your little ones are not to sit on the ground or on woodpiles, and enforce this rule just as you would any other safety rule. Also, dress your kiddies appropriately when they go out to play. Light-colored long pants and sleeves are recommended, as are knit socks.