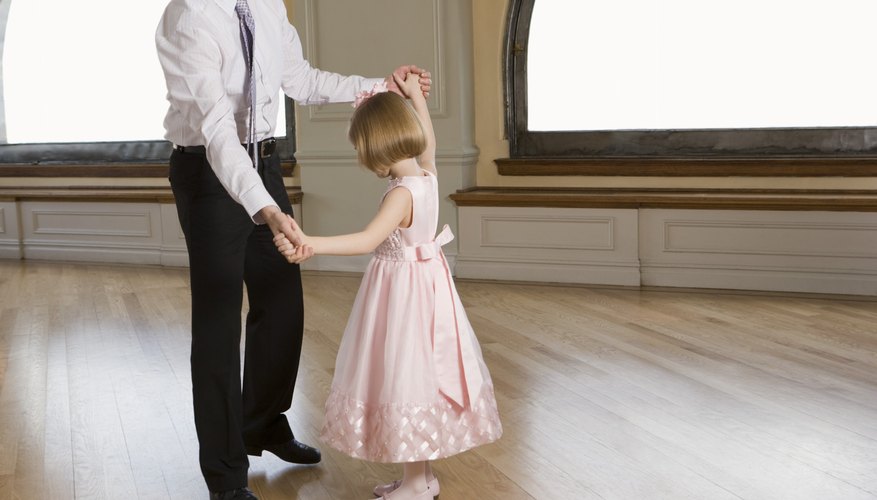 Fathers are powerful influences in their daughters' lives. Through their relationship with their father, girls learn how they should be treated by men in their future relationships. The relationship they have with their father significantly influences their self-esteem, confidence, and overall happiness. Father-daughter dances give fathers a chance to be healthy role models for their daughters and provides a good bonding opportunity. Choosing the right decorations for a father-daughter dance can make it more memorable for everyone who attends.
Princess Theme
Many girls are daddy's little princess, so this makes for a cute theme for a father-daughter dance. It also reinforces the idea that fathers should treat daughters like their princess so they understand what it means to be treated well and with respect by the men in their lives. The theme could include a stage that is decorated like the front of a castle, including a simulated moat of blue confetti around the front edge. Table center pieces could include princess tiaras, feather boas, or cardboard stand-ups of castles, coaches or famous princesses. Girls could be given cardboard princess hats, and favors could include plastic necklaces, bubble wands or candy crowns.
Butterfly Theme
Fathers play an important role in helping their daughters transition from girls into young women. A butterfly theme is the perfect way to reflect this. Consider creating large floral centerpieces -- with real or fake flowers, depending on your budget -- with both large and small butterflies perched on top. Choose butterflies in a range of colors, and decorate them with glitter and gems to make them pop. Fill the room with greenery, such as vines, leaves and small plants. You can choose actual greenery, or just hang photos and put out cardboard cut-outs with greenery on them. Choose table linens in green and accent it with plates and other party ware in a variety of colors, replicating a flower garden.
Valentine's Theme
If your dance falls near Valentine's Day, a Valentine's theme is perfect for a father-daughter dance. The theme can highlight the love that fathers have for their daughters. Decorations should be heavy on hearts and the colors red and pink. Choose red or pink table linens, plates, napkins and other party ware. Put out heart balloons, or create balloon bouquets or garlands from red, pink and white balloons. Scatter the tables with heart confetti. Hang pom poms or paper lanterns in red, pink and white.
Ballroom Theme
A father-daughter dance is special in its own right, and many dances are decorated in a simple formal theme. Decorate your dance like you would for a ballroom dance. Choose elegant floral centerpieces using roses, hydrangeas, and lilies. Colors like black, white, silver, and navy are ideal choices for a formal occasion. Choose them for table linens, balloons, confetti and printed decorations. Consider a balloon arch for the stage and for an entry way for arriving guests. Hang a disco ball or foil stars from the ceiling to decorate the dance floor.