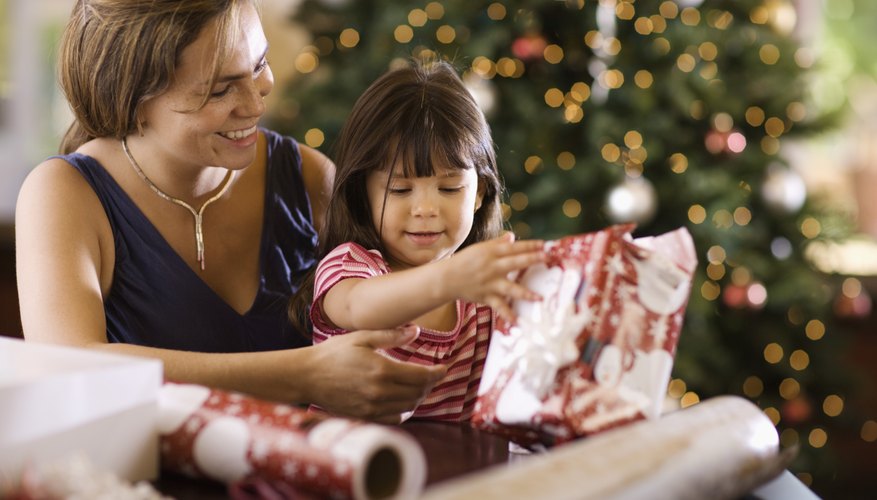 Pontiac, Michigan, is part of the Detroit metro area, so it has a far higher poverty rate than the state average. According to recent U.S. Census Bureau data, 34 percent of Pontiac residents live in poverty, compared to a state rate of 15.7 percent. Christmas can be particularly hard for low-income families with children. Young children hear that Santa brings toys to all good children, so those without Christmas gifts might wonder if Santa thinks they're bad. Luckily, there are holiday programs to keep little ones from such thoughts.
Lighthouse of Oakland County
Located at 46156 Woodward Avenue in Pontiac, the Lighthouse of Oakland County offers Christmas help, as well as a broad range of other services for low-income families. This local organization has been serving Pontiac since 1972, steadily expanding its social programs to become one of the most comprehensive locally based sources of assistance in the region. Offering holiday help is a longstanding Lighthouse tradition. Low-income families in need can call 248-920-6000 to request Christmas help, including gifts for children, clothes and food. The Lighthouse also facilitates a local adopt-a-family program, where donors can provide personalized Christmas help to a family adopted for the holiday.
The Baldwin Center
The Baldwin Center began serving Pontiac in 1981 by feeding local children, soon opening the Family Soup Kitchen. Today, from its 212 Baldwin Avenue location, the center offers more than 20 programs to those in need, including Christmas help. Low-income families can receive a Christmas food basket that supplies not only a full turkey Christmas dinner, but also four weeks of food. Through another one of the center's holiday programs, families can receive Christmas gifts for each family member. Families in need can dial 248-332-6101 to sign up for holiday assistance or to find out more about the other social services available.
The Salvation Army
For more than a century, the Salvation Army has been working to serve the needs of low-income families in Pontiac. In addition to their numerous other programs for low-income families, the Salvation Army, located at 469 Martin Luther King Jr. Blvd. South, offers Christmas help, including food and gifts for children, working in partnership with regional Salvation Army locations to meet community needs during the holiday season. Call 248-334-2407 to request Christmas assistance and for further information about other ways the Salvation Army can help.
Toys For Tots
Officially known as the U.S. Marine Corps Reserve Toys for Tots Program, this remarkable program has been in operation since 1947. Generations of children throughout the nation have received Christmas gifts through the efforts of the U.S. Marine Corps Reserve. Requesting toys is easy for Pontiac's low-income families. Each autumn, local sign-up sites are widely publicized by the local coordinator serving the Pontiac region. Because the organization serves so many, it can take time for the local Toys for Tots coordinator to contact each family requesting assistance, but staff will get to each request. They're Marines -- they don't stop until the job is done.