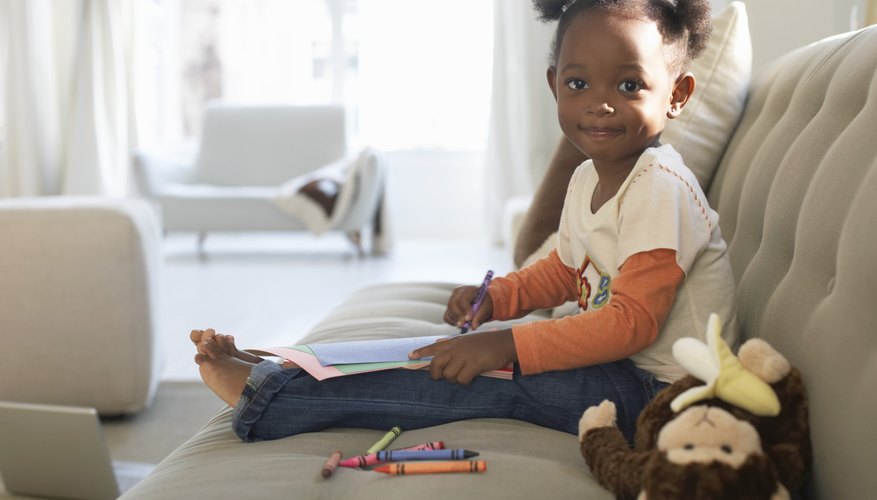 Whether your youngster is a monkey fanatic or just feels like monkeying around for his birthday, you can incorporate the theme into the party table centerpieces to enhance the jungle paradise. You don't have to break the bank for extravagant party table decor or settle for uninspired, store-bought decorations; you can craft the centerpieces yourself from items around your home.
Paper Centerpieces
Create table centerpieces that you can use as decorations in your youngster's room long after the party is over. You can cut monkey shapes from brown poster board and have the birthday child help you decorate each one. Attach the monkeys to long straws or dowels and insert each one in a tall, thin vase. Alternatively, cut and decorate a single monkey and attach him to a straw. Fill the vase with twigs and small, leafy branches and slide the monkey into the center so he looks like he's sitting in a tree. You can make a paper tree from a wrapping paper tube and construction paper leaves to stand in the center of each table. Next, make monkey masks from paper plates and elastic string. Hang the masks from the construction paper leaves and encourage your guests to put on the masks to get the party started.
Plush Table Decor
Include a few stuffed monkey friends in the guest list, and now you have some plush toys to give away as prizes at your child's party. You can start with a miniature topiary tree and wrap the arms of a plush monkey around the trunk. To secure the monkey, just wrap a rubber band around his hands and cover the band with ribbons. Alternatively, fill a small vase with floral foam and insert some leafy branches. Use rubber bands to secure several miniature plush monkeys to the branches throughout the leafy tree. If your child is a little artist, make the monkeys little artists, too. Wash out a paint can for each one and place the plush monkey inside. Use rubber bands to attach paint brushes or crayons to the monkey's hands and cover the can with brushstrokes.
Balloons
Invest a little time in learning to make balloon animals and make a monkey for the middle of each table, or take your instruction a little further and make a tree from balloons and a monkey holding on to the middle. Alternatively, form the leafy top of a tree from green balloons and place the balloon monkey in the center, or make long vines hanging down from the ceiling from balloons or garland and attach balloon monkeys down the length of the vines to the center of the table. You can fill a large vase with small balloon monkeys so they look like they're climbing up, and now every guest can take one of your creations home when the party is done.
Edible Centerpieces
Surprise your guests with a mouthwatering centerpiece. You can make a crisped rice monkey by forming the treat while it's still warm, or fill a three-tier cupcake tray with cupcakes that are each decorated with a frosting monkey face. Adorn the center of your table with a bouquet of sugar cookies, cut with monkey-shaped cookie cutters, decorated with royal icing and baked on wooden skewers. If your little monkey loves bananas, bake cupcakes in the shape of bananas, decorate them with smooth yellow frosting and arrange them in a bowl on the table. You can keep the centerpiece simple if you prefer; just cover the top of a cake platter with some large silk leaves and arrange a bunch of bananas on top.