How to Entertain a 1 Year Old
Walk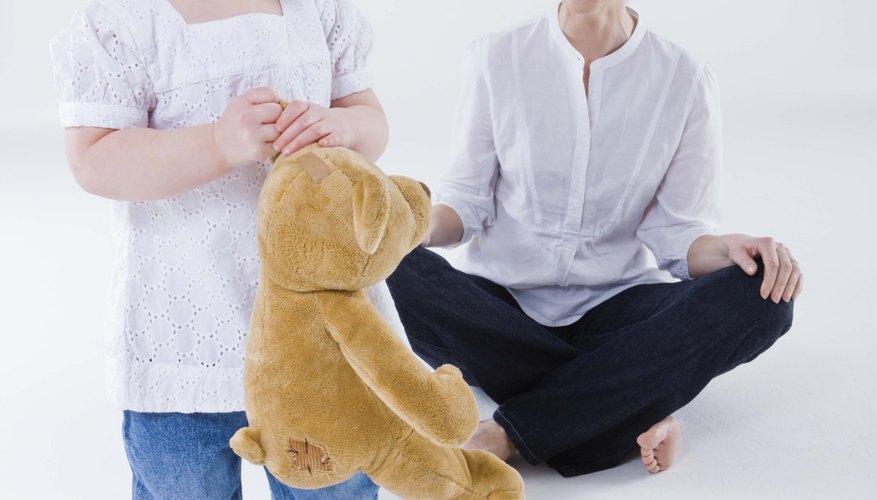 Most 1 year olds can walk, and they get a kick out of exploring the world on two feet. Looking at their surroundings on their own level is new and thrilling. Take your toddler out for a walk in the neighborhood, grabbing the stroller, carrier or wagon, just in case she gets tired and needs a ride home. Even if your 1 year old doesn't walk, crawling and scooting around outside at the park can keep her entertained. Take your child to a park where she can move around without having to hold your hand or be held. Talk about the different objects you see along the way to increase her vocabulary and awareness.
Noise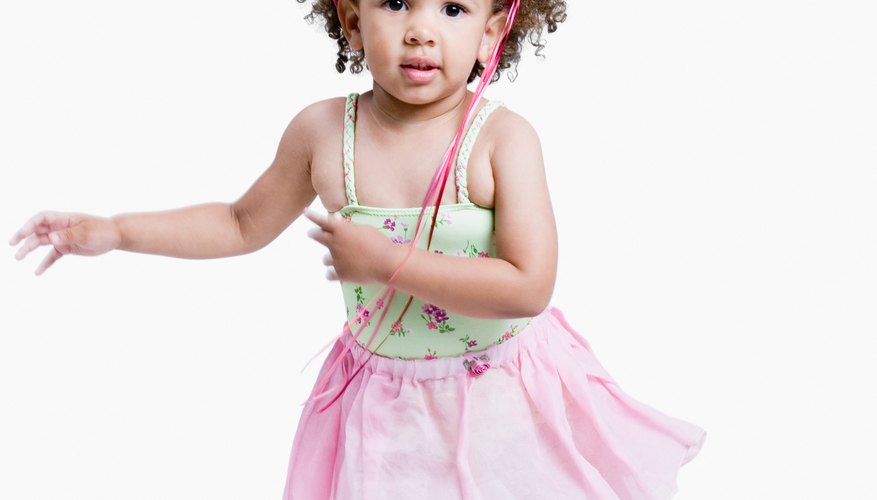 Your 1 year old will entertain himself if he can make a lot of noise. Supply a plastic bowl and a spoon to spur on your young drummer. A pot and a spoon will do the same trick, as will a cardboard oatmeal cylinder, a plastic food storage container and a cardboard box. Another option to make noise is just to sing. Sing your favorite song or a nursery rhyme your child likes. Then dance together. That might be just hopping around in circles, but your toddler will love it.
Painting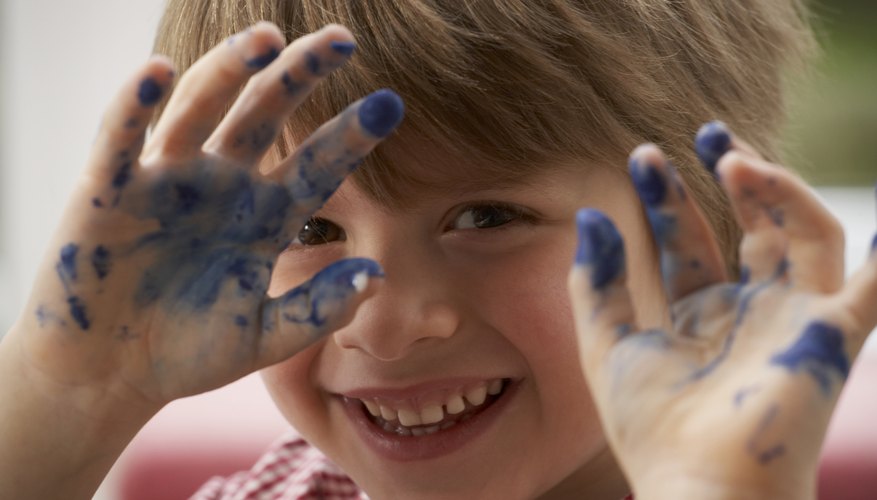 If the day is nice, take your child outside with a container of water and a paintbrush. Let your child paint the sidewalk or driveway with water. It magically disappears, and your toddler can do it all over again, making creative designs. You could also bring out the washable, non-toxic finger paints if you are inside for the day. A big piece of paper with a towel or newspaper under it to protect the floor or table will provide plenty of entertainment.
Reading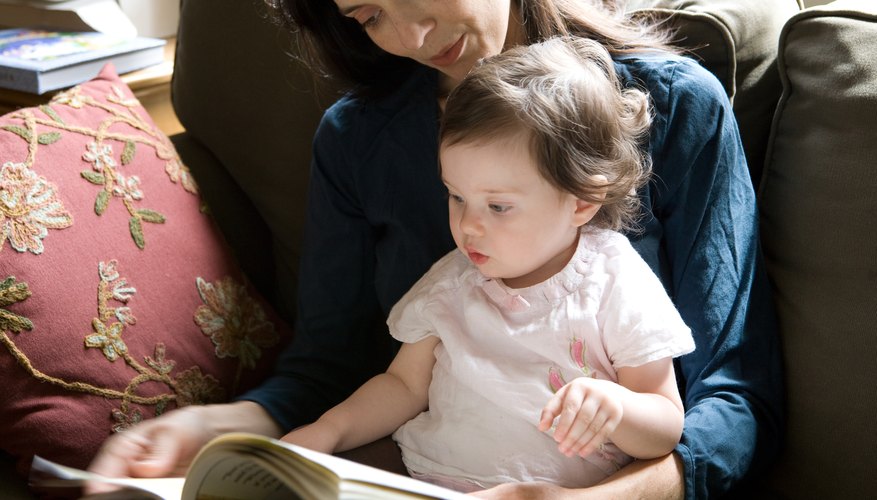 Most 1 year olds love to be read to. Yours may even want to read books to you. Make a trip to the library to get a stack of age-appropriate books that are new to your child. You can also read your child's favorite story a few times. Use different voices to impersonate the characters in each book. Point out new vocabulary words in the pictures as you read. Ask your child where different objects you're reading about are located the pictures to make the experience more interesting.
Activities for Toddlers in Crestview, FL
Triple Threat Dance and Cheer
At Triple Threat Dance and Cheer (triplethreatdc.com), you can find a class your toddler will enjoy, no matter what her interests include. Classes are available for ages 2 1/2 and up. You can choose from Mommy and Me Tumbling, cheer, or several dance options including ballet, jazz, tap and hip-hop. Classes are in one of several rooms with spring floors and a separate parent viewing area.
Crestview Parks
Explore the Crestview park system with your toddler for days of new and exciting activities. The Environmental Center offers more than 00 indigenous trees to identify. There is an onsite Environmental Museum with educational displays. Another favorite is Countryview Park, which received a facelift in 1998. A separate, safer toddler playground is available, as is a playground for the bigger kids, and lots of grass to run around on. Bring life jackets to Twin Hills Park, which features a lake and Children's Park with top-notch equipment.
Sasquatch Zoo
Take your toddler on a little safari to Sasquatch Zoo (sasquatchzoo.com). The zoo was founded in 1987 and displays many exotic and interesting animals. Show your little one big cats, antelopes, llamas, primates and exotic birds, all without leaving Crestview. A gift shop with zoo souvenirs is on site. Picnic tables offer a comfortable area to take a snack or lunch break with your little one.
Library Programs
Bring your little one to the Robert L.F. Sikes Public Library for some toddler fun. Lap Sit is an interactive story time especially for children under the age of 3. If you have an older child, bring them along, as they are welcome to tag along. If your little one is 3 or older, there is Story Time, offering stories, activities and crafts. If you and your child are comfortable, you can even drop them off for story time.
Eating & Chewing Problems in Toddlers
Dysphagia
In medical terms, a problem with eating or swallowing is known as dysphagia. Dysphagia can include having difficulty trying to chew food, suck, or even get food to the mouth and keep it inside the mouth. If the toddler is having trouble swallowing, including trouble moving food down the throat and into the stomach, this can also be diagnosed as a symptom of dysphagia.
Symptoms
If your toddler is experiencing severe and frequent problems with eating or chewing, it may indicate a more serious problem. Consult with your pediatrician if your child arches her back or stiffens, drools excessively, refuses certain textures, coughs or gags during eating, or displays other worrisome symptoms such as refusing food and drink altogether. Toddlers can end up suffering from dehydration, malnutrition or even pneumonia if they have poor eating habits.
Diagnosis
The first step in reaching a diagnosis of dysphagia is to take your toddler to the pediatrician or family doctor. After examining your child, the doctor may refer you to a speech-language pathologist to better assess the problem, who might observe your child eating or they may perform special tests along with an examination. A speech-language pathologist may also work with an occupational therapist, a dietitian, a development specialist, or other physicians or nurses to come up with a treatment plan to help with your child's specialized issues.
Treatment
After your child's assessment, the treating physician or specialist may recommend treatment for your child, such as a form of medicine or a nutritional plan. He or she may also suggest a change in the foods and textures you are offering. Behavioral therapy can also be recommended to help change the way your child sits when eating or the way he eats. Additionally, a speech-language pathologist may offer feeding therapy to help strengthen the muscles in your child's mouth or to improve chewing or tongue movements. Included in such therapy are techniques that you can use to encourage your toddler to try other foods, if that is an issue.
How to Teach a Toddler to Eat with Silverware
Provide your child with toddler-size utensils and let him practice grasping the handle. He may dip it in yogurt or attempt to spear a piece of bread without much success, but the important thing is that he's learning to wield and manipulate a fork or spoon. Weighted utensils made specifically for toddlers make it easier to control the handle, as opposed to something made of light plastic, which can easily fly across the table.
Demonstrate proper use of the utensil your toddler is learning to use with slow, exaggerated motions while providing an explanation. Your child learns a tremendous amount by mimicking you, and watching you slowly scoop yogurt with your spoon, turn it toward your mouth and raise it to your lips provides a blueprint of how he should proceed. The explanation, along with your demonstration, helps instruct proper mechanics while coaching your toddler's progress.
Give your toddler with the opportunity to practice using different utensils. Spoons and forks are the most efficient, but spreading soft dip or whipped cream cheese with a toddler-size knife also builds fine motor skills. Any knife your toddler uses should have a dull blade and a blunt, rounded tip.
Be sure to praise your toddler for all her efforts. After all, it may be easier for her to use her fingers, but if she's trying to use the utensils, then she deserves some cheering from the parent section.
Tip
Choose utensils with thick, rubber, textured handles for easy grasping.
Expect a lot of mess, especially when your toddler is first learning. Place a sheet of plastic under her high chair or booster seat to make cleanup easier.
Start out with thick, somewhat gelatinous foods like yogurt and chunky applesauce. These are much easier to successfully scoop with a spoon than rice or cereal with milk. When practicing with a fork, pasta shapes like penne or macaroni may be easier for your toddler to spear.
Activities for Toddlers on Caring & Cooperation
Role-Play
Your tot can role-play caring and cooperation. Give your tot a doll or a stuffed animal to practice caring behavior. Tell him, "Touch soft and easy. You don't want to hurt her. If you hurt her, she might cry." Your tot can see a connection between his actions and their consequences. Ask him, "Show me how you would help me to care for a little brother or sister." You might ask him to bring you a diaper or share a toy a baby enjoys.
Tasks
Provide your tot with directions to encourage cooperation and caring. Ask, "Can you give everyone a napkin, please?" or "Would you ask Daddy if he wants some tea?" She could help you sort socks when you do the laundry or help you bring in several small items from the car. If a sibling cries or looks sad, ask, "Can you see why your brother is crying?" or "Can you play with him so he won't feel sad?" Your tot might have her own ideas about how to show care for others once you get her started.
Sharing and Caring
Your tot can understand that not having necessary supplies would make him sad or angry. If a sibling or friend doesn't have crayons, suggest, "You could share your crayons with Wesley." If he offers to share his cookies with someone who doesn't have any, help him safely share and praise him for his thoughtfulness and generosity. When he gets too large for clothing to fit or no longer plays with some toys, he might be willing to cooperate as you box them up to donate or sell them to those who will make use of the items.
Story Time
Young children enjoy stories, and the lessons taught through stories might remain in the child's memory longer than a lecture. Read or create stories about caring and cooperation. Books that stress these character traits include "A Chair for My Mother" by Vera Williams, "The Berenstain Bears and No Girls Allowed" by Stan and Jan Berenstain and "The Lion and the Mouse" by Aesop.
Dramatic Behavior Changes in Toddlers
Grief
The Children's Grief Education Association points out that each age group processes grief differently, and a toddler's sudden change in behavior may be in reaction to a traumatic event -- the death of a loved one, his parents' divorce or a move. Toddlers often handle grief by regressing to earlier behavior -- perhaps wanting a bottle again, having potty accidents throughout the day or throwing tantrums.
Sexual Abuse
The American Academy of Pediatrics warns that dramatic behavior changes may be an indicator of sexual abuse. The changes may include -- but are not limited to -- regression in potty-training, withdrawal, aggressive behavior, clinginess, frequent bouts of crying or a preoccupation with sexuality and parts of her body. Some children may try to engage their peers in performing sexual acts and others may demonstrate an aversion to a particular person and fear being left alone with him. If your child is exhibiting any of these behavioral changes, it is important to discuss them with his pediatrician immediately.
Behavioral Disorder
While toddlers have a tendency to act out, the American Academy of Child and Adolescent Psychiatry warns that a toddler who consistently engages in power struggles -- especially struggles centered around eating, toilet-training and sleeping -- and throws extreme temper tantrums may have something more serious going on inside. While disorders such as attention deficit hyperactivity disorder and oppositional defiant disorder are not often diagnosed until the grade-school years, symptoms are often present during the toddler and preschool years and should not be overlooked.
Night Terrors
If your toddler formerly slept soundly and now awakes with night terrors, he may just be going through a normal stage of toddler development. Dr .Julie Gallegos, professor and researcher of the Center for Treatment and Researcher on Anxiety in Mexico, points out that many toddlers have -- at this stage in their lives -- experienced an event that caused them fear or pain. Gallegos also reminds parents that toddlers have wild imaginations and a difficult time distinguishing between fantasy and reality. If your child is particularly sensitive, his imagination or a fearful event may stick with him a bit more, and his anxiety may manifest itself in the form of night terrors and bad dreams. Gallegos suggests reading books that explain fear to your child, and demonstrating appropriate ways to handle fear in your own day-to-day life.
Indoor Places to Take Toddlers in Southern New Hampshire
Library
Cultivate your child's interest in reading by visiting a library in southern New Hampshire. Sign up for a library card to check out children's book you can bring home to read. The Bedford Public Library offers events for toddlers during the week. Mother Goose Story Time and Toddler 2's Story Time are hosted weekly, but you must register to participate. Children's Castle is a drop-in story time activity for toddlers. The Derry Public Library updated its children's area in the facility. Take advantage of the toddler area and story times for indoor entertainment.
YMCA
YMCA locations of Greater Manchester offer a variety of indoor activities for your toddler. The different branches offer camps for toddlers, classes and daycare. Visit the Downtown Manchester YMCA and take a swimming class with your toddler. If you want to work out, the facility also offers child care for up to 2 hours. YMCA Allard Center has day camps, child care and a variety of classes for toddlers, such as swimming lessons and gymnastics.
Pizza and Games
Take your toddler out for pizza and stay for games, rides and indoor playgrounds. Chuck E. Cheese has a location in Manchester that provides inexpensive entertainment. Admission is free and each game only costs 25 cents or less. The venue also offers food and beverages options, such as pizza, fountain beverages, a salad bar and buffalo wings. Bravo Pizza -- located in Milford -- provides indoor entertainment. In addition to games and prizes, the venue has an indoor climbing area and ball pit. The large menu offers kid-friendly foods, such as pizza, hamburgers, French fries and pasta.
Classes
Enroll your toddler in a class that provides instruction on learning a new skill, entertainment and interaction with other kids. The Belinda Bridgeman Academy -- located in Merrimack -- offers an assortment of toddler classes and instruction. Enroll your child in dance class or a modeling and pageant training classes. Merrimack Karate has classes for all ages. The Little Ninjas class was created especially for toddlers and children in preschool. The karate classes are designed to teach children balance, focus, coordination, teamwork and self-control.
Toddler Activities in Columbus, GA
Educational Activities
Get your toddler excited about learning by taking a trip to the Coca Cola Space Science Center, featuring a classic planetarium, interactive displays and a learning center. Toddlers will love watching the flight simulators and looking at the constellations and phases of the moon. If your toddler is more interested in learning about art, head down to The Columbus Museum. Though it's one of the largest museums in the Southeast and has many interesting exhibits, your toddler will probably be more interested in some of the hands-on displays or one of the Toddler Time workshops, which allow tots to make their own art.
Recreational Activities
Let your toddlers burn off some of their energy by giving them room to run. Monkey Joe's has bounce houses and slides, which are great for kids of all ages to have some fun and get in some activity. The Mini Monkey Zone is designed especially for toddlers, which may be safer if the place is busy. In the summer, head to a community pool like the one at Rigdon Park, or enroll your toddler in the My Gym Summer Camp. It includes three hours of gymnastics, crafts, story time and more. Camp meets three days per week, but you can choose to enroll for one, two or three days.
Story Times
An active imagination is key to good development. The Chattahoochee Valley Libraries, which features four branches in Columbus, give toddlers the opportunity to exercise their imaginations through structured story times. Tiny Tales is designed to introduce babies and toddlers to language and reading through reading stories, listening to music, participating in finger plays or playing with puppets and other educational toys. Books before Bedtime is a half-hour event that includes reading classic bedtime stories to inspire good dreams. Kids are allowed to wear their pajamas and bring along their favorite teddy bears to listen to the stories or participate in making a craft.
Holiday Events
In July, you and your toddler can head out to the annual Independence Celebration at Fort Benning for the largest fireworks show in the Chattahoochee Valley. Set out a blanket in the field and enjoy the bright lights together while you enjoy a picnic dinner. At Christmas, a number of community events are held, most notably a ceremonial tree lighting. Santa makes an appearance, so you can get pictures of your toddler sitting on his lap, then participate in some of the kids' crafts.
The Best Eyeglasses for Toddlers
Frames
You might care about the frames on your toddler's glasses more than he does, since you're probably more interested in his appearance than he is. Cute frames come in both plastic and metal, but for maximum durability, although pricey, look for titanium alloy frames. Your inquisitive toddler can bend and twist them without breaking them. Some toddlers develop skin reactions to certain metals, especially nickel, the All About Vision website explains. To avoid such reactions, ask for hypoallergenic metal frames.
Lenses
Despite the name, most eyeglasses for toddlers don't contain glass; the lenses are made from polycarbonate instead. Polycarbonate doesn't shatter easily, making it an ideal material for toddlers who can be tough on glasses. It's also a lighter material than glass, making it more comfortable to wear. Scratch-resistant coating helps ensure that your toddler will still be able to see out of his lenses after close encounters with objects that could cause scratching. With this coating, polycarbonate lenses will be nearly as durable as glass, according to Vision Service Products. Polycarbonate also provides 100 percent protection from potentially harmful UV rays.
Hinges
If you don't buy flexible titanium alloy frames, you can still decrease the risk of having your toddler's frames end up in pieces by buying glasses with flexible hinges, called spring hinges. Spring hinges allow frames to flex outward without breaking.
Keeping Them On
An adult's glasses normally feature a straight piece, called the temple, that curves slightly and rests on the owner's ears. But when the small owner jumps on trampolines, hangs upside down on jungle gyms and tussles with his older brother, straight temples won't hold his glasses in place on his face. Instead, manufacturers of eyeglasses for children use temple cables, which curve around the ear in a C shape and help hold the eyeglasses in place.
Fit
Frames should fit well; don't buy eyeglasses big enough for your toddler to grow into. Frames need to fit so that the lenses line up properly so your toddler can actually see out of them. If they slip, he'll simply look over the top of the lenses, negating their benefit. Nose pieces made of vinyl or silicone should prevent glasses from digging into your child's nose.
What Causes a Toddler's Fear of Strangers?
When Does it Happen?
According to Heidi Murkoff, author of the best-selling pregnancy and parenting book "What to Expect When You're Expecting," stranger anxiety typically affects toddlers between 12 and 24 months old. You should be aware that it doesn't only occur with complete strangers; even friends and relatives to whom your infant is close can trigger anxiety. Basically, anybody apart from her parents can cause stranger anxiety in a toddler.
Cause of Stranger Anxiety
Experts are not entirely sure why toddlers suffer from stranger anxiety, says Murkoff. Some infants don't experience it at all, while others may be troubled by it for several months or go through phases of it during infancy. What the professionals do know is that stranger anxiety is not caused by anything parents do. If anything, it's a sign that your toddler has a close, healthy bond with you.
How to Help
The first thing to do when your toddler appears scared of strangers is comfort and reassure him. Do everything you can to make him feel safe and secure. Murkoff recommends acknowledging the fear in a simple way that your toddler will understand, such as asking him "Why do you feel scared?" Continue reassuring him by saying you don't want him to be scared and would never do anything to cause him any harm. Prepare him for going into the company of others to help allay his fears. For example, if you're taking him to a party, tell him in advance who will be there and remind him of when he last saw them. Tell him that he has nothing to be scared of and that you will be there with him the whole time.
Considerations
If your toddler is scared of one particular person but nobody else, observe that person around your child to identify whether there is a specific reason for the fear. If your toddler's reaction to strangers is extreme or distressing for no apparent reason, make an appointment with your pediatrician.
Hard-Headed Behavior in a Toddler
Be Consistent
One of the most important elements to remember when dealing with a stubborn toddler is to be consistent. That means that a behavior or action that is unacceptable at one time is always unacceptable. For example, never give in to a temper tantrum, no matter how public or embarrassing. If even one time you give in to a tantrum and give your toddler whatever he is crying for, he will remember that and the next time he wants a new toy or a milkshake, the tantrum will be even longer and louder than the time before.
Dealing With Feelings
According to the website Zero to Three, one of the keys to helping toddlers behave the way you want them to is to have them express their emotions in an appropriate way. For example, instead of crying, yelling or hitting when another child takes her toy, explain to your child that it's better to explain how she feels as much as she is able and ask for a turn with the toy. Let children know that it's OK to be sad or angry, but she has to deal with these feelings in a constructive way.
Distract
Toddlers are so young that sometimes the best tactic when your toddler is being hard-headed is to distract him. If he is having a fit over wanting a toy, distract him by pointing out big trucks driving by outside, the pretty colors on the trees outside the window, or anything else that will keep him from thinking about the toy he wants.
Pick Your Battles
Consider what topics are important to you and what isn't worth the fight. For example, if your toddler is being stubborn about wanting cookies before dinner, that's worth being firm on. However, if your child is dying to wear pink tights instead of the red ones you laid out, you might just want to let her have a say in that. Everyone likes feeling as though they have some say over their lives, toddlers included.
Remove Unneeded Temptations
KidsHealth.org suggests trying to anticipate what your child is going to have a fit about and just take that out of the equation, if possible. For toddlers that have fits in restaurants, it might be better to order takeout for a while until he outgrows that stage. If you know that a certain toys truck always inspires fights between your toddler and preschooler, put that toy away for a while.
Toddler Activities in Forney, Texas
Parks and Recreation
You can take your tot to some of the parks maintained by the City of Forney (cityofforney.org). Your toddler can play on the playground at Mustang Creek Park (no website; Longhorn Drive, Forney; 972-564-7300) or Heritage Hill Park (no website; Heritage Hill Drive, Forney; 972-564-7300). Or, you can visit Forney Community Park (no website; 241 S. FM 548, Forney; 972-564-7300), where you can take a walk on the hiking trails or cool off on a hot summer day at the Forney Splash Pad.
Toddler Classes
Sign your toddler up for a class in Forney to keep her occupied. At Moe's Gymnastics Academy (moesgymnasticsacademy.com), your little one can participate in the weekly Tiny Tots class, for kids 2 to 3 years old. You could also sign your toddler up for a music class. Kindermusik (kindermusik.com) is offered locally in Forney. Choose from Our Time/M&C/Fiddle, Village/Hickory/Rhythm or a Family Time class with your toddler. The Kindermusik programs are for kids 7 and younger and include music, movement and experimenting with musical instruments.
Rainy-day Activities
You can get your toddler out for activities, even on a rainy day. Visit the Ellen Brooks West Memorial Library (no website; 800 FM 741 S, Forney; 972-564-7027) for some indoor fun. Attend story time for stories, music and craft activities or spend time in the children's section reading some stories to your little one. Or, head over to Moon Jumpers (moonjumperrentals.com) for one of the Play Sessions. Your toddler can jump and play on the inflatables and make new friends.
Seasonal Events
Each fall, the City of Forney Parks and Recreation (cityofforney.org) hosts a Trail of Treats event at the Forney Community Park (no website; 241 S. FM 548, Forney; 972-564-7300). During this event, your toddler can trick or treat, getting goodies from businesses and organizations. Kids can even participate in a costume contest. You can visit the Gentle Zoo (gentlezoo.com) during the fall to traipse in a pumpkin patch or in the winter for Christmas activities, including a petting zoo, music, crafts and hot cocoa.
How to Measure a Toddler's Mental Development
Consult a checklist of developmental milestones; you can find one on many parent-oriented websites, including those from the Centers for Disease Control and Prevention, American Academy of Pediatrics at HealthyChildren.org, and Zero to Three. These lists include the activities and abilities most children possess by a certain age.
Test your child's vocabulary and receptive language skills. Since language is the foundation for communication, it is an area of mental development you'll want to observe. Ask your toddler to imitate animal sounds or point and name objects in a book or store. A young toddler might know 50 words, and a 2- to 3-year-old 250 to 900 words, according to Lucile Packard Children's Hospital at Stanford University. Encourage your child to tell you a story; you will notice that toddlers, by age 3, should understand directions with two or three steps, which shows development of receptive language.
Observe your toddler's knowledge of academic concepts. While 1-year-olds often show their knowledge of objects by pointing, 2-year-olds can begin to sort shapes and colors and can name items in a picture, such as a cat or a ball. Children at age 3 can copy a circle with a pencil or crayon.
Notice your child's imaginative play; it should become more complex during the toddler years. An infant might jump from one activity to another without connection, but toddlers around age 2 will put together activities in a logical sequence. Toddlers might pretend to feed dolls or stuffed animals. Get involved in this pretend play and ask questions. Imaginative play inspires creativity, which is an important aspect of mental development.
Test your toddler's problem-solving skills using puzzles or sorting toys. Children as young as 2 years can sort shapes and colors, and 3-year-olds should be able to put together puzzles of three or four pieces.
See how your toddler does with drawing shapes. While a young toddler might show the ability to put scribbles on the paper, some 2- and 3-year-olds can copy circles and trace capital letters.
Tip
Developmental milestones provide guidelines of what most children are able to do by a certain age, and you can measure your toddler's mental development by observing his play and interacting with him. If your child does not meet an expected milestone, consult his physician for advice.
Helping Your Toddler Bond With Other Toddlers
Obstacles to Bonding With Other Toddlers
Don't be surprised to discover that your gregarious toddler prefers to play next to a toddler playmate, rather than with a playmate, according to KidsHealth. This component of toddler development is known as parallel play. Toddlers interact during parallel play, but achieve play goals independently. Communication presents an additional challenge for toddler bonding. Although your toddler acquires new language skills at a rapid pace, she might still struggle to communicate her wants and needs. Your toddler's self-regulation remains limited, and she needs practice to moderate strong emotions that hinder the development of relationships with toddlers experiencing similar dilemmas.
Acquiring and Practicing Empathy
Empathy requires taking another person's viewpoint and responding compassionately. Egocentrism is common in toddlerhood, and acquiring empathy presents a special challenge for some toddlers. Developing empathy will help your toddler attract and keep friends, and you can foster empathy. Model how to show empathy for others, and invite your toddler to participate. For example, "Our neighbor's arm is in a sling, and she cannot take her trash out without some help. Would you like to help me carry the trash bag for Mrs. Weiss?"
Building Self-confidence
Build your toddler's self-confidence to prepare her for solving social problems and making friends. Self-confident children seek out relationships with the optimistic expectation that friendships are rewarding. The American Academy of Pediatrics recommends that parents demonstrate respect for their toddler's concerns by listening, and applaud their toddler's efforts as well as successes. Permit your child to experience the pride that accompanies solving a problem independently by guiding her efforts, rather than making the problem disappear.
Provide Opportunities for Peer Interaction
Emerging social skills such as sharing, taking turns and empathy serve as a source of frustration for some toddlers. Provide opportunities for your toddler to practice these skills by scheduling play time with other kids or visiting a park. Toddler play sessions should always be supervised by an adult. Model how to talk to other toddlers, and give gentle encouragement to your shy toddler. Praise your toddler for socially appropriate behavior with other toddlers, and demonstrate how to problem-solve when conflicts arise.
Tips for Parents With Toddlers Who Refuse to Eat Dinner
Remember the Bottom Line
Although you may know all about vitamins and minerals and the nutritional needs of your toddler, this knowledge doesn't put you in the driver's seat when it's time to eat. Your job involves preparing nutritious and appealing food for your child and serving it to her for meals and snacks, advises Judy More, registered dietician and registered nutritionist. Beyond this, your toddler is in charge of how much, if any, she eats.
Appropriate Portions
Toddlers are not big people. It can be easy for adults to heap too much food onto a toddler's plate. An appropriate toddler-size portion of food is about two-thirds of an adult portion, advise LaVona Traywick and James P. Marshall, assistant professors with the University of Arkansas. Don't forget -- toddlers may also have a hard time with new foods. Proceed slowly to give your child a chance to warm up to new cuisine.
Possible Reasons for Not Eating
A toddler might refuse dinner for a variety of reasons, states More. Possible reasons include skipping a nap and feeling overtired, excessive distractions, not feeling well and not liking the foods offered. You will also get informative cues that she's done eating when she starts throwing food, slows her eating pace or starts trying to get up from the table, counsels Heather Dodds, with the University of Louisville website.
Keep it Positive
Just as providing nutritious and appealing food for your child is your responsibility, so is creating a positive and loving mealtime environment. Engaging in food battles where you attempt to force your child to eat could lead to habitual mealtime struggles, food aversions and even obesity if your child overeats regularly. Instead, affirm your toddler's ability to determine whether he's hungry and wants to eat. If he doesn't want to eat, just end the meal without issue and trust that your toddler will let you know when he does want to eat, by fussing, tugging on the refrigerator door or even telling you verbally.
Activities to Teach Toddlers How to Use Steps
Follow That Toy
Give your toddler a little encouragement to develop stair climbing skills by using a favorite toy, suggests Kim Elise Barker, author of "Talented Toddlers." Under your close supervision, and standing below your toddler on the steps so you guard him from any mishaps, hold a favorite toy on a step just out of your little one's reach. Maneuver the toy in an enticing way to encourage your toddler to climb the stairs after the toy. Continue the climbing practice up each step, holding the toy where your child can see it. If your child feels tired or frustrated, discontinue the climbing activity until he feels ready to try again.
Bumping Down
When it's time to descend the stairs, a little one sitting on each step and bumping down on her bum might be the perfect method, according to Gina Ford, author of "The Contented Toddler Years." With your child sitting on the step, stand on a lower step, facing your child, so your upper body is roughly the same height as your child's body. Help your little one move forward slowly off the step, just enough so that she "bumps" down onto the next step. You might give this action a little entertaining flair by saying "Bump!" with each bump down the stairs to make it enjoyable for your toddler. When you get to the bottom, give her a big hug.
Tummy Down
Crawling down on his tummy with feet first can be another ideal way to travel down the stairs safely, advises Angela McKenzie, author of "The Safe Baby Book." Stand below your toddler on the stairs to prevent any accidents. Encourage her to move her legs down to the step below and then follow with her body and hands. It's important that your little one not get carried away as she goes down -- the crawling shouldn't turn into sliding down in an uncontrolled fashion. Give lots of encouragement as she slowly makes her way down the stairs.
Suggestions
While your child learns stair skills, stay vigilant to keep him safe. Carpeted stairs are safest for a toddler, but if hardwood steps are unavoidable, dress your toddler in clothes that will provide friction as he learns. If you can avoid steep stairways while learning, do so. An enclosed stairway with walls on either side will provide more security for a child learning stairs, according to occupational therapist Nancy Silverman-Konigsberg.
Tips on Behavior Modification for Toddlers Who Are Hyperactive
Connect With Your Toddler
Before parents can implement an appropriate behavioral intervention, they must garner their toddler's attention. When past experiences define this goal as easier said than done, change your strategy. If your hyperactive toddler motors through her day at the speed of light, plan to ensure that you connect with her before attempting to slow her down, suggests the AskDr.Sears website. Connect with your toddler by positioning yourself at her eye level, and make physical contact by gently placing a hand on her shoulder.
Keep a Routine
Your toddler's need for a routine does not change, although as she enters a new stage of childhood development, the routine changes to meet her needs. Posting a picture schedule of your toddler's daily routine provides a strong visual cue that underscores your reminders that it is time to slow down for a snack, bath or nap. The schedule of expectations provides security for toddlers, who are discovering new aspects about their world on a daily basis, reports Zero to Three.
Use Simple Language
When you wish to redirect your toddler's hyperactive behavior, do not attempt to engage her in an extended verbal dialogue. Remember that she continues to struggle with language and that she will process your requests best when you state them simply and concisely. Reminding your child that running through the produce aisle at the grocery store can be as simple and direct. For example, say to her, "I cannot permit you to run in the store because you may get lost or hurt. Would you help me select some baking potatoes and corn for supper?"
Offer an Appealing Alternative
When your toddler exhibits an unacceptable behavior such as excessive motor activity, you can increase the likelihood of reducing the frequency of this behavior when you offer at least one option your toddler finds attractive, according to Zero to Three. For example, if your toddler and the family pooch are racing around the living room at death-defying speeds, asking your toddler to join you on the sofa has limited appeal for her. However, if you ask your toddler to help you groom the doggie, she might want to help.
How to Interpret a Toddler's Nonverbal Behavior
Watch your toddler's facial expressions. Is she frowning, smiling, grimacing? All of those faces mean something. If she's frowning, she might be unsure of something or unhappy. A smile means she's excited or pleased. Grimacing might mean she's uncomfortable.
Pay attention to your toddler's proximity to an object and his reaction. If he's backing away from an object or person, he is unsure of himself or uncomfortable. If he's moving toward an object, he probably wants that object.
Notice her gestures. Watch where she points or to what she points. Does she reach up to indicate she wants you? Does she shake her head "no" or nod it for "yes"?
Watch for tantrums and try to figure out what causes the fit. While tantrums aren't always acceptable, they are a toddler's way of communicating displeasure. You can figure a lot out from paying attention to the cause and avoid another tantrum in the future.
Pay attention to his eyes. Notice what he is looking at or where he is looking to figure out what he wants.
Offer choices if your toddler understands the difference between shaking her head "no" and nodding "yes." Choose two lunch choices and hold one up at a time to ask which one she wants. You can do the same with toys or clothes.
Encourage your little one to build his verbal communication by talking to him frequently. Describe what you're doing as you help him get dressed, eat or pick up his toys. Point out objects in books, at home or on walks.
Teach your little one sign language so she is better able to express herself even if it is nonverbally.
Put pictures of different items up around the house and refer to them often so your toddler begins to see what you're talking about. Use labels on toy cubbies so he knows where to put toys away and learns the words.