Christmas Gifts Children Can Make for Parents
Hand Prints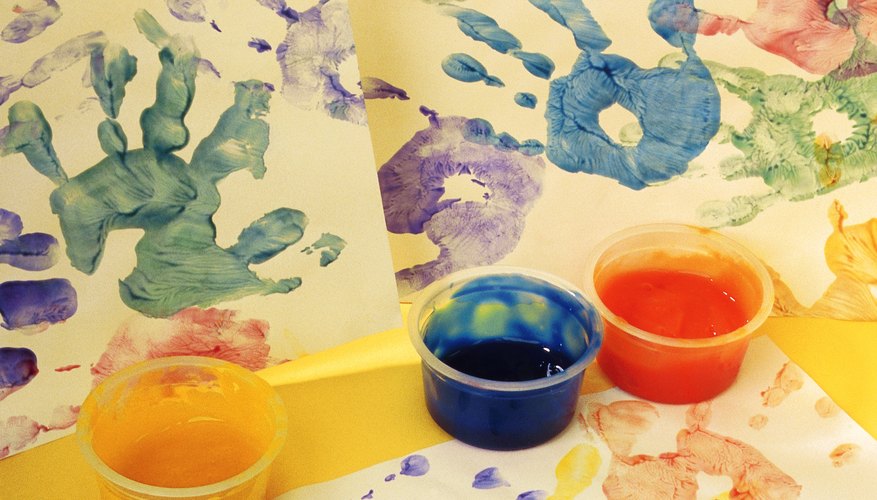 Preserve tiny prints before they're all grown up by making a hand print gift. Plain cloth items, found at most craft supply stores, make ideal canvases for hand prints. You will also need fabric paint to decorate aprons for parents who enjoy BBQing or cooking, tote bags for on-the-go parents, or personalized T-shirts and sweatshirts. Construct a wreath onto the cloth of your choice by making hand prints in a circular shape. Use fingerprints to make holly berries. Place hand prints in a triangular shape to form a Christmas tree. Embellish hand prints with fabric markers to make elves and create a "Santa's Helper" shirt.
Photo Gifts
Photo gifts make delightful keepsakes for parents. Create an initial photo collage using a precut cardboard or chipboard letter. Use the first initial of the child's name or the initial of the family's last name. Select several pictures of the child and family. Cut photos to fit the letter and adhere with clear-drying adhesive-sealer.
Make photo bookmarks using heavy cardstock or craft foam, photo magnets made from recycled jar lids, or photo blocks using MDF board and clear-drying adhesive-sealer.
Ornaments
There are several ways to personalize plain ball ornaments. Make a memory ornament using a plain colored ball ornament and a permanent marker. Have the child write words or short phrases to describe favorite memories or milestones of the past year. Be sure to date the ornament.
Capture the family vacation in a clear glass ball ornament. If your family vacationed at the beach, fill the ornament with sand and tiny seashells. Add the date and destination.
Create your own ornament design with a marbleized ornament. Add drops of acrylic paint one color at a time to the inside of the ornament. Move the ornament in a side-to-side motion to distribute the paint and let dry. For a finishing touch to any of these designs, add a coordinating ribbon for hanging.
Calendars, Journals and Candles
Other handmade gift ideas include custom calendars, patchwork journals and candles. Make a calendar by using existing artwork or create something new. Laminate the artwork and use double-sided tape to attach a tear-off calendar. Personalize a plain journal or notebook by gluing patches of patterned paper to the cover. Create fun shaped candles using cookie cutters to cut honeycomb wax into one-of-a-kind candles. Add a wick to finish.
Healthy Snacks for a Preschool Christmas Party
Festive Fruits
The sweetness of fruit makes the food appealing to preschoolers. A simple holiday fruit snack is a Santa strawberry. Cut off the bottom 1/3 of each strawberry. A dab of whipped cream on the cut side makes Santa's face. Place the cut tip on top of the whipped cream as the hat, with another tiny dab of whipped cream for the fuzzy top. Mini chocolate chips work well as the eyes. Another fruit snack is a banana and strawberry candy cane. Alternate slices of the fruits in a candy cane shape on a plate. To turn a fruit salad into a festive party snack, arrange the fruit pieces into the shape of a tree. Use green grapes or kiwi for the tree, with other fruit pieces in assorted colors as the tree decorations.
Holiday Veggies
A festive presentation of vegetables makes them more appealing to the preschool class. Green vegetables, such as broccoli, pea pods or celery, work well to create an edible Christmas tree display. Arrange the green vegetables on a platter to form a pine tree shape. Carrot pieces, pepper strips and cherry tomatoes make the decorations for the tree. A drizzle of ranch dressing works as the tinsel. Another vegetable snack option for the preschool Christmas party is a platter full of mini wreaths. Thick cucumber slices create the wreath shape. Add a small piece of tomato or red pepper to make a bow.
Holiday Sandwiches
Mini sandwiches with a holiday theme fill preschool tummies at the party. Make the sandwiches ahead of time, or let the preschoolers make the sandwiches themselves as a party activity. Bagels work well as the sandwich base. Cover the bagels with cream cheese to hold on the toppings. To make a snowman face, use peppers or black olives for the mouth, a baby carrot for the nose and black olives or blueberries for eyes. For a wreath, use green peppers or tiny pieces of broccoli around the edge as the pine boughs. Another idea is to arrange mini wrap sandwiches into a holiday shape. Spread cream cheese on tortillas with other toppings, such as meat and vegetables. Roll up the tortillas and slice about 1 inch thick. Arrange the roll-up sandwiches in the shape of a star, bell, tree or candy cane. A final sandwich option is to cut a sandwich on a piece of bread using a holiday-shaped cookie cutter.
Cheesy Snacks
Cheesy holiday snacks give the preschool students a dose of protein to power through the school day. For individual snacks, use tiny round pieces of cheese to make mini Christmas ornaments. Press pieces of peppers or other foods into the cheese to decorate the ornaments. Another simple idea is to cut cheese into a thick triangle shapes to create little trees. Use a piece of pretzel stick as the tree trunk. Cheese cut into stars also works well.
How to Make a Simple Poinsettia Craft with Young Children
Print a poinsettia template out on regular paper or card stock if you want something more durable that won't wear down as quickly when your toddler constantly takes it off the tree and puts it back on. See the resources at the bottom of this article for a link to a template.
Color the flowers red and the leaf green using crayons, colored pencils or markers. Your toddler might want to use different colors. Let her have fun and make a purple and pink poinsettia if she wants.
Cut both flowers and the leaf out.
Glue the flowers together with white glue or a glue stick by placing one flower on top of the other with the top flower overlapping in the spaces on the bottom flower.
Glue the leaf behind the two flowers. The leaf's points should stick out between the petals of your big poinsettia flower.
Punch two holes in the center of the poinsettia with a hole punch.
Fold the pipe cleaner in half and insert the ends into the pair of holes. Pull it through until only the ends are sticking out at the top of your craft.
Glue small gold decorations in the center of the flower. You can use small yellow circles cut out of construction paper, gold buttons or gold foil.
Hang your ornament on the tree, stick it on the fridge or put it on a wreath to create a festive and fun environment for your toddler to count down the days until Santa comes.
Things You Will Need
Paper or card stock
Crayons, colored pencils or markers
Scissors
Pencil
Glue
Tip
Use felt instead of paper for a more unique poinsettia by placing the template over green and red felt, tracing the pattern with a marker and cutting it out.
Make multiples and hang them up in your windows for neighbors to see during this festive time of year.
Warning
Avoid using small beads or anything tiny that your toddler might accidentally choke on if it falls off at some point and you're not there to monitor him.
Norwegian Christmas Family Activities
Sweets
A traditional dessert, risengrynsgrøt, is a tasty treat with an interesting tradition. It's hot rice pudding combined with cinnamon, sugar and butter. According to Norwegian folklore, barn gnomes or pixies, enjoy eating this dessert. On Christmas Eve, children can leave a bowl of this hot rice pudding outside a barn to keep the pixies happy. You can also play a game with dessert. When making it, drop an almond in the mixture and whoever finds the almond wins a marzipan pig. Baking cookies prior to the holiday is another Norwegian activity since tradition has it that Norwegians should enjoy seven different types of cookies as part of their Christmas meal.
Yule Log
Gather around the fireplace and burn a Yule log on Christmas Eve to celebrate the holiday with your family. In ancient Norway, people burned a Yule log at the winter solstice to welcome the return of the sun. According to Norwegian tradition, burning the Yule log also brings good luck in the upcoming New Year. You might also want to bake a chocolate log-shaped cake, known as a Yule log, inspired from the ancient Norwegian tradition.
Julenissen
Designate an adult to dress up as Norway's version of Santa Claus, Julenissen, on Christmas Eve -- December 24th. The adult should wear a red cap and white beard to fit the part. When Julenissen arrives with a bag full of gifts, he should ask, "Are there any good children here?" Then he can hand out Christmas gifts, such as toys, books or games, from the red sack he's carrying on his back.
Decorating
Sometime before the holiday -- or as many Norwegians do, you might want to wait to December 23, which is "Little Christmas" -- decorate a Christmas tree with ornaments, strings of Norwegian flags and lights. Provide children with colorful paper to make the traditional woven hearts filled with candy to hang on the Christmas tree. On Christmas Eve, hang a stalk of oats, known as a julenek, outdoors on a branch or pole to feed the birds. Traditionally a julenek symbolized a hope for good farming. Today, it symbolizes Christmas.
Christmas Books for Kids
The Reason for the Season
"The Christmas Story" by Jane Werner Watson, illustrated by Eloise Wilkin, is a beautiful way to introduce children to the story of Jesus being born in Bethlehem. Watson's retelling uses formal language, so parents may need to paraphrase or be ready to explain some of the terms. "The Christmas Story" by Pamela Dalton also tells the traditional story, illustrated with traditional Pennsylvania-Dutch scissor-cut pictures. "The Christmas Story: Is It True?" by Jeanie Blanton-Trimble examines the Biblical sources, revealing that there was not one, but two miraculous births that long-ago year.
A Season of Giving
"The Legend of St. Nicholas: A Story of Christmas Giving" by Dandi Daley Mackall is an ideal book for a child who is starting to ask questions about Santa Claus. Caldecott winner "Baboushka and the Three Kings" by Ruth Robbins tells a fable about the original three Christmas gift givers. "A Little Spider" by Sigmund Brouwer tells the story of a very special gift that saves the Christ child and his family from Herod's soldiers.
Fun Christmas Classics
"Frosty the Snowman" by Annie North Bedford was originally published by Little Golden Books in 1950. LGB has republished it with a new cover in 1992 and in 2001. The book is a longer telling of the classic song. "Rudolph the Red-Nosed Reindeer" is another Little Golden Book publication based on a popular song, with an original publication date of 1958 with several subsequent reprints. "A Visit from St. Nicholas," by Clement C. Moore, was originally published in 1823, and has also enjoyed many retellings.
Modern Christmas Publications
"Too Many Tamales" by Gary Soto tells the story of a batch of Christmas tamales, a diamond ring and one young girl's mistake. This heart-warming story is filled with the joy of family gatherings. "The Snowman" by Raymond Briggs, is a wordless story that reflects a child's joy in building with the first white flakes of the season. Children who love big words and sparkles will adore "Fancy Nancy: Splendiferous Christmas" by Jane O'Conner. As usual, Nancy has big plans, but they may not turn out just the way she expects.
Christmas Trivia Games for Kids
Screen It
From "Charlie Brown's Christmas," "Rudolph the Red Nose Reindeer" and "Frosty the Snowman" your child can probably name and quote some of the dialogue or song lyrics for movies and specials that appear each year. The age of your child can determine how difficult you make the clue, such as "Rudolph's famous feature" or "what Rudolph does on Christmas Eve." With younger kids, you can limit your trivia game to a recently watched Christmas program and mix clues from various movies for an older group of kids.
Visual Clues
You can add a visual component to your Christmas trivia games. Show short clips from a video and ask your child to name the movie or hold up pictures or merchandizing elements that will trigger your child's memory of a traditional toy or tradition. For example, a trivia game focused on Christmas symbols could show a picture of a Christmas tree and ask what traditional items decorate the tree. Your child could list lights, star, tinsel and various types of ornaments.
Melodic Trivia
Christmas boasts a varied collection of music from traditional carols to favorites such as "Jingle Bells," "Frosty the Snow Man" and "Santa Claus is Coming to Town." Your child might sing these at school, hear them played constantly on the radio and played on the speakers at stores. Challenge your child to hum the tune, sing the lyrics or supply the song title when playing Christmas music trivia.
Faith Traditions
If your family's faith practice is Christianity, your child can play Christmas trivia with Nativity elements. You can ask your child to name, write or draw those present at the manger, the gifts of the Magi or the animal Mary rode. This trivia game could reinforce Jesus as the reason for the season and make setting out the crèche an enjoyable and entertaining celebration. For families that incorporate other traditions such as Judaism, Kwanza or pagan elements into the Christmas celebration, you can use trivia question categories based on those traditions, such as "What traditional foods accompany the holiday?" or "What symbols do we use to celebrate the holiday?"
Ideas for Children's Activities With Santa at Christmas
Dear Santa
Sending a wish list to Santa is a treasured tradition in many households. Encourage your child to write a letter to Santa asking for gifts -- and this way, you'll know exactly what your child wants to unwrap on Christmas morning. Younger children can draw pictures of what they want or dictate the letter for you to write. Make the card special by using a festive red envelope and singing Christmas carols together as you drive or walk to the mailbox. You can also give your child holiday stickers and stamps to use to decorate the letter.
Christmas Photos
To a child, there's nothing quite like spotting the bearded man himself. Check with your local mall to see when Santa is available for visits with kids. Encourage your child to deck himself out with jingle bells, a Santa hat or red and green clothing. While you're there, snap a few photos of little Johnny on Santa's lap. Later at home, your child can decorate a frame to go around the picture with holiday stickers or festive designs.
The Season of Giving
Just as Santa brings joy and cheer to children everywhere, your child can put a smile on someone's face with a thoughtful gesture. Make Santa-themed cards for the local retirement home, or stuff Santa goody bags with toys for needy kids. Draw or paint pictures of Santa to send to the troops serving in the military or to brighten up the walls of the local children's hospital. Your child might even want to put on his Santa hat and serve meals at a homeless shelter.
Cookies for Santa
On Christmas Eve, help your child make a snack for Santa Claus. Whip up a batch of cookies, or get creative and bake him some homemade pizza or quiche. Younger kids can participate by mixing and pouring, while older ones can help measure. Let your child know that it's perfectly fine to sample the foods before setting out a plate for Santa. And don't forget the reindeer: leave a bowl of water or milk on the floor for them, too.