Height & weight requirements for booster seats
Height
Twenty-one states have height requirements that must be met before children can legally ride without a booster seat. Of these states, the minimum heights are 36 inches (Texas) and 50 inches (Kentucky). Seventeen states tie for the maximum height requirement of 57 inches. Two states, Hawaii and South Dakota, have no booster seat requirements. These states leave vehicle safety decisions up to the parents or caregivers of each individual child.
Weight
Twenty-four states have weight requirements for children riding in booster seats. The minimum weight requirement for ceasing booster seat use is 18.1 Kilogram, a law held in both Ohio and Georgia. The states with the highest weight requirement, 36.3 Kilogram, include Kansas, New Jersey, and eight other states. Most states have a height or a weight requirement, but some have laws regarding both. For states requiring both, some mandate that a child must meet the height AND weight requirement before being allowed to ride without a car seat; others have laws that state a child must meet the height OR weight requirement.
State Laws
In addition to height and weight requirements, every state but Hawaii, Louisiana, and South Dakota has age requirements for booster seat usage. Alaska permits children to ride without a booster seat after age four; Arizona, Florida, and Texas require a booster seat until age five. Every other state has booster seat requirements for children ages six and above, with the maximum age being eight in 23 states. Again, when in doubt about the laws for children in your state, contact a transportation official, and always err on the side of caution.
Rules on Booster Seats
Guidelines for Booster Seats
The NHTSA recommends booster seats for children over 40 pounds. Most children are about four years old when they reach this point. According to the agency, children under 4 feet 9 inches tall and less than 80 pounds should use booster seats. Once they reach 4 feet, 9 inches tall and 80 pounds, regular seat belts will fit children properly. Most children reach this height around age eight.
Types of Booster Seats
Booster seats come in two main types. Some have high backs and can be buckled in four or five points like infant and toddler car seats. Some booster seats have no back and only use the car's lap and shoulder belt to restrain the child. All booster seats are designed for the back seat.
When Children Outgrow Booster Seats
Children should still sit in the back seat of the car and wear the car's regular seat belts, even after they outgrow the need for booster seats. The National Highway Traffic Safety Administration recommends that children under age 13 always sit in the back seat.
How to Replace a Booster Seat After an Accident
Recycle the old car seat. Since you cannot use it, you should not donate it or give it to someone else. Search for a recycling program in your area or call your municipal waste company to see if they will recycle it. If you live in a remote area and can't find a recycling center, dispose of the booster seat in the trash. Remove all belts and padding and label the seat, "Trash -- do not reuse" in permanent marker. Do not leave the belts and padding near the discarded seat.
Research booster seat options. Check Consumer Reports or another guide that can give you information on safety ratings and other quality indicators. There are three types of booster seats available: backless models, which look like large square pillows, high-back models and combination models that you can use either with the high back or without.
Purchase the seat. Go to the store, if possible, to inspect the booster seat in person to ensure that it is going to meet your needs. If you purchase online, make sure you are able to return it if there are any issues.
Install the seat. Most booster seats do not need any installation since they simply sit on the backseat and raise the child high enough so that the seat belt positions correctly. However, Car-Safety.org notes that some combination models do allow top tether use as a booster -- and some dedicated boosters are LATCH-equipped. Follow instructions in the manual for proper installation.
Tip
If you have any questions regarding the installation or positioning of your booster seat or any car seat, go to a certified car east installation technician for assistance. This is often free of charge, and by taking advantage of this service, you can help ensure your child's safety.
Check your insurance policy before purchasing a new booster seat, as replacement costs are often covered.
Warning
Be sure to carefully inspect the booster seat for damage following a crash. You should look under the seat padding to ensure that you don't see any cracks or deformities caused by the crash. If you notice any damage, do not use the seat.
Do not buy a second-hand booster seat. You cannot be sure of the seat's history. Perhaps, it was in a car crash as well and is unsafe for your child.
Booster Seat Requirements in California
Age and Size
Booster seats were originally designed for children who have outgrown front-facing car seats. It is suggested that children ages 4 to 9 be placed in booster seats while riding in vehicles. In California, the minimum weight requirement for a child to ride in a booster seat is between 30 and 40 lbs., and the maximum weight is between 80 and 125 lbs. Booster seat models can vary, so parents should check the labels for specific weight requirements.
Placement
The front seats of vehicles equipped with airbags are especially dangerous for children. California law requires that all children must be secured in the back seat until they reach age 6 or weigh at least 60 lbs. All child safety seats, including booster seats, should be placed in a back seat and used with both a lap belt and a shoulder belt. The lap belt should be placed low and tight across the child's upper thighs rather than across his tummy. The shoulder belt should cross the child's collar bone and the center of his chest.
Citations and Exceptions
Drivers and parents may be cited for misuse if they are stopped in a vehicle with a child in a booster seat who does not meet the minimum weight requirements. He should still be using a child's car seat. Citations may also be given for allowing a child to ride in a booster seat with only a lap belt. However, if the back seat of the vehicle was not manufactured with combination lap and shoulder belts, exceptions are made. Exceptions are also made if a vehicle does not have a back seat, causing a child in a booster seat to have to ride in the front passenger seat.
Height restrictions on car seats
Average Height Requirements
Car seat laws are determined by state, and the height varies between 36 inches to 57 inches. Car seats' restrictions are based primarily upon weight. Booster seats allow more restrictions based upon height, and the majority of states require that a child should be at least 57 inches before they stop riding in a booster seat.
Weight Versus Height
Weight is generally the measurement preferred for the restrictions on automotive car seats. It is preferred because the correlation between height and weight is not dependent upon one another. It is more likely for a child to reach a height requirement before they reach their weight requirements.
Other Restrictions
Height and weight are not the only restrictions for safety seats. Age is often a restriction, as well, and the average age for children to stop riding in car seats or booster seats is 8 years old.
Child car booster seat regulations
Infants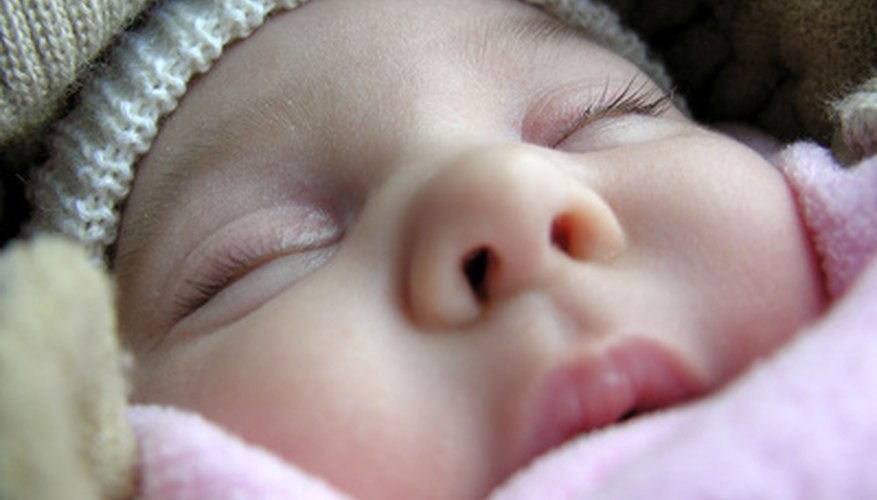 Infant seats and rear-facing convertible seats are designed to protect infants under 1 year old who weigh 9.07kg. or less. States that have specific seat requirements for infant seats use the one-year/9.07kg. rule before babies can be moved into front-facing car seats.
Each car seat has a maximum length and weight capacity. Toddlers may remain in a rear-facing infant seat until the child has reached the maximum size allowed by the manufacturer.
Toddlers and Preschoolers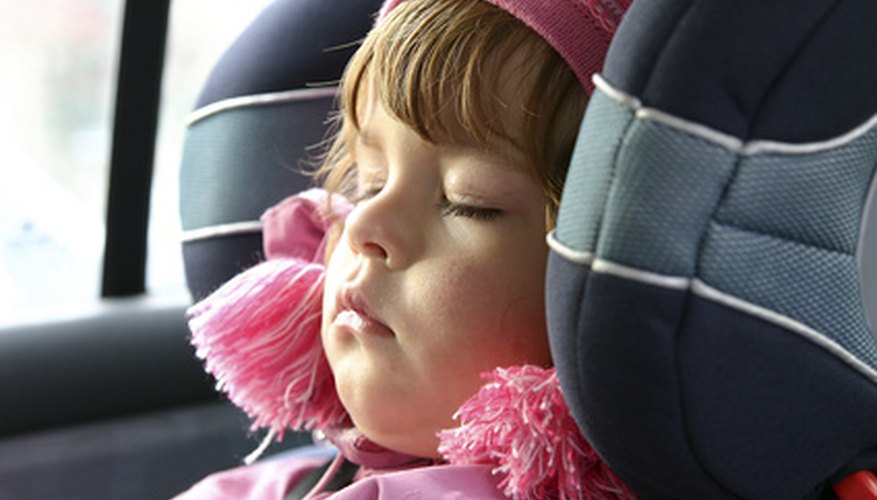 Toddlers and preschoolers may ride in front-facing convertible seats and car seats with harnesses. Children should continue to use front-facing car seats until they no longer fit in them, but state laws vary on this requirement. The law typically covers children four years of age and under who weigh 18.1kg. or less.
Alabama, Arizona, Massachusetts, South Carolina, South Dakota, and Texas require children between the ages of 1 and 5 years old to be in a front-facing car seat. Texas also requires that the child must be at least 36 inches tall before graduating to a booster seat.
Booster Seats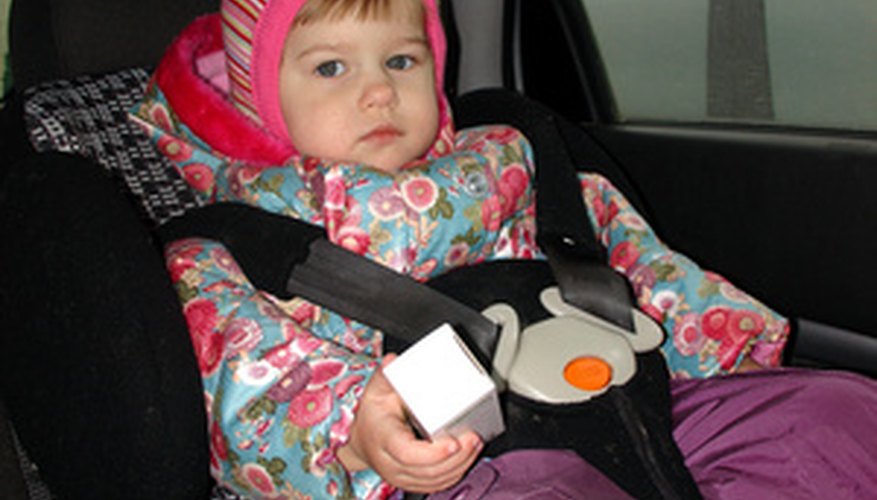 Children who no longer fit in a front-facing car seat are required to ride in a booster seat in some states. These laws vary the most. General safety guidelines are that any child who has outgrown a car seat, but is not yet 4-feet, 9-inches tall, should ride in a booster seat, because the adult seat belts do not fit correctly. The age that most children reach this height is 8 to 12 years old.
Arkansas, California, Connecticut, Delaware, Georgia, Iowa, Maryland, Montana, Nebraska, Nevada, New Hampshire, New Mexico and Oklahoma require children to ride in a car seat or booster seat until they are at least 6 years old. Kentucky, Michigan, Mississippi, Missouri, North Dakota, and Rhode Island require a booster seat for children until they reach 7. Washington, D.C., Hawaii, Illinois, Indiana, Kansas, Maine, Maryland, Massachusetts, Minnesota, New Jersey, New York, North Carolina, Ohio, Oregon, Pennsylvania, Tennessee, Utah, Vermont, Virginia, Washington, West Virginia, Wisconsin and Wyoming require children 8 and under to ride in a booster seat.
Some states have specific height requirements that govern when a child is no longer required to ride in a booster seat. Except for Texas, the restrictions specify heights from 54 to 57 inches. Texas booster seat restrictions are lifted when the child reaches 36 inches.