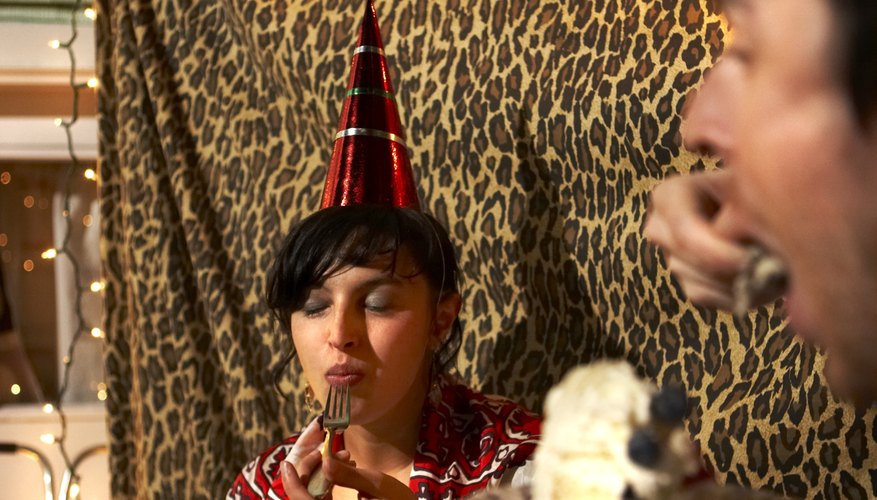 Let's face it. Taking your child to a children's birthday party every weekend gets boring fast, especially if you are just sitting on the side, watching the kids play. If your own child's birthday is coming up, surprise the party-weary parents attending with plenty of adult activities and entertainment that invites them to socialize with each other, and participate in activities with the kids.
Entertainment Options
Designate an area where the adults can kick back and relax, while still being able to easily reach their kids, if necessary. If the party is outdoors, a back deck would be an ideal adult area. For an indoor party, perhaps the den could be the designated place. If possible, have a TV available so dads can keep on eye on a game. You could also have music playing in the background -- nothing inappropriate for kids, but not the kiddie music that can drive parents crazy. Have a tray of appetizers such as miniature sandwiches, crostinis and an assortment of cheeses. If you choose to provide alcoholic beverages, they should be restricted to the adult area, and emphasize that the parents cannot leave the area with their drinks.
Adult Game Time
While the kids are playing games, you can have the adults playing their own games, too. Put out challenging adult board games and a deck of cards. Have the adults play birthday party bingo. Create bingo cards with squares based on things that you would see, or that might occur at a child's birthday party. This includes a runaway balloon, a clown, spilled punch, a gift bag in a certain color, and a game typically played at a child's party. Anything that adults see that can't be verified, such as seeing a balloon fly away, must have a witness who will sign the square. The first person to get "bingo," receives a special prize. You can also have silly competitions among the parents. For example, fill water bottles with the punch the kids are drinking and see who can guzzle it down the fastest, or put the teams in pairs and see who can wrap their partners up in decorative crepe paper first.
Crafts for Adults
Let the parents channel their inner child to engage in arts and craft projects to keep them busy. One idea is to buy unpainted ceramic items, such as mugs and decorative figures, and have the parents pick one to paint. Another idea is to pick up plain wooden letter blocks and have the parents paint one for their child's first initial. They can create either items as a souvenir for their child. You can also the parents participate in craft competitions. For example, give the parents some colorful clay and call out animals or objects that they have to create in under a minute. The person with the most recognizable object gets the point.
Parent and Child Games
Get the parents interacting with their kids with a series of parent-child competitive games. The parents could have a piggyback race with their kids on their backs, for example. Have goofy relay races. For one race, have the parents, wearing birthday party hats race to decorate a cupcake, add candles, then run to their child, who has to put on an adult-size shirt and race with the cupcake to the finish line. You could also have parent and child water balloon tosses, egg spoon races and wheelbarrow races.