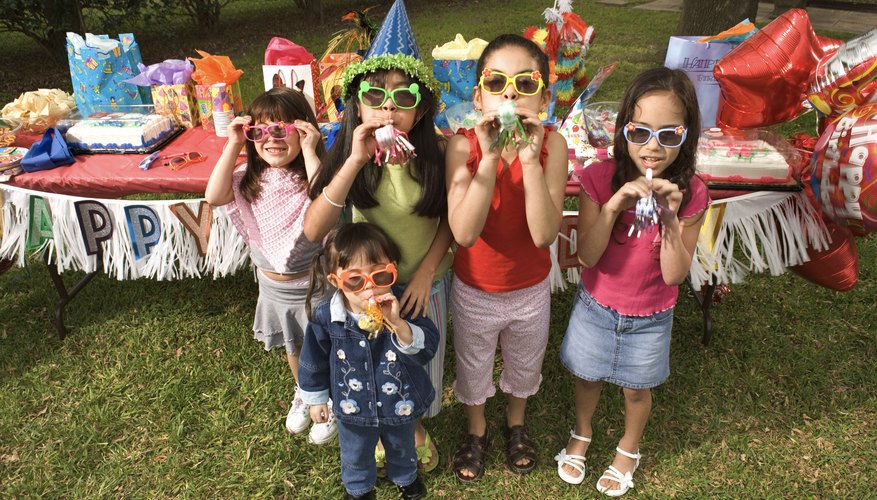 You ordered the cake, sent out the invitations and now you must answer that nagging question, "What am I going to do with a room full of kids for two hours?" Whether they are high-tech or simple, planning different activities is a surefire way to engage kids of all ages during a birthday party. Throw in some nifty decorations and a favor for each guest, and your child's party will be the talk of the playground.
Crafts
Having each party guest work on a craft project is an easy way to facilitate conversation between guests who may not know each other. The craft can follow a theme, such as painting a flower pot at a garden party and planting a flower in it, making tie-dyed T-shirts for a luau, or assembling PVC-pipe marshmallow guns at an army party. Consider offering a few different craft stations to keep little hands busy. Kids can decorate a foam picture frame at one station, take an instant-print photo at a second station, and put the framed picture into a decorative bag to take home at the final table.
Games
Your imagination is the only limit when it comes to the kind of games that you can play at a child's birthday party. Old-fashioned games like sack races in pillow cases or a water balloon toss are sure to bring out a few giggles and a little healthy competition. A more organized event, such as a treasure or scavenger hunt, encourages the kids to work together and get to the prize at the end. For your more free-spirited party guests, set up croquet or a ring toss game in the yard along with some water gun targets and let the kids discover a new favorite pastime.
Food
Most children like to eat, especially sweets topped with sugary frosting and colorful sprinkles or breads smothered with melted cheese. For a make-your-own-pie party, kids can shape dough, spread sauce and add their favorite toppings to a personal-sized pizza for Mom to bake in the oven. While the pizzas are getting nice and toasty, the children can work on dessert -- designing a fruit pizza with a cream cheese base, decorating sugar cookies with icing and jimmies, or forming crazy crispy rice cereal and marshmallow sculptures. Your party guests will enjoy eating the results of their labor.
On-Location Activities
If planning a party at home is too overwhelming or simply not an option, take the gang out to a memorable place for birthday activities. Try a group gymnastics class that ends with swinging into a foam pit, indoor rock climbing or having a dance party at a studio. For more conventional activities, consider roller skating, bowling or even making stuffed animals at the mall.