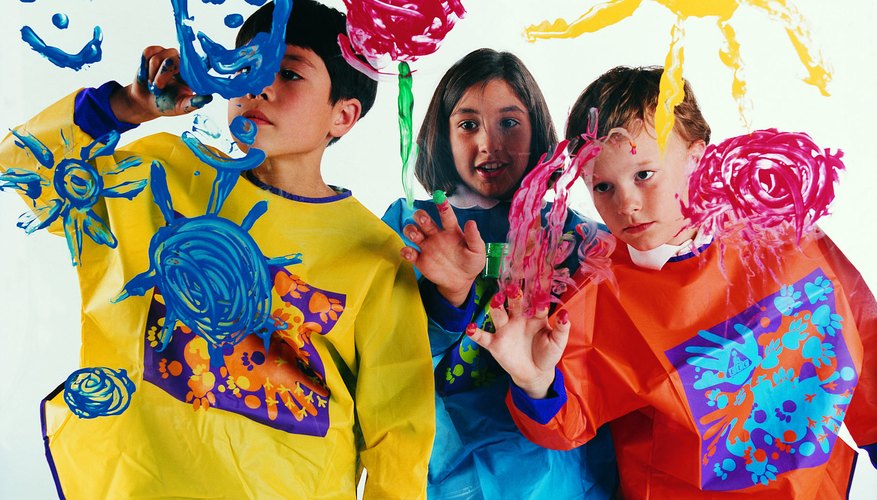 Young children are naturally drawn to art projects, and can spend hours drawing, painting, sculpting, cutting and pasting. Perhaps this is because children feel a sense of emotional satisfaction when they are involved in making art, according to EarlyChildhood News. Besides building self-esteem, art can help children build decision-making skills and becomes an outlet for communication when verbal skills are limited. Art can be an important part of early childhood development, and you can integrate it into your little one's play in enjoyable ways.
Art Center
Every young child should have access to an "art area" or a designated place where she can create artwork. It should be stocked with age-appropriate materials such as crayons, markers, washable paints and modeling dough, and tools such as scissors, glue and a variety of paper. Though some of these materials require adult supervision, according to EarlyChildhood News, too much adult direction or assistance can interfere with the creative process. Your child should be able to create open-ended, child-centered projects. Education.com suggests that you encourage her to talk about her creations by prompting her with open-ended comments such as, "Tell me about your painting."
Mixing Colors
Your little one can be a scientist while working with art materials and learning all about color. Create colored ice cubes by mixing some food coloring into the water before they freeze. Give your child a clear plastic cup and place two different colored ice cubes inside. Ask him to predict what will happen to the ice and what colors he will see. Watch as the ice melts and the colors mix and point out how two colors mix to make a third. Reinforce this concept by putting a little bit of two different colored paints into a clear plastic zippered bag. Tape the seal shut to ensure it doesn't spill and then let your little one squish the colors together. Talk about what he sees happening to the colors as they mix. Another color mixing activity can help your child work on his developing fine motor skills. Provide him with a few bowls of water and place drops of food coloring in two of them to create colored water. Let him use a medicine dropper or a large baster to squeeze one color of water into the other color. Watch as the colors mix to create new ones.
Make a Picture Book
Education.com suggests making wordless books a part of your young child's library, such as "Pancakes for Breakfast" by Tomie DePaola or "Rosie's Walk by Pat Hutchins." These books allow her to examine the pictures and decide what story is being told through them. You can integrate art into your child's literacy development by helping her create her own wordless book. Encourage her to draw some pictures about her day or a special activity she enjoys. Collect these pictures in a notebook or staple them together to create a book. Ask her to tell the story she has created by talking about each picture. She will be developing language skills and prereading skills while enjoying a fun art project.
Collage
Art doesn't always have to be painted or drawn. Young children also love the medium of collage. The possibilities are endless when it comes to materials available to create a collage. Take a nature walk with your little one and collect feathers, grasses and leaves. Have him arrange them and glue them on a large piece of cardboard to create an artistic memory of your time outside. Provide him with old magazines and encourage him to find pictures he likes or look for a certain color in the pictures. He can tear them out or use scissors to snip them, depending on his ability. Either way, he will be getting some fine motor skills practice as he creates his masterpiece.