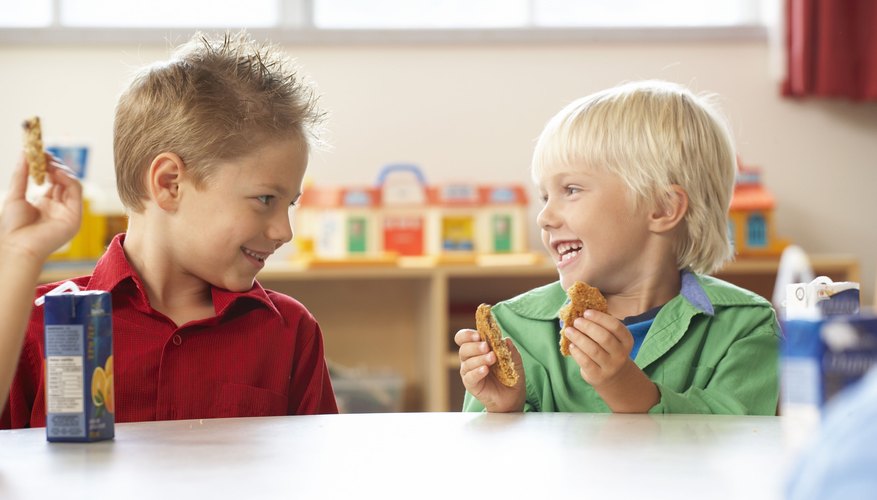 Nothing makes a school day more thrilling for your child than a class party. Whether it's to celebrate a holiday, class accomplishment or nothing in particular, snacks are what make a classroom party such a delight for little ones. Chances are good that at least one of your child's classmates has an allergy or dietary restriction, so the best snacks are nut-free -- and cleared by your child's teacher beforehand.
Fruity Favorites
Fruit is the go-to snack for busy parents who want healthy kids. Smoothies are bound to be the hit of any class party. Make a big batch of fruit-and-yogurt smoothies at home just before the party (transport containers of the finished product in a cooler) or, with permission from the teachers, bring a variety of ingredients and a blender to the class, and lets kids choose their own smoothie fixings. Alternatively, layer fruit with low-sugar pudding and granola for parfaits that look fancier than they really are, or cut fruit slices into shapes and arrange them on skewers. For a hot-weather party, pick up ice pop molds. Following the directions, invent new flavors that combine whatever fruit you can find in season. Another idea, courtesy of the non-profit KC Healthy Kids, is a healthier alternative to ice cream: fill ice cream cones with balls or chunks of fresh fruit.
Tricked Out Veggies
Vegetables are a hard sell for most children. Dish up a salad or veggie plate, and you'll head home from the party with leftovers. Rather than handing out bowls of carrot sticks, try incorporating nutrient-packed veggies into classic kid favorites. Bake chocolate zucchini bread or mini muffins, or puree cooked carrots and spinach into tomato sauce to use for English muffin pizzas. If any students follow a gluten-free diet, talk to the teacher about acceptable alternatives for wheat-based products. Spritz washed pieces of kale with olive oil, bake them until the edges crisp and sprinkle them with a touch of sea salt for a healthy alternative to chips.
Crackers and Dips
Give a child something to dip, and he'll be a happy camper. Tortilla chips and salsa, apple wedges and fruit dip, crackers and apple butter -- if a snack affords a child the chance to get his fingers filthy, he'll embrace it. In autumn, combine cream cheese, pureed pumpkin, brown sugar and cinnamon to make a festive dip for graham crackers; around Valentine's Day, add pureed berries to vanilla yogurt to make a pink-hued fruit dip. Michigan Nutrition Standards suggests giving kids wedges of pita bread to dip into marinara sauce; not-too-spicy guacamole may also be a hit. Another option: embrace breakfast foods. Give kids strips of whole-wheat pancakes or waffles with small cups of low-sugar syrup.
Store-Bought Snacks
Picking up store-bought snacks on the way to the party is a perfectly viable option; treats don't have to have a handmade component to be healthy for kids. In fact, some schools don't allow homemade food at class parties. A container of applesauce and a piece of string cheese is a filling snack for each kiddo. Tubes of frozen yogurt, individual packets of nut-free trail mix and miniature muffins or crisped rice cereal bars may all excite hungry kids. Buy bags of flavored popcorn for kids 5 or older or flavored rice cakes for preschoolers. Whatever you choose, read the label before purchasing; look for products that aren't made in the same facilities as nuts and other allergens.