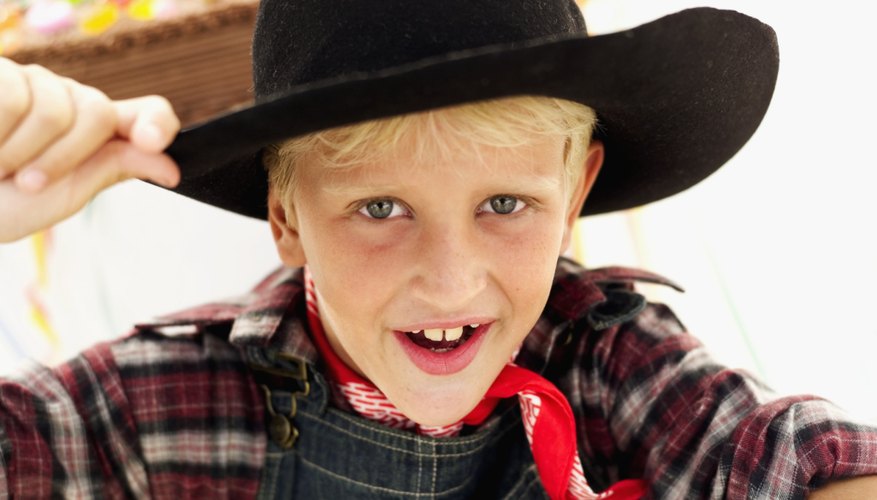 If you're the parent of an adventurous child, he may use his imaginative skills to pretend to be a cowboy one day. He'll put on western attire, turn the living room into his ranch and grab a broom to ride as his horse. Encourage him to settle down in the kitchen, and prepare a few cowboy-themed snacks for him to nibble on.
Campfire S'mores
Since a campfire isn't readily available at home, let the heat from the sun take its place when teaching your little cowboy to make s'mores. Break a graham cracker in half and layer three pieces of chocolate squares on top. Have your kid place a large marshmallow on the chocolate squares and place the remaining cracker half on top. Wrap the s'more in foil and set it out in the sun until the marshmallow and chocolate are melted. For a healthy alternative, create fruit s'mores. Spread cream cheese on the crackers and use pieces of strawberries and banana in place of chocolate.
Western Breads
Simple breads can be transformed into western treats for snack time. Turn store-bought biscuits into horseshoe biscuits. Shape the dough into semicircles to resemble horseshoes and bake as directed. Kids can drizzle the horseshoe biscuits with honey or fill them with peanut butter. Let your kid feel like he is down on the ranch with Texas toast. Spread butter on thick-cut, whole grain bread slices and place them on a baking sheet. Bake the slices in the oven at 450 degrees Fahrenheit for five minutes or until golden brown. Let cool and allow your child to sprinkle low-fat Parmesan cheese on top before eating.
Hearty Beans
On a cold, winter afternoon, a hearty cup of beans will warm your kid up like it does for a group of cowboys. Heat a can of baked beans on the stove and boil a pot of hot dogs. Cut the hot dogs into small slices and add them to the cooked pot of beans. To avoid spoiling his appetite before a meal, pour the beans into a small bowl or cup for him to eat as a snack. For an additional snack, heat canned chili with beans and pour into a bowl. Pour a small amount on a plate and sprinkle cheese on top. Let your kid dip whole wheat tortilla chips in the chili.
Ranch Horses
A cowboy's horse is his lifelong companion. Recreate the creatures with cookie cutters. For horse snack sandwiches, simply fill whole grain bread with turkey and cheese or peanut butter and jam and press a horse cookie cutter on top. These sandwiches will be smaller than traditional meal sandwiches and make a great snack. For a different approach, use circle and rectangle cookie cutters for the horse's body and head on the sandwiches. Place celery sticks or carrot sticks under the rectangle for the horse's legs and use pieces of peppers to create the horse's mane and tail. Use a radish slice for the horse's eye. Place ranch dressing beside the sandwich as a dipping sauce for the vegetables.